Nerf wars include any activity that includes nerfing blasters or any toy weapons.
It can be a wide range of games, from informal games in the basements to well-organized office or outside battles with high-powered mega blasters.
The most exciting part of nerf wars is that players can set their own rules, so it is up to them to make the game easy or challenging.
Nerf war is a pretty challenging game, but the fact that you can make your own team makes it more fun and full of excitement.
The secret to winning the game is that you need to intimidate your opponent in the beginning so that they lose their confidence during the game, and for that, you need a strong, intimidating name.
Nerf War Team Names | List of Creative, Funniest & Clever Nerf Group Squad Names Ideas
A good team name projects the courage and attitude of your team. The game includes no rules, so you can choose any name that you like.
You can choose a strong name to intimidate other players or a funny name into disarming your enemy with humor rather than fear. Well, in any case, we got you covered.
We have listed 31 interesting nerf war team names and some tips at the end of the list if you want to create your own team name. Hope you like them!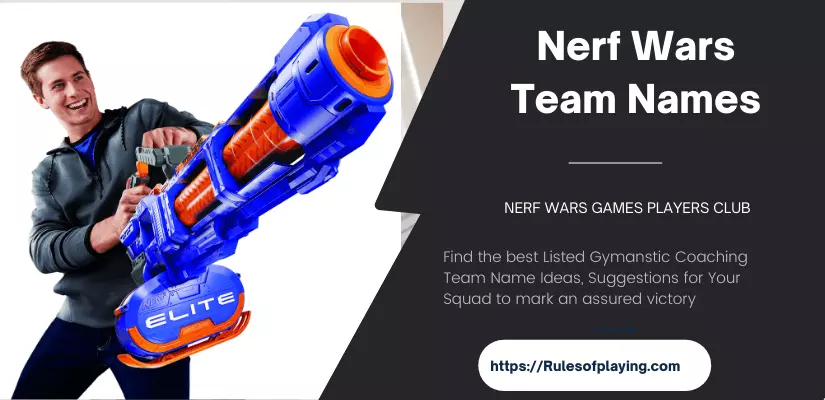 Below are some best, unique, and fun name suggestions for your nerf war team:
1. Lethal Shots:    Even small doses of them can kill you.
2. Elite Shooters:    Shooting down all who oppose them.
3.7 Deadly Sins:    And all are on the ground.
4. Spoiled Brats:    Expect No Decency.
5. The Bullies:  The means ones in the game.
6. Bulging Eyes:    They'll probably shoot your eyes out.
7. Disobedient Men:   Brass behavior can be expected.
8. Master Blasters:    You ace on the first attempt.
9. Nerf Said!:    Like enough said.
10. Wild Shots:    This is going to hurt.
11. Taskforce:    And they are on a special mission.
12. Masterminds:    Their attacking strategies are amazing.
13. Nerfect And We Know It:    Simply Perfect.
14. Sun's Out, Guns Out:    They have set their priorities.
15. Sharpshooters:    They never miss.
16. Shoot On Spot:    You won't even get a chance to run.
17. Bounty Hunters:   Vigilantes.
18. The Eliminators:    They know how to get rid of the competition.
19. Got Nerf?:    Got any nerve to compete with this team?
20. Locked And Loaded:    All set to finish you.
>>>> Related Post:  40+ Axe Throwing Team Names Listed
21. Constant Attacks:     Get ready for continuous shots.
22. Eyes On You:    Always keeping their target in sight.
23. You Can Run But You Can't Hide:     You can try, but you just cannot outrun this team.
24. Darts Of Darkness:    You will see stars in daylight.
25. Please Be Nice:    Mommy's princesses out here.
26. Nerf Force:    And they are coming for you.
27. Dart Divas:  Killer instincts with fabulous style.
28. Blaster Battalion:    Just unstoppable.
29. Furious Bullets:    They are about to go bang.
30. Bring It On:    Let's see what you got.
31. The Rebels:    These badasses do not follow any rules.
 >>>> Read Also: " Best Unique Twerk Team Name Ideas
Guidelines to Create Nerf War Team Names
Create a lively and exciting nerf war team name using the following guidelines:
1. Make A List Of Battle Terms: Though nerf is not a war-related game but it does involve firing toy weapons, so you can use war and battle-related terms to intimidate your opponents and make your team look stronger.
2. Use Words That Convey Your Spirit: Since you are kind of going into battle with other players, you need to choose a strong name that conveys your war spirit to your opponents and inspires your team to do their best.
3. Use Puns: Though nerf war is a competitive game, you can make it fun by choosing a fun name. Use puns or any inside jokes if you guys have to create a hilarious name.
4. Take Suggestions: Gather your team and ask for their favorite words or phrases that they think resonate with them. Make a list and finalize the one that gets the maximum votes.
>>>> Related Post:  40+ Rainbow Six Siege Team Names 
Conclusion

Nerf war is a pretty competitive game, but you can make it more exciting and fun by choosing a good team name.
Since you are kind of going into a battle, choosing a good war team name helps to convey your spirit and motivation to opposing players.
We cannot guarantee you success with a team name, but it will surely give you an edge over your opponents.
We can assure you that after using any of these names, no one is going to forget about your team in a long, long time.