Looking for carrom team names to experience some enthralling friends time? We got you. Playing carrom is indeed a fascinating experience, and it gets more memorable when you play it with your friends.
This easy and simple board game involves simple rules, but it gets more challenging when you are having a competition with your friends.
However, let me tell you one good secret with which you can have the upper hand on your opponents, and that is to choose an epic team name.
Your team name is the best way to intimidate another team. Not just this, a good team name is also the best way to enhance closeness and cooperation between your team members.
So, you must make sure to choose a name that motivates your team but also makes your opponent nervous.
However, deciding a team name can even prove to be more challenging than an actual game of carrom, as it should be acceptable to all team members but do not worry because now you have arrived the right spot.
Carrom Team Names | Catchy, Creative, Clear Carrom Squad Names Ideas
We have listed 44 best carrom team name suggestions to make your team look the best in the competition, but if you are interested in creating your own team name, then checkout the tips below this list for some fresh ideas.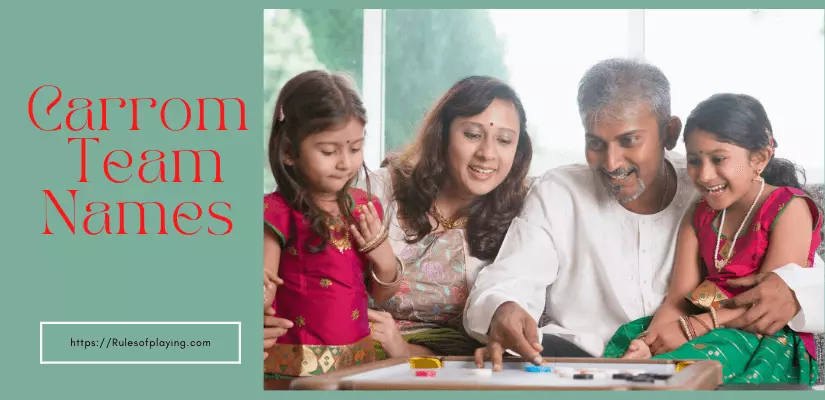 Whether you are looking for a team name to have a friendly competition with your friends or you are participating in a championship, this list contains unique and best name suggestions:
1. Maximum Force:    Giving their best.
2. Good Angles:   In the end, it is all about good angle techniques.
3. Strikers, Not Pushers:    They believe in Fairplay.
4. That's How We Score:    Their team is an inspiration for others.
5. Rule Breakers:    Their only rule is to break the rules.
6. Striking Power:    They were made for one purpose, to win.
7. Violators:    They do not stay by the rules.
8. Strike After Strike:     Not coming slow.
9. Playing n Trolling:   They love to trade insults during the game.
10. The Right Strikers:    They never miss their shot.
11. I Hit One:    Everyone must be proud of them.
12. Thumbing Pros:    A proper strike played by thumb.
13. Undercover Queen:    Queen is the red-colored carrom men place on the board in the beginning.
14. Strike, Drink, Repeat:    A golden way of life.
15. Precision Experts:     Their moves are so precise that everyone just envies them.
16. Pocketing Pals:    Their carrom men always fall in the right pocket.
17. God Speed:    Full of energy.
18. Push Techniques:    They always commit fouls when they see the game not going in their favor.
19. Lucky Strikes:    Luck is always in their favor.
20. Full Concentration: It's amazing to see how focused they stay during the game.
>>>> Similar Reading: 43+ Smartly Chosen Rainbow Six Siege Team Names
21. No.1 Players:    You just cannot argue with that.
22. Lightening Strikes:    They strike so fast you just cannot match the speed.
23. Striking Legends:    Pros at hitting the carrom men with a striker.
24. Hyperstrike:    Bit exaggerated.
25. Break Buddies:    Break is done by the player who gets the first shot.
26. Bar Raises:    Raising the bar with their moves.
27. Hunting Carrowmen:    They have their target in sight.
28. The Calculators:    Calculating every single angle.
29. Spare No One:     Make all Arrowmen fall.
30. Think Twice:    Before playing with them.
31. Smooth Strikers:    Their shots are so precise; they make it look so easy.
32. Real Competitors:    All other competitors were rookies.
33. Legacy Leavers:    Their team will always be remembered.
34. Carrom every day:    Carrom is life for this team.
35. Pocket Fillers:    Hitting every target right on the spot.
36. Law Abiders:     Playing by the rules.
37. Do Not Disturb:    Stay as silent as you can because history is about to be written.
38. The Intimidators:    The other team will probably be shaking.
39. Steady on Board:    Shh! No movement.
40. In Position:    Always ready to ace.
41. They See Us Rollin':    They hatin'.
42. The Incredibles:    The other team will look at them in disbelief.
43. Eyes On The Prize:    There is no way this team is going to give up.
44. Superlative Concentration:     Turning impossible moves into possible.
Guidelines To Create Carrom Team Names 
If you think none of the above-listed names suit your team's personality, then create your own team name using the following guidelines:
1. Use Terminology: Carrom is a game with a lot of terms and rules. You can search for the carrom terminology on the internet, and I am sure you will find so many terms to take inspiration from.
2. Take Inspiration From Other Players: If there is a player you admire, then you can use their name and incorporate them into your team name.
3. Choose A Name That Reflects Your Team: Think about the things that all of your group members have in common. Are you all of the same age group?
Are you all professionals or beginners? What comes to your mind when you think about your team? Think about these things and write down words that come to your mind.
This will help you to create unique and motivational names.
4. Take Suggestions: Have a brainstorming session with your friends and note down all the suggestions. Finalize the one that gets the maximum votes.

>>>> Read Also:  41+ Color Street Group Names Listed
Conclusion

Carrom is the easiest and most exciting game to play with your friends and spend quality time with. You can make these moments more memorable by choosing exciting and interesting team names.
We have written unique names in the list that will not only motivate your team but create a fun atmosphere in the room.
We hope that you find a name in this list that fits your team members' personalities perfectly.