The gay community has been fighting for decades to earn their rights, and luckily, their struggle has not gone to waste. They are now recognized throughout the world. Now, everyone accepts and supports the LGBTQ+ community.
According to a report, 80% of gay youth experiences social isolation because there are still some people in society which see them as taboo.
The gay community needs acceptance and comfort from society to rebuild its shattered confidence.
The best way to do that is to create an LGBTQ+ group at your school to show your support, or you can also open a gay club to show your love to all gay communities.
Gay Club Names | Funny, Trivia, Gay Club Names
Whether you are interested in opening a club or starting your own group, it is important to choose the right name to set the tone for your group.
We know how much a group name plays an important role, especially when you want to convey a message through your name.
Keeping this in mind, we have listed 58 unique and funny team names for your inspiration.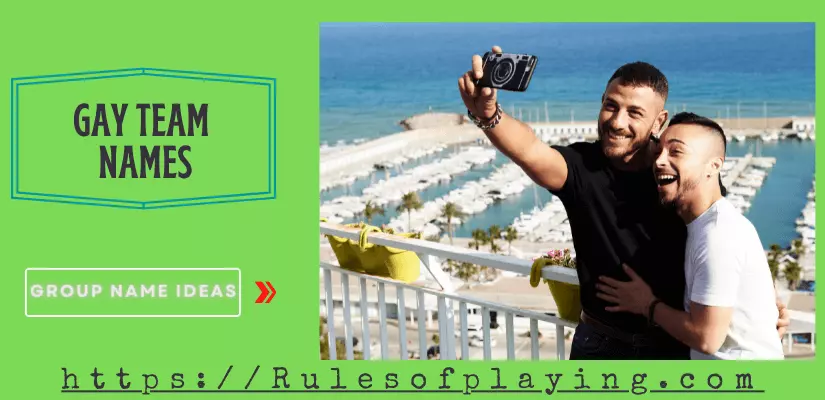 You can either choose a serious name to explain the purpose of your group or a funny name to keep the atmosphere in your group light and fun.
However, if you want to create your own group name, then do checkout the guidelines at the end of this article.
Gay Club Names
Your gay club should have a name that gives a warm welcome to all gay people while being unique and respectful.
It should provide comfort and acceptance to all gays so that they get out of their shells and join your club confidently. Below are some suggestions which you can use to attract the gay community.

1. Tomorrowland.
2. Rainbow Lounge.
3. Kissing Booth.
4. Being Myself.
5. Playboys.
6. TRYangles.
7. Gay Alert!
8. Paradise Complex.
9. Last Round.
10. Hotness Overload.
11. Bloody Mary.
12-LGBTequila.
13-COCKtail Party.
14. Proudly Gay.
15. Hole In The Wall.

Related Post: 100+ Funniest CSGO Team Names 
LGBT Club/Group Names
The LGBTQ+ community is a diverse term, including lesbians, gays, bisexuals, transgenders, and queers, so you should make sure that whatever name you are choosing for your LGBTQ club is appropriate and comfortable for all the community. Below are some suggestions that will encourage everyone to join your club.

16. Rainbow Rights.
17. Gay n Proud.
18. Bear Bar.
19. The Male Box.
20. Half Men, Strong Men.
21. Rainbow Dragons.
22. Blue Oyster.
23. Different And Proud.
24. Gay Power.
25. BangCOCK Café.
26. Men Of The Night.
27. Dolphins Club.
28. Holding The Gay Banner.
29. Androsexual's Community.
30. Ace Of Spades.
Gay Trivia/Group Chat Names
Whether you are looking for trivia team names or group chat names, we got you covered.
Trivia games are common among pubs and clubs where teams are formed, and then they compete against each other. The game gets more exciting if your team has an epic name.
It is a great way to enhance your bond with each other. Below are some suggestions that are perfect for every trivia night as well as group chats.

31. Gay Pride Forever.
32. Ultimate GAYmers.
33. Gays In Action.
34. The Lumberjacks.
35. We Know Everything.
36. Gays Alliance.
37. Rainbow Cake.
38. Gay Closet.
39-The Drag Kings.
40. Gays Association.
41-Crystal Palace.
42. Police Academy.
43. Unicorn Family.
44. Gay Island.
45. 7 Colors.
Funny Gay Team Names
Most gays prefer to stay in isolation because they are nervous about facing society.
You need to make sure that your group name brings a smile to their faces and motivates them to join your group.
Besides, a little humor never goes wrong. It will make your group look the best among the rest. Below are some hilarious suggestions that will instantly cheer up everyone in your group.

46. Bromantic Partners.
47. Hairy Bears.
48. The UntouchaBALLS.
49. Blue Suckers.
50. The Man Hole.
51. Ass Pirates.
52. Giggly Bears.
53. Chipmunks.
54. Anal Surfers.
55. The Hairy Fairies.
56. Boy Scouts.
57. The Anal Astronauts.
58. Squeeze Bombs.
Related Post: Joking Hazard Game Rules & Instruction For Professional Players!
How to Create Gay Group Names? A basic Guide
Create your own gay group name using the following guidelines:

1. Carefully Use Terminology: LGBTQ is a broad term, so the opinions within your circle might differ if you use certain terminology.
So, whatever you choose, make sure to take input from group members too to figure out if they are okay with the name and make sure that your group name does not offend anyone.
2. Choose A Name That Reflects Your Purpose: Do not use words that are funny but have nothing to do with your group's purpose.
Choose related words that convey a message to all gay communities and motivate them to accept their personality.
3. Watch Your Tone: Make sure that the name you are choosing is not offensive or inappropriate for your work environment.
For example, a funny name like 'Cockpit' might be hilarious for a group but would not work for your campus group.
4. Take Suggestions: As we have said earlier, do not forget to take suggestions from other group members too.
Do ask for their feedback before finalizing your name.
Similar Post: 80+ Dog Group Names for Your Favorite Pet!
Conclusion

A good name is very important for your LGBT group. It is like a fight for your rights but in an organized way. It also provides motivation and support to people new to this community.
That is why we have listed all inspirational and motivational names in the list that will surely make your group a success. Hope you like them!