Are you looking for some really cool purple team names? Then you are at the right spot. Purple is a unique and classy color, and adding it to your team name makes your team name more interesting and catchier.
We also know that finding the best team name is time-consuming and hectic. So, we do not want you to stress yourself out.
We have already done this work for you in this article. We have arranged a list of Funny, Cool, Creative, and Best team names that will surely make your team stand out among the rest.
Full List of Purple Color Team Names
We have arranged a list of Funny team names, Cool team names, Creative team names, and Best team names. We hope that you find your ideal name on this list.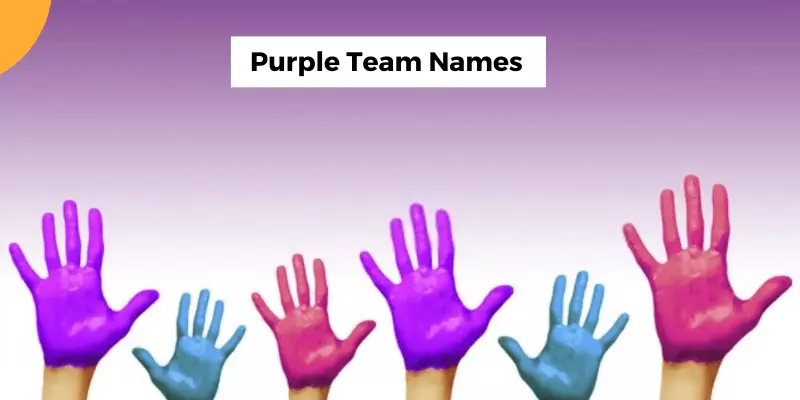 Funny Purple Team Names
Here is the list of funny team names that will definitely bring a smile to your team's face:
1. The Attack of Lilac:    And when they attack, everything changes.
2. The Mulberry Movement: A team with some real goals.
3. Plum Madness:    A bunch of crazy people.
4. The Orchids Strike Back: Best of luck to the other team.
5. Purple Freaks: They have an intense obsession with the purple color.
6. The Eggplants: Easy going.
7. The Lavender League: The rest of you also belong to a league, lower league.
8. Purple wine First: Cannot start their day without wine.
9. Turning Purple:    After seeing their opponent's performance.
10. The Legends of Lilac: Superstars of the game.
11. The Magenta Mission: Mission to win.
Related Post: Best Green Team Names on the List
Cool Purple Team Names
Here is the list of cool team names to show your opponent  how fun your team is:
12. Violet Riders:    A team with one cause to fulfill.
13. Purple Spark: There is something classy about this team.
14. The Purpleologists: You can ask them about every shade of purple.
15. Mauve Magic:    Anything can happen with some magic.
16. Violet Offenders:    Always getting in trouble.
17. Purple Royalty: They rule with absolute power.
18. Purple Glow: They shine wherever they go.
19. The Violet Crew:    Violet and violent.
20. The Purple Vigilantes: Ready for action.
21. Purple Rockers:    Happy-go-lucky team.
22. Wild Purple berries:    No one is sweeter than this.
Creative Purple Team Names
Here is the list of creative team names to show how creative and smart your team is:
23. Blocks of Amethyst:    You cannot beat their defense.
24. Purple Divas:    For the fashionistas.
25. The Purplepuff Girls: Cute but Powerful.
26. Mighty Lilacs:    Always at the tip of their game.
27. Purple Rain:    A song by Prince.
28. Purplicious: Sounds like a delicious color.
29. The Purple posse:    All purple from head to toe.
30. Mauve Stars:    The best players you have ever seen.
31. Purple Silence:    They will take your team out without saying a word.
32. Orchid Terror:    After playing with them, you will always be paranoid.
33. Better in Purple:    Sorry, but they are just better.
Related Post: Best Viking Clan Names on the List!
Best Purple Team Names
Here is the list of some best team names that are best for any sport and any group:
34. Purple Perfection: They just cannot help but get everything done perfectly.
35. The Orchids:    Beautiful and elegant like flowers.
36. Purple Reign: It is their time to rule the game.
37. Purple Panthers: A rare fast-moving group.
38. The Purple Force: Clear out of the way.
39. Purple all the way:    No place for any other color.
40. Purple Nobility: They set their standard.
41. Purple is not just a color; it's a lifestyle:    A lifestyle that their opponents cannot have.
42. The Purple Tribe:    The unity of this tribe is unbelievable.
43. Purple Power: They dominate every game.
44. Purple in the lead:    And will always be.
How to Create Your Own Team Name?
Purple is a very classy and unique color. You can create so many interesting team names with it very easily.
You know your team better than we so you can easily create a team name unique and different than others.
Just read these tips to solve any confusion that you have. These tips will surely help you in brainstorming some ideas.
Use Purple things for Inspiration.
There are so many foods, things, flowers, and other accessories that are purple in color.
You can use those words to come up with a perfect name.
Use other Shades of Purple
Purple is not just one color. There are so many shades of purple, and each one has a different name.
For example, Mauve, Pale Purple, Orchid, Mulberry, Lilac, etc. You can use these colors and merge them with other interesting words to make your team name unique and interesting.
Use Puns or Humor
You can pair purple color with other words that are hilarious. For example, Purple Chicks, Purple Piglets, or Purple Freaks.
You can also add puns or inside jokes to make your name fun and creative.
Keep it Simple

Keep your team name simple. Do not complicate your team name by adding so many words. Your team name will lose its charm by adding more complicated words.
Do not mix unclear words in your name. Make sure your team name is easy to understand and remember.
Choose one that's Liked by Team Members.
Do not forget to take suggestions from your friends. Because there is no point in choosing a name that is not liked by your team members.
Interesting Read: Learn how to Play Ludo with Family & Friends!
Conclusion
A good team name is very important to make a good first impression on your team.
We have shared all kinds of team names in the above list that are perfect for any age group and any sport.
We hope you will definitely find your team name here, and if you do, do not forget to tell us in the comments section.