Senior Assassin is a pretty competitive game where the seniors are tasked to eliminate their target with a water gun in each round.
Senior year is a tough time where you are constantly worried about your future, training programs, scholarships, and saying bye to your home.
Senior assassin provides a great way for those seniors to have some fun on campus and relive their memories of school time.
If you and your team members are also participating in senior assassin, then the first thing you need is a good team name.
After all, what is a good team without a good team name, right?
A good name not helps you to look the coolest on your campus but also helps you to release some college stress.
Senior Assassin Team Name Suggestions | Good, Powerful, Best Assassin Guild Names
For your inspiration, we have listed 60+ senior assassin team name suggestions that will help you to project the attitude and coolness of your team. Pick any of these names to show everyone who is the new boss of the school.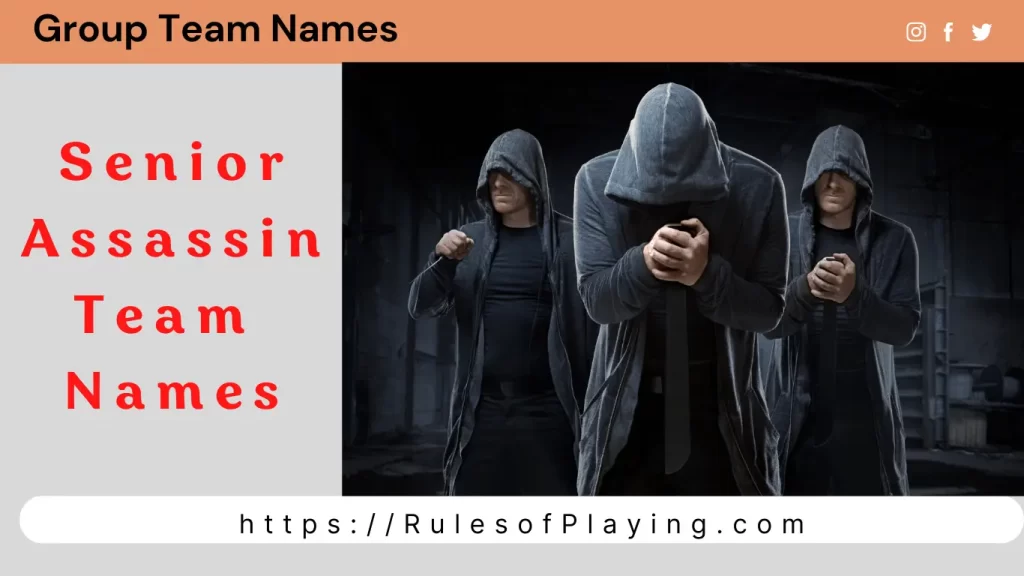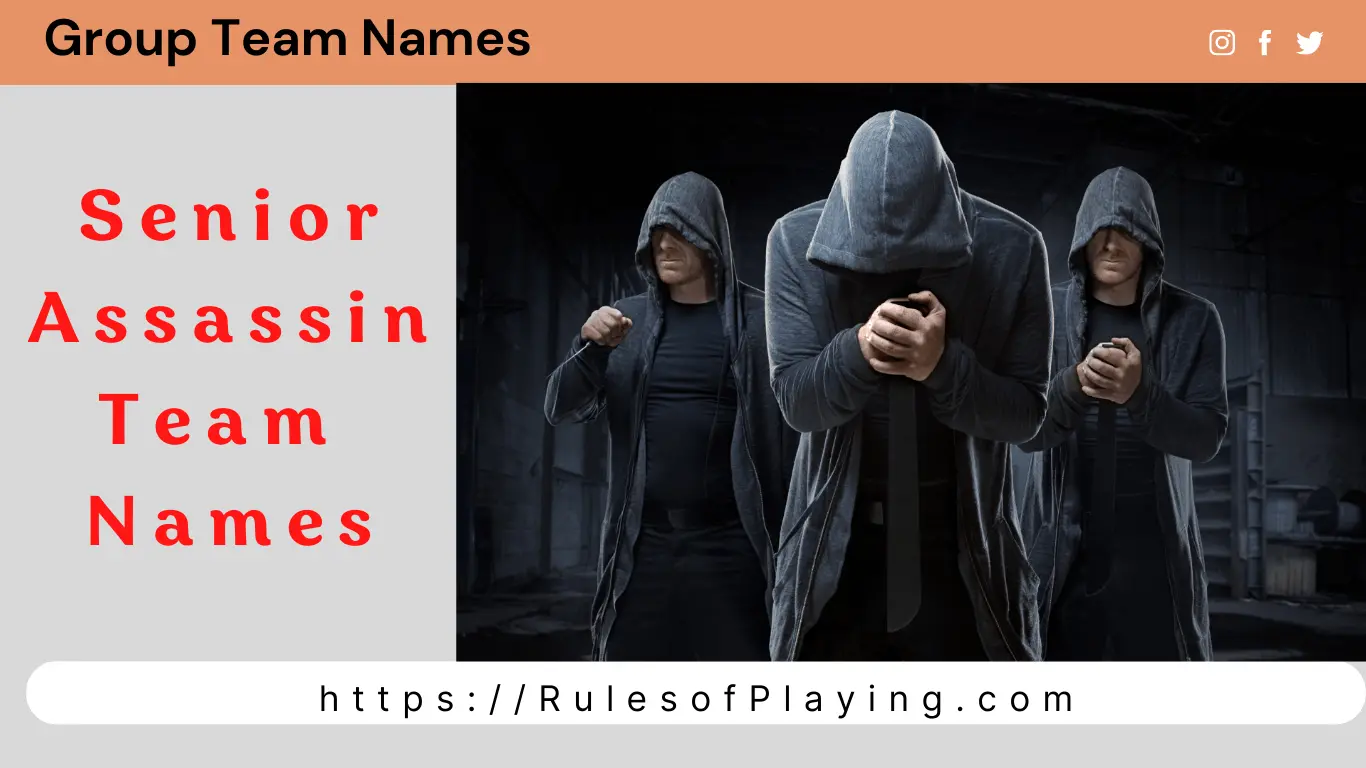 Senior assassin is a challenging game, but choosing a fun team name will definitely make it fun and exciting.
However, if you do not find the name you are looking for, then see our tips below this list for creating your own team name.
1. H2Hoes.
2. Water Gods.
3. Tidal Force.
4. MaxSpray.
5. Bros Before Hose.
6. Blaster Brigade.
7. Splash Society.
8. Revenge Of The Nerds.
9. Hose Commanders.
10. Splash Machines.
11. Underemployed.
12. Not Getting Wet.
13. Beer Chuggers.
14. 20 & Over.
15. Superbad.
16. The Water Patrol.
17. Slackers.
18. Peace Was Never An Option.
19. No Remorse.
20. Complex Operations.
>>> Read Also:   " Tag Team Names for a Winning Wrestle "
21. Bring It On.
22. Mean Machines.
23. Surviving Strategists.
24. Away From Water.
25. Water Defense Force.
26. Stream Launchers.
27. The Hydro Power Project.
28. Escaping Guns.
29. Guns n Hoses.
30. Best Shooters.
31. Operation Aqua.
32. Chaos Makers.
33. Saturated & Graduated.
34. Waterlogged.
35. Face Off Winners.
36. Eyes On Target.
37. Quick Splash.
38. Wrath Of The Seniors.
39. Splashing Around.
40. The Wild Squirters.
41. No Water, No Problem.
42. Superiority Complex.
43. The Best Ones.
44. Dampen Souls.
45. Leaving No One Dry.
46. Drenching Opponents.
47. School Rulers.
48. Wild Battalion.
49. Water Trackers.
50. Soaking Spirits.
51. Wet Degree Holders.
52. The Winning Strike.
53. H2 No.
54. Spray First, Talk Later.
55. Final Strike.
56. Slippery When Wet.
57. Qualified Bosses.
58. Graduates League.
59. H20 Force.
60. Waterlogged Alliance.
61. Never Wet.
62. Splashing Like Rain.
63. Soggy Seniors.
64. Graduates Alliance.
65. Level Up.
66. Best Defenders.
67. You Are Next.
68. Wild Gunners.
69. Outwinning The Opponent.
70. Soakers Squad.
Guidelines to Generate Your Own Senior Assassin Team Names in 2022
These guidelines will help you to create your senior assassin team name in no time.
1. Use Terms Related To Your Team Members:
Think about your team members and make a list of words that includes your favorite memories, favorite subjects, favorite classes, or memorable events, and then incorporate them into a team name.
You can also use your favorite slang words or inside jokes to create epic team names.
2. Use Humorous Words:
Senior assassins are assigned with heavy duties to shoot their target with water guns.
To make your team look the best, try to go for a humorous name. Try incorporating dark humor in your team name.
3. Use Terms Related To Water:
For your senior assassin team, what could be a better idea than choosing words related to water, right? Searching for synonyms of water will help you to get plenty of ideas.
Words like 'splash,' 'drench,' 'waterlog', or soak can help you to generate plenty of humorous or unique team names.
4. Use Your Senior-Related Terms:
Try to incorporate senior-related terms in your team name. Using words like graduates, degree holders, or upper class will help you to show everyone that you are now the new rulers of the school.
5. Take Suggestions:
Do not forget to take suggestions from other senior fellows too. More minds will generate more unique ideas. This will help you to create a unique and better team name than anyone else.
Conclusion
Senior Assassin is a great way to enhance your bond with your class fellows and blow off study stress.
We have listed some really cool and fun team name suggestions in this list that will make your senior year much more fun and exciting.
After using these cool names, no junior is ever going to forget about your class in a really long time.