A case study competition requires a group to work as a team and present their solutions in an effective manner.
It allows you to work together and put your analytical and critical thinking to good use and find the best solution to a case.
It also gives you an opportunity to enhance your skills and apply them every day in the workplace.
A case study includes a wide range of topics, so whatever your field of expertise is, your team needs a constant dose of energy and motivation to stay focused on the task.
And for that, a good team name always comes in handy. A good name encourages your team members to stretch their boundaries and think out of the box.
Team Names for Case Study Competition [ Unique, Purposeful, Strategic ]
Your team name can be as unique and innovative as you wish. There are no requirements on how formal your case study team name should be, so you can choose whatever you like best, it is all up to you.
For your inspiration, we have listed 61 unique and inspiring team names. Feel free to choose any name that you think will work best for your team.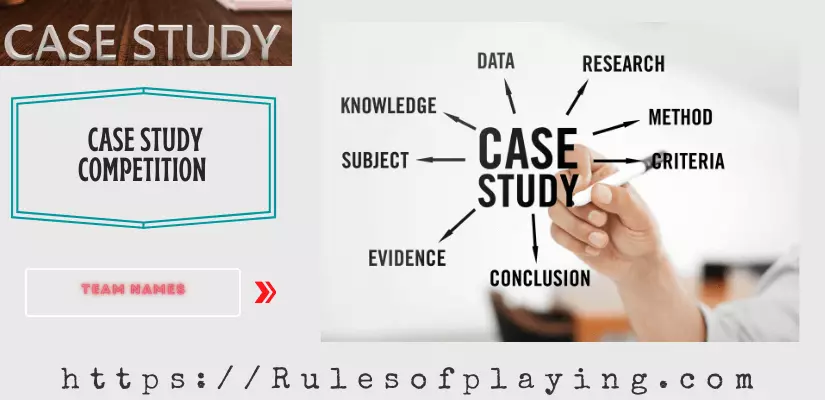 Here are some interesting team names for your case study competition:
1. Mind Benders:     Always thinking outside the box.
2. Striving Hard:     When they put their mind to something, they make great efforts to achieve it.
3. Keep Calm and Solve Problems: Panicking is never useful.
4. Unlimited Findings:    Great at finding effective possibilities for one problem.
5. Paper Pushers:    For a case study team, they sure do a lot of paperwork.
6. Team Logic:    They prove everything with logic.
7. Strategic Management:  They make the best strategies.
8. Case Study Never Bothers Us:     Because they always find the right answers.
9. Sane Thoughts:     Very sensible and intelligent.
10. True Potential:     The only team capable of winning.
11. Research Rats:    They can look into anything to find answers.
12. Off the Scale Bright:    No test can measure this scale of smartness.
13. Analytical Alliance:  Always working together.
14. Intelligent People:    Too modest.
15. The Crybabies:    Even a minor problem can let the dam burst.
16. Problem Solvers:     There is no problem they cannot solve.
17. The Leading Forces:    Always in the lead.
18. The Planners:    Turning ideas into reality.
19. Known Facts:    Great at explaining anything.
20. Case Express:    Too fast at problem-solving.
>>>> Similar Reading: 43+ Lunch & Learn Alternative Group Names Listed
21. Skilled Squad:     They work too efficiently.
22. Problem Detectors:    Can spot problems in the blink.
23. The Conception Committee:     Always having new ideas in mind.
24. May The Case Be With You:    Reference to Star Wars.
25. Better Analysis:     Sorry, but they are just better.
26. Conclusive Thoughts:    Very smart in proving their case.
27. Critical Thinking:    Highly skillful in making judgments.
28. Best In Case Study:     No one is better than them.
29. Mind Bogglers: It's always amazing to their how smartly they perform every time.
30. Work-a-holics:    They just love to work.
31. The Theory Of Intelligence:    When you see this team working, you see this theory in action.
32. Case-Control:    They have got everything under control.
33.  Extraordinary Facts:     Always searching for more knowledge.
34. Elucidation:     Smart enough to explain every problem logically.
35. Logical Force:     They do not talk without logic.
36. Finding The Truth:    Pretty sure they will find it.
37. Headway:    Making unexpected progress.
38. Solution Bolts:    Solving the problems faster than others.
39. Peak Performers:     Always giving their best.
40. No Comparison:     No one can match this team's capabilities.
41. Case Study Aces:     They excel at every competition.
42. No failure:    Losing is never an option for this team.
43. Great Potential: They have the power to achieve more in the future.
44. No Question Unanswered:    They always have answers to every problem.
45. Effective Solutions:  Their strategies always work wonders.
46. No.1 Solvers:    You got any problem? Ask them away.
47.  Winning Purpose:     There is no option other than winning for them.
48. Out Of The Box Insights:    Always coming up with new ways to solve problems.
49. Research Comedians:    They have a great sense of humor.
50. Effective Assumptions:    They got high-quality insight.
51. Future Leaders:    Their potential can be seen in their work.
52. Analysis Focus:    Always working with full concentration.
53. In a Minute:    That is how much time they take to identify the problem.
54. The Best Solutions:   No one can compete with them.
55. Alternative Solutions:    They always have backup solutions in mind.
56. Unusual Things:    Don't bother with the strange behavior.
57. Data Devils:    Unfolding the mysteries in problems.
58. Possible Solutions:    They give the best ideas for problems.
59. Time Is Money:    Success is for those who know the importance of time.
60. Appetite For Analytics:    Turning data into lunch.
61. Research Experts:     No one can derive conclusions better than them.
Guidelines to Create Team Names for Case Study Competition
Create your good name for your case study competition using the following guidelines:
1. Use Topic-Related Terms: If you think carefully, your case study topic must have a lot of phrases and jargon that can be a great inspiration to create a team name.
2. Choose Motivational Words: Honestly, a case study is a bit more difficult than other subjects; you need to make sure that your team name is motivational enough to inspire your team.
3. Name Your Team After Your Case Study: Use the title of your case study to create a unique team name.
For example, if your case study is related to management, then you could name your team Strategic Management.
This is the most basic and easiest way to create a name for your team.
4. Create Acronyms or Puns: A case study is a bit difficult subject, so make sure to add puns in your team names to make a fun atmosphere during work. You can also create acronyms using the initials of your team members' names.
>>>> Related Post:  31+ Senior Citizen Group Names Listed
Conclusion
Case study competitions require good teamwork, dedication, and preparation but another thing that is going to give you an advantage over your competitors is a good team name.
It will remind your team of their capabilities and help them to stay motivated during the competition.
That is why we have written the best and most unique suggestions for you to make your team shine in every competition.