Lunch groups can be professional and formal, or they can be informal groups of classmates and best friends. Whatever the case is a lunch group is the best way to collaborate and learn.
A lunch break not only provides you the opportunity to improve your creativity but also helps you to enhance your bond with your friends or colleagues.
However, to make your lunch group a success, it is important to have a friendly and fun atmosphere within the group, and for that, a good lunch group name definitely comes in handy.
Lunch Group Names [ Food Lovers, Lunch & Learn, Funny, Catch 
There are no restrictions regarding how your lunch group name should be. You can either go the funny way or a simple way to create your group name.
For your inspiration, we have listed 43 lunch group name suggestions that are unique, fun, and cute. Take a look and see if you find any name related to your group members.
We have also listed guidelines at the end of this article in case you don't find any relatable name and decide to create your own group name.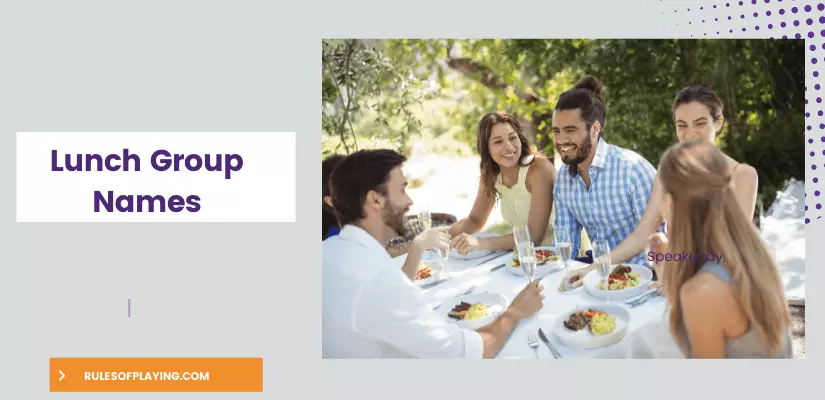 Below are some interesting and tasty suggestions for your lunch group:
1. Meet &  Eat:    Lunch brings everyone together.
2. Donut Worry, Be Happy:    Donuts are indeed the key to happiness.
3. Data Bites:    For a statistical or technical team.
4. We Like Big Buns:    A wordplay on the song 'We like big butts.'
5. Nourishing Brains:    Eating while learning.
6. Noontime Club:   Lunch hour is the golden hour.
7. Learning Over Lunch:    Doing business at the table.
8. Feeding Our Minds:    After all, they deserve a nice lunch after all their hard work.
9. The Pasta Movement:     Cannot get over pasta.
10. Knowledge Buffet:    Good learning time with great taste.
Related Post: 39+ Hunting Team Names for Your Group!
11. Solutions Over Snacks:    There is nothing you cannot fix at the lunch table.
12. The Lunch Bunch:    You will never hear them saying no to any lunch session.
13. Fries Time:    No snack is complete without fries.
14. Knowledge With Taste:     Lunch is a great way to enhance your skills and knowledge.
15. Nacho Problems:    No lunch is complete without nachos.
16. Everything On Menu:    They are always hungry.
17. Dining And Developing:     The best way to work efficiently is to discuss it over a nice lunch.
18. The Takeaway Group:    If they can't finish it, they are taking it.
19. Mint To Be Together:    Wordplay on 'Meant to be together.
20. Lunch Superstars:    Always waiting anxiously for lunchbreak
21. A Slice Of Knowledge:    Satisfying cravings while enhancing knowledge? Interesting!
22. Bean There, Done That A wordplay on 'Been there, done that.
23. Snack Attack:  They won't even look at you while eating.
24. Triple F Club:    Stands for Food, Folks, and Fun.
25. Eat, Learn, Repeat:    A golden rule.
26. Scrambled Legs:    After working for hours, they might not be in the best shape.
27. Lunch On Mind:  All they need is lunch.
28. People Disappoint, Food Doesn't:  Very well-said.
29. The Food Dudes:     The Food experts who know the best food places.
30. Time To Dine: What time is it? It's time to eat!!!
31. Eating together, Staying Together:    For a group of friends who always eat together.
32. How Time Fries: It's amazing how time flies when you are having fun with your friends.
33. The Carbdashians:     A wordplay on Kardashians.
34. Menu Attack:     There is nothing on the menu they have not tried.
35. A Taste Of Success:    And what a great taste it is.
36. The Weird-doughs:    Pretty smart weirdos.
37. Mac me Happy:    Mac n cheese is the best way to satisfy your cravings.
38. Feasting Minds:    Because healthy minds mean healthy bodies.
39. Educational Eat:    Good name for those who prefer to combine study over lunch.
40. Power Lunch:    A much-needed break for a team after continuous work.
41. Facts And Foods: The best way to eat, learn and grow.
42. Pizza Slice:    There is nothing a slice of pizza can't fix.
43. Par-Tea Time:     A tea is the best power dose you need to work.
Also Read: 70+ Cooking Team Names on the Record!
Guidelines to Create Your Own Lunch Group Name
Below are some guidelines that will surely get your creative juices flowing:
1. Be Creative: Whether you are having a formal lunch or a causal lunch, your name should be unique and innovative.
Think out of the box. Think about your group members, and then choose words that you think relate to your team.
2. Choose Appropriate Words: Make sure that the name you choose is appropriate for the environment, be it office, college, or a total casual meeting between your friends.
3. Keep It Fun: Lunch break is the only time when you get to relax; no one wants their lunch break to be dull and boring. Make sure that your group name is unique and fun to make your group more excited to have a get-together.
4. Keep It Simple: Long and complex names make your group boring and dull.
Choose a short name that is easy to remember and understand, as it will also help you more appealing if you are hosting a lunch session.
Also Read: 44+ Non Veg Group Names Relisted!
Conclusion
Lunch break is the time when people get the opportunity to relax and spend some quality time with their colleagues or friends.
So, if you choose a dull and serious name, you not only make your group look dull but also lose the opportunity to have a fun meetup.
So, think wisely and choose an innovative name to create an exciting atmosphere in your group.
And for that, we believe we have listed the best unique suggestions that everyone in your group is going to love. So, feel free to pick any name and have a blast during your lunch break.