On the hunt for some good name suggestions for your club? You just landed at the right place. Believe it or not but your club name plays an important role in creating a fun and exciting atmosphere.
It creates a sense of community and partnership among members.
There are so many ways to create a good club or group name. You can use your favorite hunting place or favorite animals that you like to hunt.
Hunting Club Names [ Catchy, Funny, Duck, Pig Deer Hunting ] 
Good and fun names are ideal for community building and motivation. For your inspiration, we have also listed 39 unique name suggestions for you that will surely attract others to your group.
However,  if you want to create your own club name, then checkout the tips below this article to get your creative juices flowing.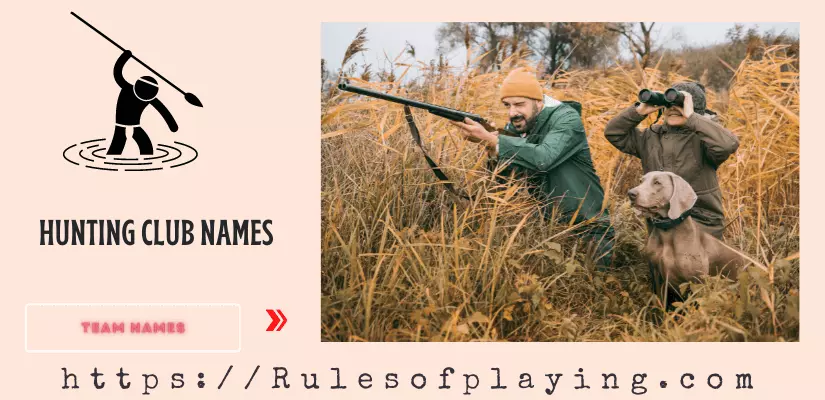 Below are some unique club name suggestions for you:
1. Open Season:    There is no season like the hunting season.
2. The Huntsmen:     No bird can scape them.
3. Men Of The Night:    The only time they prefer to go hunting.
4. Chicago Hunting Club:    You can add your country's name also.
5. Bravehearted:     For the bravest men.
6. Men On Hunt:     For men with real goals.
7. Th Hunting Forces: They have a mission to accomplish.
8.No Escape:  No bird can escape from their shot.
9. Beer Pressure:    A lot of pressure.
10. Lucky Shots:    They never miss.
Related Post: 100+ Scavenger Hunt Team Names
11. Hunting And Surviving:     They never fear.
12. The Bird Men:     They specifically like to hunt birds.
13. Dinner Hunt:    Their dinner is still in the woods.
14. Buck Hunt Club:    They will do anything to hunt a buck.
15. Mighty Rifles Club:    They are about to go bang.
16. One Hit Wonders:    They just need a forest and a gun to show their skills.
17. Easy Target:  No target is difficult for them.
18. Making Memories:    They love to make memories in the forest.
19. Born To Hunt:  They live to hunt.
20. Deer Camp:     Hunting deer is their only passion.
21. Pirate Eye Hunt Club:  They have sharp instincts.
22.  Aimless Shooters:    When they shoot, the bullets always go opposite to the target.
23. Superhunters In Training:     They are getting there.
24. Deer Consistency:    Consistency is the key to hunting a deer, and they are aware of it.
25. The Hunting Tribe:    And they got special traditions.
26. Disobedient Men:    Laws are not for these men.
27. Now Or Never:    They take hunting very seriously.
28. Hungry For Hunt:    Real men hunt for their food
29. The Chasers:    They won't leave their target until they hunt it.
30. Aim At Heart:    Staying calm and aiming at the heart is the key to hunting.
31. Kill Them And Grill Them:    Sunday Motivation.
32. Born Hunters:    Some people are born to travel, while lucky ones are born to hunt.
33. BuckEyes:     They have sharp eyes.
34. Ground & Pack:     Knowing your ground and pack are the important things in hunting.
35. 50mm Club:     50mm scope is indeed the best scope for hunting.
36. No Loose Ends:     They hunt without making mistakes.
37. Aiming High:    They aim only for the best.
38. I Like Big Bucks:    Reference to the song 'I like big butts'.
39. American Long rifle Squad:     Based on top hunting rifle name.
Related Post: 50+ JDM Car Club Names for Your Squad!
Guidelines to Create Hunting Club Names
Create your own hunting club name using the following guidelines:
1. Use Humor: A fun name is the best way to boost spirit and motivation. You can use inside jokes or puns to create interesting team names.
Others may not understand these names, but these names will always give your club members a good laugh and remind them of their greatest adventures together.
2. Take Inspiration: Use your favorite spot for inspiration. Is there any spot that you all love to hunt?
You can take inspiration from that place to create a unique name. For Example, if you like to hunt in an area with many fields, then you can go for a name like 'Field Hunters' or 'Hunting Field Club'.
3. Think About How You Prefer To Hunt: Is there any specific animal that you guys love to hunt? Or is there any specific weapon that you prefer to use for hunting?
Think about your preferences and then incorporate them into a team name.
4. Use Your Experiences: Is there any embarrassing, funny, or good memory of your hunting trip that you all know? Because that can be used as perfect inspiration to create a hunting club name.
Related Post: 45+ Fighting Team Name Ideas for Your Squad!
Conclusion
We have tried to list all the best and unique suggestions that will help you to converse with other like-minded hunters.
Though there is nothing wrong with a solo hunt having people around to share your experiences is surely worth hunting alone.
So, choose a good name from our list to invite more people to your club and create amazing memories.