A strong family feud team name is one of the essential factors for success every time.
Family feud is a wonderful game to play with family and friends to spend quality time with It not only adds competition and extra fun to your game night but also enhances your bonding with each other.
However, the most confusing and difficult part after setting the competition is to choose a unique and best name, especially when you are playing with your siblings or cousins.
The game gets quite competitive, and choosing a strong team name gets more important to make your team look the best.
List of Selected Family Feud Team Names with Meaning

We have arranged a list of Funny, Cool, and Best team names that will make your team look the best among the rest.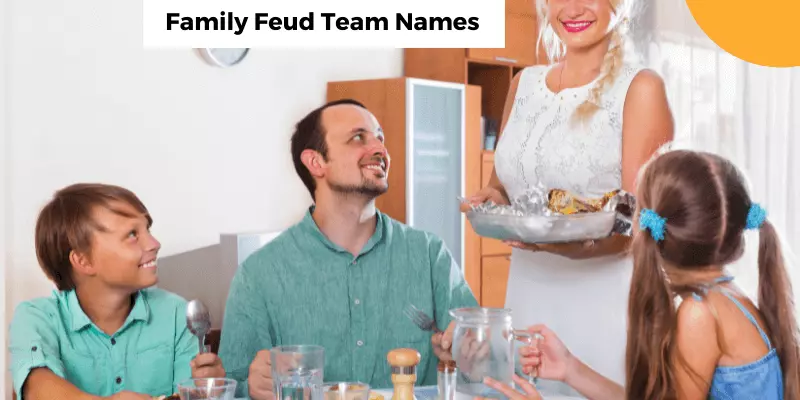 Funny Family Feud Team Names
It is always so cheerful to share a laugh with your family members. These funny names are the best way to make everyone smile and excited.
1. Designated Drinkers:    The only thing this family is good at.
2. Out of the Asylum: Free at last.
3. Weirdos Combined: Expect bizarre behavior.
4. The Wise Quackers:   They talk a lot, but it is knowledgeable.
5. Genes at work:  Trying their best to win.
6. Clown Club:  This family is hilarious.
7. Losers:  So much love in this family.
8. Chatter Box:    They talk so much… so much.
9. Crazy Ass Family:  A bunch of retards.
10. Drama Club:  This family is no less than a soap opera.
11. Laughter Therapy:    Their humor makes every situation cheerful.
12. SleeperCells: If they had an option, they'd sleep all day.
13. Hippie Fam:  Fun all the way.
14. Weird but Wonderful: They have few flaws but they accept them.
15. A series of unfortunate events:  Luck is clearly not in their favor nowadays.
Related Post: Nerdy Team Names Reloaded For Powerful Squad!
Strong Family Reunion Team Names

Wanna make your team look the coolest and smartest among the rest? These are the best options for you:
16. FamBam:    They got each other's back.
17. The Insoluble Fraction:    They cannot be removed easily.
18. Too glam to give a damn:    They are pretty overconfident about themselves.
19. Straight Up Awesomeness:    No other definition is required to explain this family.
20. The Swaggers:    Swag runs in the family.
21. Fusion Family:    A family with a mixture of race, color and style.
22. That's how we roll: Showing others how a game is played.
23. Staying Together, Slaying Together:    They slay when they play.
24. Bring it On:    This family is not afraid of any challenge.
25. Disco Fam:    Dancing all the time.
26. American Idols:    They know they are pretty amazing.
27. Glam For Gram:    They will upload status on Instagram first.
28. Play Hard, Party Harder: Playing hard for all the rewards.
29. Super Family:    With a cape to match too.
30. The Better Ones:    Better than every other family.
Related Post: Best Chosen lawyer Team Names
Cool & Creative Family Team Names
Here is the list of best team names to show everyone your strong  bond and that you are always available for each other:
31. Through thick and thin: Staying together in every situation.
32. Live, Love and Laugh:    That is how every family should be.
33. 7 Hearts, 1 Beat: Their hearts beat together.
34. Friends Forever:    They are friends first before any other relationship.
35. Royals:The noble ones.
36. Family Glow:    They shine wherever they go.
37. Positive Vibes:    They spread positive energy wherever they go.
38. We are one: And no one can come between them.
39. Strong Ties:    And no one can break them.
40. Happy Family: You will never see any clashes in this family.
41. United We Stand: Divided we fall.
42. The Story of Us:   And what a great story that is.
43. It's all in the genes:    Winners with fabulous style.
How to Create Your Own Team Name?

You obviously know your family better than anyone. That is why, creating best family feud team names will not be much difficult for you.
Just follow the tips listed below. After reading these tips, you will definitely create your team name in no time.
Take Inspiration
You can take inspiration from your favorite tv shows or movies. Is there any show that you all love to watch together?
I believe there must be a show or a movie that your siblings and have watched again and again, and you guys are still not bored of it.
You can use that name as an inspiration. For Example, Modern Family, Golden Girls, House Full, etc.
Look for anything Most Common
Look at your family, what do you think? What is the thing that is common in all of you? Is there any favorite place you all love to hang out?
What do you all do on weekends? Do you guys fight a lot? Or do you love to make jokes? Think about all these things.
List down all the names you get in your mind when you think about these questions. It will make your work much easier.
Consider who you are Playing with.

Another important thing is who you are playing with. Are you playing with your family, cousins, or just siblings?
Considering the people that you are playing with will help you to create a name.
For example, if you are playing with your sisters, then you can create names like 'Sisters Before Misters.'
Use Last Name

You can also use your last name to make it simple and unique.  For Example, The Royals, The Addams Family.
Or, you can combine it with another word to create an interesting combo. You can use puns and funny words to make your name hilarious. For Example, Adams on the run.
Related Post: Best Spartan Race Team Name Ideas
Conclusion
We listed all the names that we believe have not been taken yet. These names will not only make your family time amazing but also enhance your bond with each other.
So, if you have liked any name, then do share with us in the comments section.