Naming your team after your favorite superhero is an amazing idea as the name indicates the specialty and skills of your team members.
Your team name portrays the vision you want spectators to know. Nowadays, Spider-Man has become a top-rated movie that is liked by people of every age group. It has a separate fan base.
His character is so compelling because he fights for what is right. If you are also a fan of the series and want to make your own team of superheroes, then we got you.
Whether you want a name for your sports team or any competition, you can get a lot of inspiration from everyone's favorite hero, Spider-Man.
This list includes Spider-Man-inspired names for your team that are unique and creative.
Ultimate Spider-Man Team Names [ Superhero, Iron Fist, Warriors ]
We have listed 70+ epic Spider-Man-inspired name suggestions below that you are definitely going to love.
So, whether you relate your team to Spider-Man or you like the villainous characters in the movie, this list will help you in finding the right Spider-Man-inspired team name that signifies strength and courage.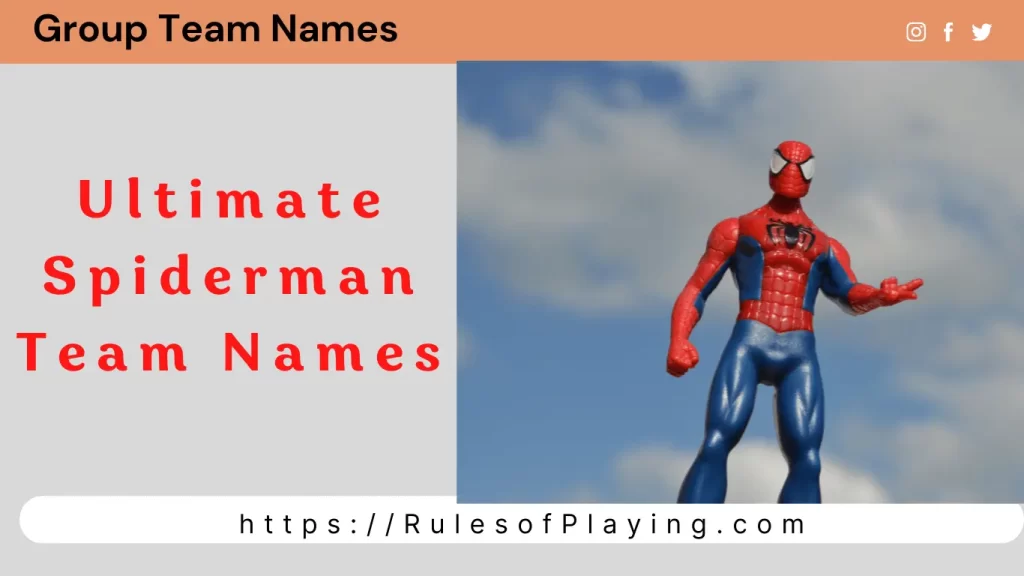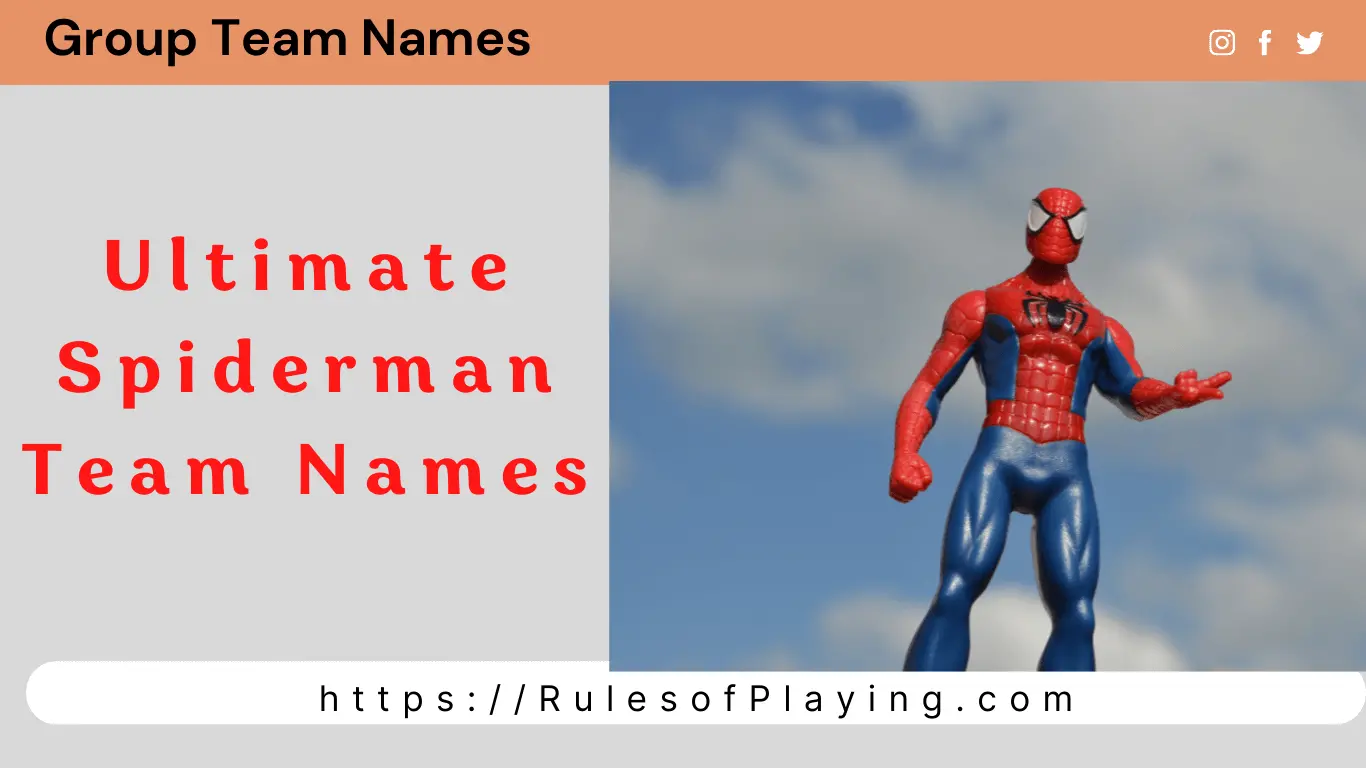 We have also listed some guidelines below this list that will inspire you to create your own Spider-Man-inspired team name. Here are some awesome name suggestions inspired by Spiderman.
1. Typical Parker Luck.
2. Friendly Neighbourhood Spidermen.
3. Secret Avengers.
4. The Spidergirls.
5. The Spider Slayers.
6. Web Agenda.
7. The Web Trappers.
8. Second Chance Heroes.
9. Spider-men Striking Back.
10. Itsy-Bisty Spidermen.
11. Return Of Sandmen.
12. Web Attacks.
13. Great Power, Great Responsibility.
14. The Daily Buglers.
15. Black Cats.
16. Superior Spidermen.
17. Ghost-Spiders.
18. Mockingbirds.
19. Black Widows.
20. The Hybrids.
21. Misty Knights.
22. Venomous Agents.
23. Molten Men.
24. Moon Knights.
25. Uncanny Avengers.
26. Guardians Of The Galaxy.
27. Spider Bitches.
28. Voodoo Doctors.
29. Rocket Racers.
30. The Symbiotes.
31. The Martial Artists.
32. Transformed Scientists.
33. Iron Fists.
34. The Maniac Gladiators.
35. Darkhawks.
36. Fantastic Forces.
37. Invisible Forces.
38. Jumping Frogmen.
39. Slingers.
40. Molten Maniac Men.
41. The Mighty Alphas.
42. Scarlet Witches.
43. Thor's Army.
44. Wasps On The Loose.
45. Wolverine Attack.
46. The Winter Soldiers.
47. Astonishing Avengers.
48. Boomerang Gang.
49. Captains Of The Universe.
50. The Daredevils.
51. Silver Sables.
52. Steel Spiders.
53. The Beetles.
54. Black Rabbits.
55. Powermen.
56. Devil Dinosaurs.
57. Hulk Power.
58. Man-Thing.
59. She-Hulks.
60. Green Goblins.
61. Taskmasters.
62. The Scorpions.
63. White Tigers.
64. Kingpin Forces.
65. Mysterio Men.
66. Shockers.
67. Black Bolts.
68. Juggernauts.
69. The Leapers.
70. The Chameleon Twins.
Guidelines to Create Your Own Spider-Man Team Names
Create your own team name using the following guidelines:
1. Refer To Your Favorite Spider-Man Characters
Since you are choosing a Spider-Man-inspired team name, high chances are that you already know the characters like the back of your hand.
Just write down your favorite characters and use them to create epic team names. For example, White Tigers, The Leapers, etc.
2. Use Spider-Man Quotes
Spider-Man is a movie that no one can ever get bored of. The movie is especially famous for its witty one-liners.
There must be so many special quotes from Spider-Man that you remember. Use these one-liners and incorporate them into a team name.
3. Think About Your Favorite Scenes
You can create epic team names using words that you think best describe what happened in your favorite scenes-any iconic scene, twist, or even climax.
Incorporate it into a one or two-word team name so that your team name remains interesting and memorable.
4. Take Suggestions
Take input from your team members as well. Ask them about their favorite characters and moments from the movie, and then make a list. The more members you have, the more ideas you will come up with.
Conclusion
Spider-Man has a separate fan base, and choosing a name after Spider-Man characters is the best way to capture everyone's attention.
After using these names, the audience will definitely love your team as you fight the evil competitors.