For a Mexican, there is no better way to show love for the country than choosing a Mexican Team Name!
It shall fill you with pride and dignity when you have a creative, unique, powerful Mexico country-inspired name for your squad!
Mexico is a country that is famous for its food, culture, lifestyle, destinations, and history.
From music to food, there are so many specialties of this country to take inspiration from. It has influenced the world's food, style, and culture in so many ways.
To make your work much easier, we have written 49 names in this article that you are really gonna like.
We are sure that the names written in this article are unique and interesting.
Every name in this article has not been taken yet.
However, if you want to create your own Mexican team name and you are out of ideas, then you can check the guidelines at the end of the article, which will help you in brainstorming.
Mexican Team Names List, Suggestions, Ideas [ Funny, Cool & Power Inspired Team Names ]



We have arranged a list of Cool and Creative Mexican team names that everyone on your team is going to love.
We hope that you find one perfect name in this list that fits perfectly with your team's personality.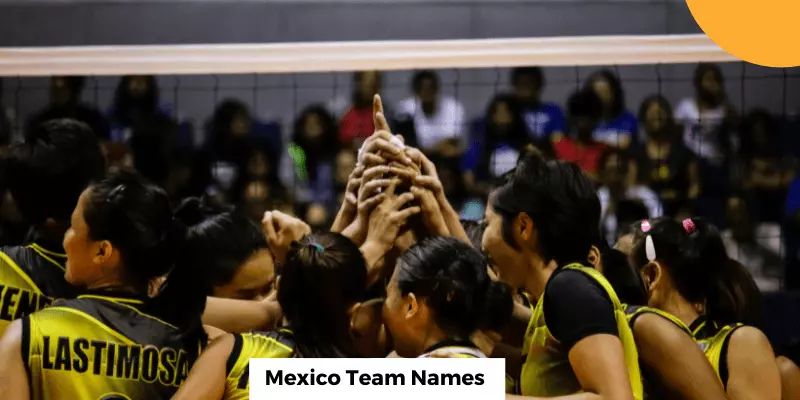 Funny Mexican Team Names

Here is the list of cool team names and the best way to show your team's energy and enthusiasm for the game include; burritos, cool names for girls, club or party dance crazy names
1. Jalapeños:    Too hot to handle.
2. Huipil Party:    Mexico's traditional dress.
3. Nahuatl Lifestyle:     The best lifestyle.
4. Pendejos League:    A league of stupid people.
5. Vihuelas Vendetta:    Out to get revenge.
6. Just Joshin':    There will be so many pranks.
7. Mariachi:    For a group of musicians.
8. Mamacitas:    Hot Mommies.
9. The Extraños:    The Weird Ones.
10. Tacos & Tequila: A group of foodies.
11. Güey Code:    No one can break this brocade.
12. Chido Clan:    Too cool for other teams.
13. Got Guac:    Did someone say tacos and guac?
14. The Burrito Battalion: For cooking competitions.
15. The Guacamole Gang:    A famous Mexican dish of mashed avocado.
Related Post: Cool & Powerful Guild Names for Your Squad!
Mexico Team Names
A unique and power pumped suggestions of Mexican team names for sports like softball, soccer, and Spanish football-inspired squad names
16. Pinche and Pandejo:    Can you see the love they have for their team?
17. Family Fiesta:    Fun all the way.
18. Tengo hueva: The laziest team you will ever face.
19. Mean Mexicans:     When it comes to competition, no one is meaner than this team.
20. Cactus Clan: Danger alert.
21. A few good Mexicanos:    What about the bad ones?
22. Lethal Tacos:    Even small doses of these guys can kill.
23. Culo loco Crew:   Brass behavior can be expected.
24. Antojitos Time:    It's always snack time for them.
25. Buena Onda:    Easy to get along with.
Crazy Mexican Group Names

Here is the list of creative group team names like lation, mariachi, famous league, etc,  to show everyone how smart and creative your team is:
26. The Cancun Crew:    Nice and simple.
27. Puebla Knights: The noblest.
28. The Amigos:    A team that's known each other forever.
29. Beer Pressure:    That's too much pressure.
30. Whole Enchilada:    A whole team.
31. Calle Boys:    Always on the streets.
32. Mexican Magic: Anything can happen with some magic.
33. Vengadoras:    They know how to avenge themselves.
34. Club de hombres:    Sorry Ladies.
35. Rough Asaltantes: They will beat you in your own territory.
36. Antojitos Agency:    Street food of Mexico.
37. The Grandilocuentes:    The bombastic.
Related Post: Powerful & Funny Nerdy Team Names
Mexico Nicknames Suggestions
Here we stand nicknames that are fit to fine as cool, unique, nice tribe names Mexico
38. Chela Partners: Partners who booze together.
39. Enemigo:    The foes of everyone.
40. Furia Forces:    Not a good idea to make these guys angry.
41. Sin Miedo:    Not afraid of any competition.
42. Sin Simpatía: Because sympathy is for the weak, no?
43. The Santos:    The Saints.
44. Sin Reglas:    These badasses do not need any rules.
45. Adorable Alebrijes:    A reference to folk art sculptures.
46. Abuelo's Army:    A family team name.
47. Kahlo Kickers:    Reference to Frida Kahlo.
48. Knockear Kings:    Excellent Boxers.
49. The Aztecs:    Fierce Tribe of warriors who settled in Mexico in the 13th century.
Creating Your Own Mexican Team Name
If you are confused about the above-listed options, then you can also create your own team name, and it is super easy. Just follow these guidelines, which will help you in brainstorming:
Look at Mexican Culture
If you are unfamiliar with Mexican culture, then you can find so much information on the Mexican lifestyle, which will help you to create an interesting team name.
You can find so many options about the Mexican lifestyle, films, food, art, and music on the internet. Make a list of all the terms that you find exciting.
Use Catchy Words
If you are familiar with the phrases which are commonly used nationally, then make a list of your favorite ones.
If you are not familiar with this language, then you can always search for Mexican slang on the internet to come up with interesting and unique words.
Just make sure that the words you choose are appealing enough to grab the attention of spectators.
Keep it Simple & Fun.
Don't complicate your name by adding words that are difficult to remember.
No one will remember your team name if it is difficult and boring, so keep your team name simple but fun.
You can also add puns or hilarious words to create an exciting team name.
Use Google Translator
If there is a word in English that you can really relate to your team but cannot find its connection to Mexico, then use a translator.
Translate those English words into Spanish or another language commonly used in Mexico.
Take Suggestions from Your Friends
If you are confused and out of ideas, then you can always include your friends in the naming process. More minds will generate more ideas.
Make a list of all the suggested names and then finalize the one which everyone agrees on.
Related Post: Best Ultimate Clan Names for Fortnite
Conclusion
Mexican culture is so unique and amazing, and we are sure that with all the options available in this article, you will have no trouble finding the best Mexican team name.
If you have found your perfect name in this list, then do not forget to tell us in the comments section.