When several clans join to play together, they have two options: fight or form an alliance.
The advantage of forming an alliance is that it allows you to share your skills and work together to achieve a particular goal.
Strategic alliances are very important for success. They really have the power to make or break records.
If we look at history, we would see so many success stories that took place because of alliances.
Funny, Cool, Strong & Awesome, Medieval Guild COC Alliance Names Suggestions
If you also prefer to play by creating alliances, then the first thing you need to worry about is a good alliance team name.
A good alliance name not only makes your members proud but also makes your opponent nervous.
That is why choosing the best alliance team name should be your first priority.
To help you in your selection, we have listed some suggestions that you are definitely going to like.
However, if you are interested in creating your own alliance team name, then do check out the guidelines at the end of this article.
For your ease, we have listed alliance team names under different categories, which are:
Cool Alliance Names
The main question is would you settle for a dull name just because it is easy to find, or would you prefer a name that leaves a catchy impression on your opponents?
We know choosing an interesting and cool alliance name is a difficult decision.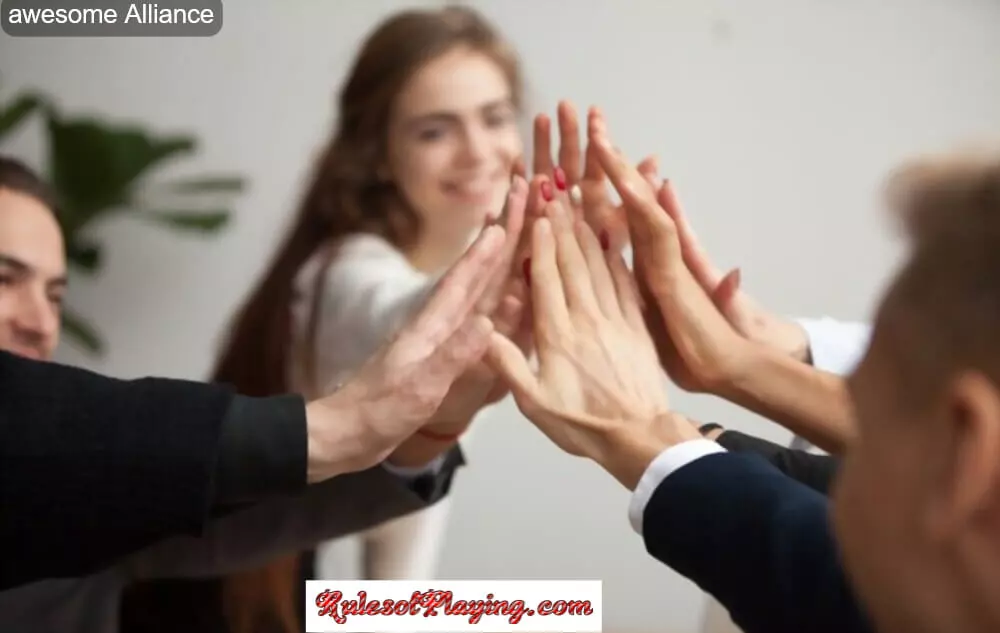 It can really make you break your team bond. That is why we have listed some cool alliance names' suggestions for you below.
Guilty Perfectionists.
Uprising Vigilantes.
The Returners.
Rise Of The Devils.
Skywalkers.
Ferocious Beasts.
Black Hawks.
Beast Fighters.
Royal Alliance.
Venture Bros.
Crystal Alliance.
Masked Heroes.
Inglorious Beasts.
Curious Butchers.
The Revolution.
Avenging Souls.
CougarTown.
Goblin Bloodline.
Wandering Beasts.
Lost Brothers.
Related Post: 100+ Unique Dog Group Names for You!
Good Alliance Names

When it comes to choosing an alliance name, you should never settle for less.
A good team name not only creates a good first impression of your team in front of the opponent but also boosts up your team's spirit.
So, if you want a perfect alliance name, then check out this list carefully.
Shield Agents.
Got Each other's Back.
Supreme Domination.
Night Ravens.
Sharp Samurais.
The Resistance.
Justice Bringers.
Axe Associations.
Rush For Glory.
Warriors United.
Victorious Ones.
United Brotherhood.
Mighty Troops.
Assault Forces.
Heroes Alliance.
Pros Corporation.
Sword Gang.
Divine Forces.
Mortal Army.
Untamed Forces.
Great Awesome Alliance Names

If you are looking for an awesome team name to stick in everyone's mind, this is your spot.
We have listed some great and awesome alliance team names' suggestions that will give your team an impressive identity.
Iron Fist Forces.
Death Dealers.
Elite Alliance.
Shadow Hunters.
Death Dose.
Psychopath Gangsters.
Heroes Never Die.
Starving Vultures.
Phantom Brothers.
Bad Company.
Unfriendly Slayers.
Invisible Defense.
Shadow Vengeance.
Murderous Intentions.
Eternal Brotherhood.
Expert Geniuses.
Shadow Legends.
Silent Assassins.
Supreme Resistance.
Savage Knights.
Strong Funny Alliance Names
Creating a strong and funny alliance name is not an easy task. You need to make sure that it is hilarious, creative, catchy, and memorable all at once.
A strong and funny name not only makes you chuckle but also makes your opponent nervous because they do not know what is in the box for them.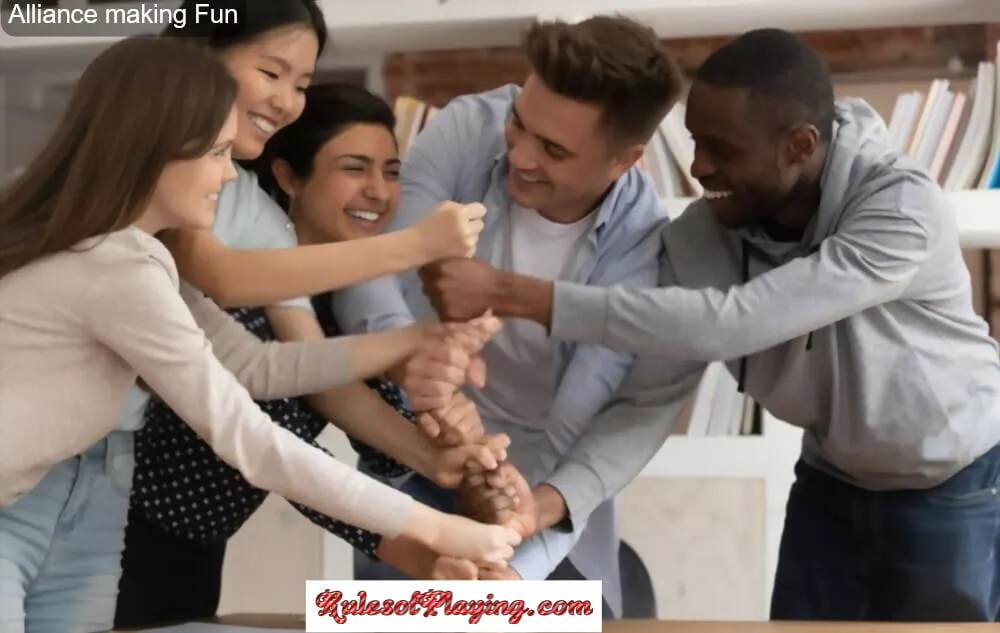 Also another perk of a hilarious name is that no one is going to forget about your team in a long time.
That is why we have listed some hilarious suggestions for you.
Rotten Society.
One Knight Stand.
Lazy Asses.
Stronghold My Beer.
Chilling Nerds.
Going Commando.
Freakshow.
Woofing Wardogs.
Game Of Phones.
Clash Of Clowns.
Little Devils.
Basic Pitches.
Struggling Dwarfs.
Tiny Troopers.
Dancing Devils.
Fast Fingers.
Keyboard Warriors.
Bot Killers.
The Brew Crew.
The Quitters.
Medieval Guild Names
What's not to like in medieval games? The sword fights, justice restoration, knights in shining armor, and the interesting game plays.
The creators have turned boring history into interesting game plays where you fight for justice and bring peace to the kingdom.
In all of this, you form guilds and alliances to achieve your goals.
However, another thing that plays an important role in making your guild famous and appealing is an interesting guild name, a name that makes your guild look stronger and smarter than others.
If you are also looking for medieval guild names' suggestions, then this list is for you:
Blood Lords.
Chaos Kings.
Vision Quest.
Bloodthirsty Messengers.
Crusader Kings.
Duty To Protect.
The Cursed Ones.
Unforgiving Lords.
Guardian Angels.
Bowyers And Fletchers.
Silver Dragons.
Justice Revival.
Game Changers.
Sword Alliance.
Lords Of Victory.
For Honor.
Assassin's Creed.
Valiant Knights.
Knights Of Terror.
Ruthless Destroyers.
Alliance Names for War Games
War games are the most interesting, intense, and adventurous games where you are supposed to defeat the enemies by making the best strategies.
The game becomes more interesting and easier after forming alliances. Alliances allow you to make the best strategies together to defeat the enemies.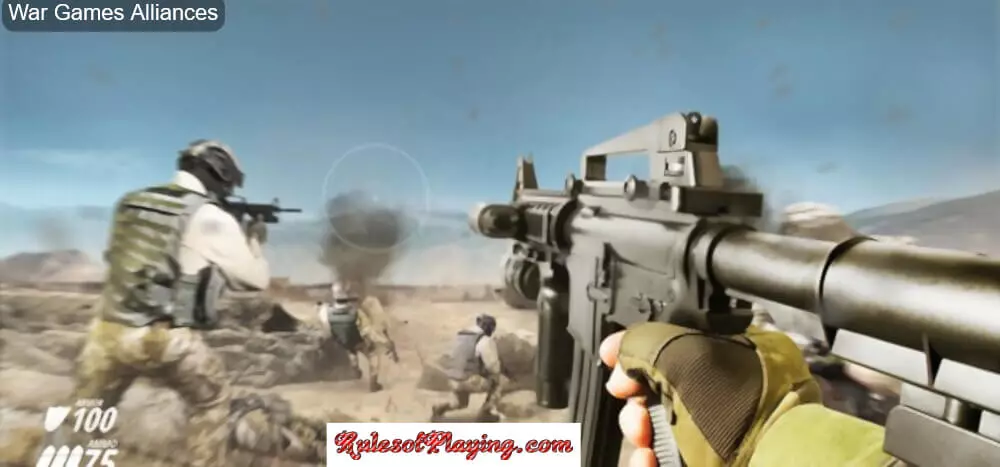 But for the best game, you need the best alliance name, too, right? That is why we have listed the best alliance name suggestions for you in this list to make your gaming experience more amazing.
The Last Army.
Battlefield Warriors.
Army Of Undead.
Boiled Blood.
Warband.
Ruthless Fighters.
The Destroyers.
Battle Brothers.
Company Of Heroes.
The Immortals.
The Patriots.
Rise Of Nations.
Black Force.
Battlefield Pros.
Brute Forces.
>>>> Related Post:    Unique Silver Team Names Listed for Your Squad
Big Brother Alliance Names

When it comes to the game of Big Brother, players are supposed to make alliances with people who always got their back. Alliances have always been an important part of Big Brother.
Coming up with the best alliance name is another pressure that players face after entering the house because they are always expected to come up with a catchy name.
If you are also confused in your decision-making, then we have listed some best alliance names that no one is going to forget in a long time.
The Oddballs.
The Renegades.
Before Anyone Else.
Pinky Swear Alliance.
The Musketeers.
Level 10.
The Hitmen.
Queer Nuts.
The Quack Pack.
Girl Power.
Agents Of Chaos.
Home Wreckers.
All-Dude Club.
The Exterminators.
The Elusive hell-raisers.
Clash of Clans Alliance Names

In order to lead in the game, the alliance is very important. If you really want to win, then, you need to attract pro players in order to make a stronger team.
That is where a name plays an important role. No one will form an alliance with you if your name is dull and boring.
Keeping this in mind, we have listed some best suggestions for you that will definitely make your team look the best among the rest.
Sword Partners.
Uprising Rivals.
Skull Crushers.
Eternal Guardians.
Powerbomb Alliance.
Death Alliance.
Vengeance Of Faithful.
Ordinary Predators.
Rise Of The Legends.
Destruction Alliance.
Riverside Raiders.
Dark Souls.
Barbarians.
Deadly Alliance.
Knights Of First Order.
The Mighty Rulers.
Rise Of Rebels.
Wolverine Blood.
Spear Society.
Sword Alliance.
Points to Consider While Creating an Alliance Name?
If you want to create your own alliance name and looking for some suggestions, then follow these guidelines for a head start.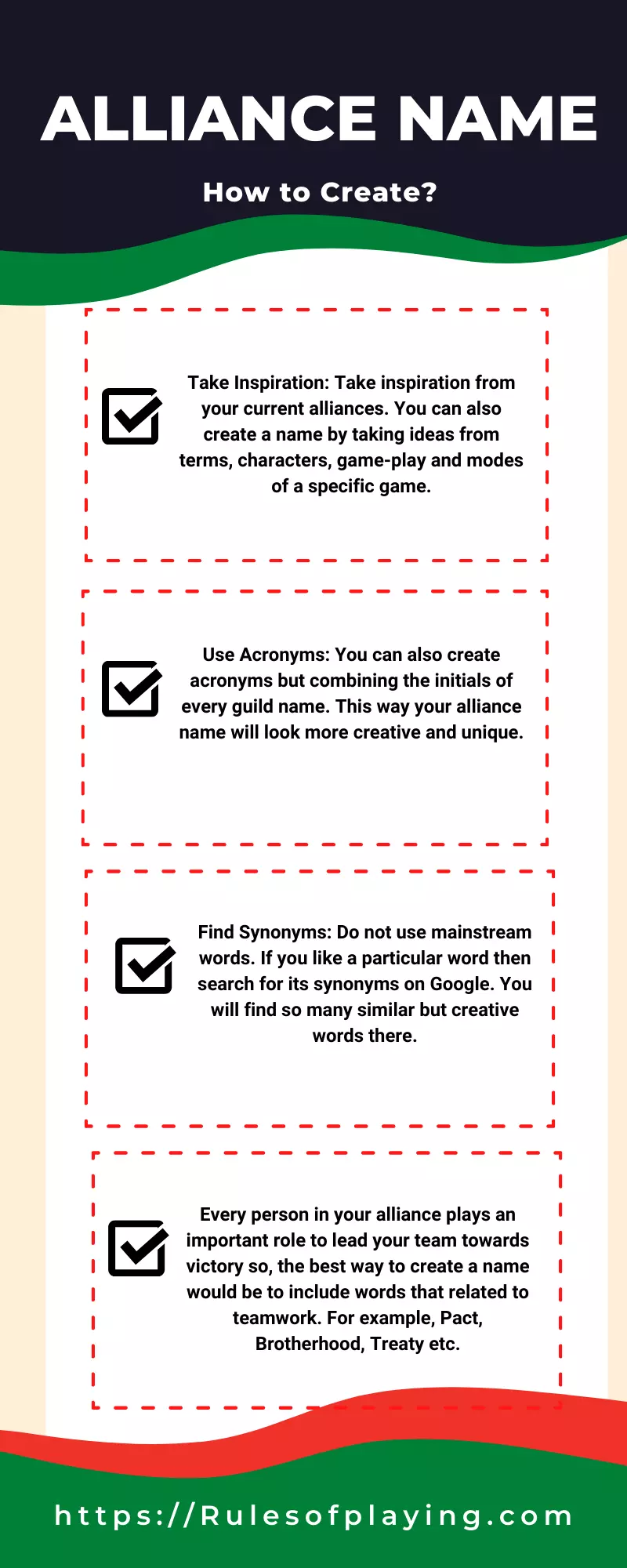 1. Take Inspiration: Take inspiration from your current alliances. You can also create a name by taking ideas from terms, characters, game-play, and modes of a specific game.
2. Use Acronyms: You can also create acronyms but combining the initials of every guild name.
This way, your alliance name will look more creative and unique.
3. Find Synonyms: Do not use mainstream words. If you like a particular word, then search for its synonyms on Google. You will find so many similar but creative words there.
4. Use words related to teamwork: Every person in your alliance plays an important role in leading your team towards victory, so the best way to create a name would be to include words that are related to teamwork.
For example, Pact, Brotherhood, Treaty, etc.
Related Post: Unique Powerful Mom Group Names
Conclusion
Alliances play an important role in game-play. That is why the alliance name should be strong and creative enough to make the opponent nervous.
Luckily, now you know where to search for the best alliances' names. Feel free to pick any name that suits your team perfectly.