80+ Dog Group Names [ Funny, Cool, Running, Sports, Inappropriate ]
Dogs are known as man's best friend. They are the most loyal animals you will ever see. Whenever you think you are alone, you will always find them by your side, staring back at you with their cute puppy eyes. They are simply amazing.
Whether they are playing with you, asking for treats with their cute little eyes, or simply greeting you whenever you come back home from work, they are always there to put a smile on our faces. Many people consider them as a part of their family now and treat them with equal love and kindness.
Dog Group Team Names | Funny & Powerful, Cool & Inappropriate, Sports & walking Dog Squad Name Ideas

In this article, we have listed some dog group names suggestions for you. These group names are best for dog walkers, dog lovers and any dog group. So, if you were looking for dog groups names or suggestions to name your new pup then we've got you covered. We have high hopes that you are definitely going to find a perfect dog group name here.
Funny Dog Team Names

If you have a great sense of humor then now is the best time to show that by choosing a funny dog team name. But, if you are having a rough time finding funny names for your dog  team then do not worry,we have written some pretty hilarious names in this list for your inspiration that are definitely going to bring a smile on your face.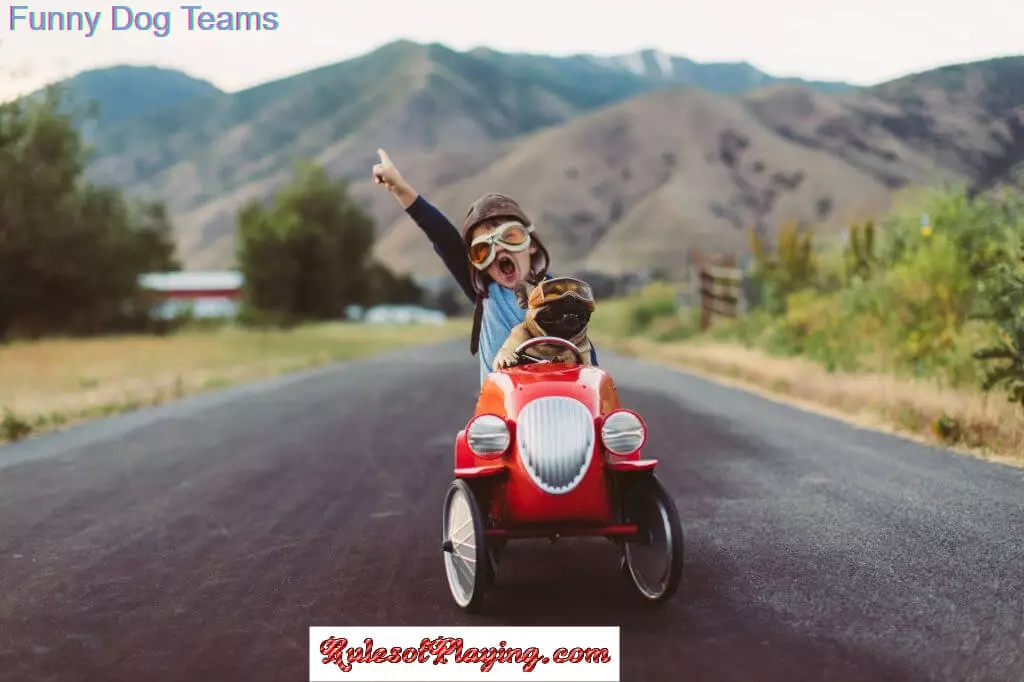 1-DogPAWer.
2- Awesome PAWsome.
3- Puppy Patrol.
4-Unleashed Force.
5- Doggy Style.
6- Jimmy Chew.
7-Abracadabra.
8-The Huskateers.
9- Pro Puppy.
10- Ruff n Tuff.
11- My Furrrst Love.
12- Wild Call.
13- Sugar-Barker.
14- Paws On The Run.
15-Paw-sitive Vibes Only.
Dog Walk Team Names

Nowadays, people are so busy in their lives that they do not find time to take their pets for a walk. That is where a dog walking team plays an important role. If you are a dog lover who just loves being around the dogs all the time then there is no better job for you than dog walking.
You can turn your passion into business. However, to attract more customers, you need a unique and catchy name. Keeping this in mind, we have listed some amazing suggestions for you in this list that will surely make your team unique and appealing to customers as compared to other teams.
16- Treat Chasers.
17-In Dogs We Trust.
18-PUPaholics.
19- Paw Prints.
20-PAWfessionals.
21- Tails On Trails.
22- Bow Wow Krew.
23- Wishbone.
24-Barking Squad.
25- Paw Parade.
26-Canine Cruisers.
27- Wacky Racers.
28- Dog Town.
29- Woof Gang.
30- Pup Pals.
Running Names for Dogs
One of the best activities that you can enjoy with your dog is running. It is the best exercise you can do together. However, to make this activity more exciting, you can choose a running name for you dog. The best way to create name for your running dog is to notice his notable traits and then create a meaningful name.  We have listed some amazing suggestions for you in this list that are perfect for every dog breed. We are sure one of these names will definitely suit your dog's personality.
31- Flash.
32- Dodge.
33- Speedy.
34- Air Bud.
35- Tyson.
36- Ryder.
37- Sparky.
38- Thunder.
39- Miles.
40- Deena.
41-Hawk.
42- Sprint.
43- Simba.
44- Pacer.
45- Leap.
Sports Names For Dogs

Are you a sports fan or do you have an athletic dog who loves to play with you all day long? This could be the perfect inspiration for you if you are looking for sports name for your dog. The best way would be to name your dog after your favorite sports person or game.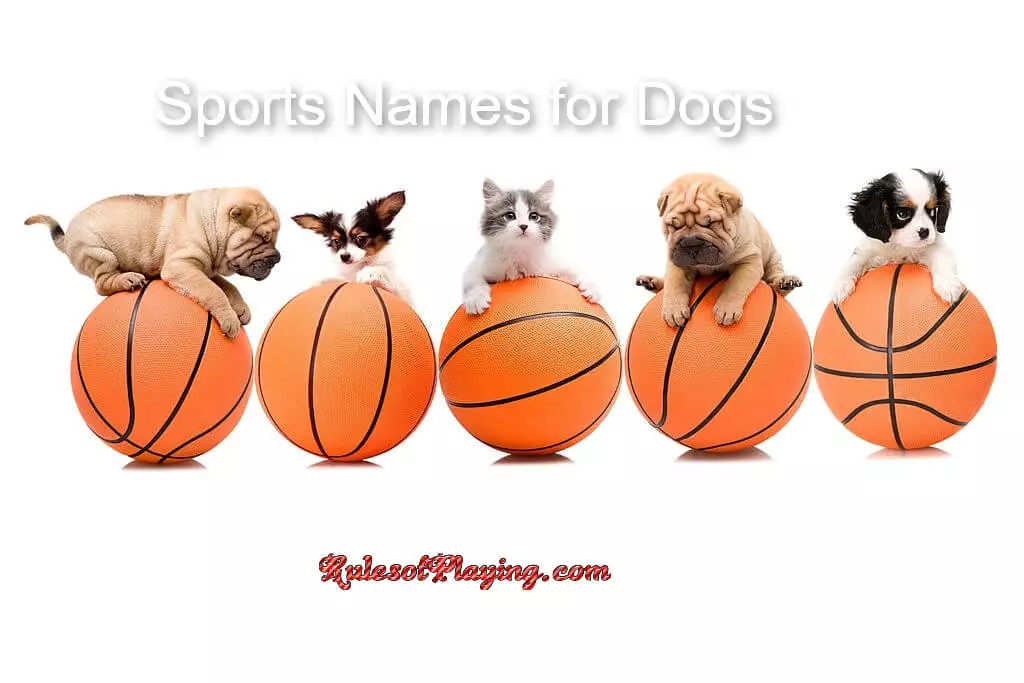 From soccer to tennis, there are plenty of inspirations around you to choose from. To make your selection process easier we have also listed some suggestions for you that you are definitely going to like:
46- Apollo.
47-Archer.
48- Coach.
49- GOAT.
50- Frisbee.
51-Boots.
52- Birdie.
53- Buster.
54-Keeper.
55- Bolt.
Funny Names for Dogs

Don't you love those dogs whose personalities are cool and bubbly? It is said that dogs copy the traits of their owner. If you've got a dog you love to play with and who is as fun loving as you then you should definitely choose an epic and hilarious name for him. To give you some ideas, we have written some great pun and hilarious names for your little one in this list.
56- Puffy.
57-Dogzilla.
58- Hairy PAWter.
59- Sneaky.
60- Snoopy.
61- Snore.
62-Pugsy.
63- Grandpa.
64-Woofy.
65- JK Growling.
66-Stinky.
67- Sir Barks-A-Lot.
68- Shaggy.
69- Yeller.
70- Bubbles.
Inappropriate Dog Names

Your dog simply won't care about his name as long as you pronounce it with affection, but there are some names that are too inappropriate. We have written some names that are bit inappropriate to give you an idea of what names you should avoid. This list might not be ideal for your dog but still, we had fun writing this ridiculous list.
71- Gotham.
72- Hitler.
73-Alpoochino.
74- Bacon.
75-Nutmeg.
76- Killer.
77- Snots.
78- Bow Wow.
79-Kanye Westie.
80- Pope.
Points to Consider While Choosing a Dog Group Name
We have written some points in this list which will make it easier for you to deicide a good name for your dog group.
1-Choose Words That Are Easy To Pronounce: Choose words that are easy to spell and pronounce. It will get easier for your dog to understand it quickly.
2- Do Not Choose Long Names: Do not choose a long name for your dog group or dog. It will get pretty hard for you to repeat the name on daily basis. One way or another you are eventually going to change the name so, it is better to choose a short and unique name now.
3-Do Not Choose Aggressive Names: People often use aggressive or harsh names for their dogs to make them look more intimidating but this will only result in bad reputation of your dog. That is why, you should choose words that are polite and nice.
4-Do Not Go For Offensive Names: You should not choose names that are offensive in any racial, sexual or religious way.
5-Try To Use Your Dog's Special Trait In Name: You know your dog better than anyone. Make a list of what comes to your mind when you think about your dog. This will help you to decide a perfect name.
Conclusion
We hope this list helps you to decide a perfect dog group name. No matter what name you choose, your pup is going to love it. So, do not worry too much about finding a perfect name, just trust your instincts because you know your dog better than anyone.