Looking for a perfect combination of bocce ball team names that are cute, funny, creative, and victory inspired?
Stick here to the end to find the best bocce team name combination for winning the game.
The bocce is one of the most played games in the world.  It is one of the oldest yard games which can be played between two teams with an even number of players.
It becomes more interesting if you play it with your friends or family. However, like any other game, you definitely need a team name for this game too.
List of Bocce ball Team Names [ Funny, Powerful, Cool & Creative List ]

So, if you are also participating in bocce ball and looking for the best team names, then this place is for you.
We have written some best options for you that we believe have not been taken yet. These names will surely make your team look the best among the rest.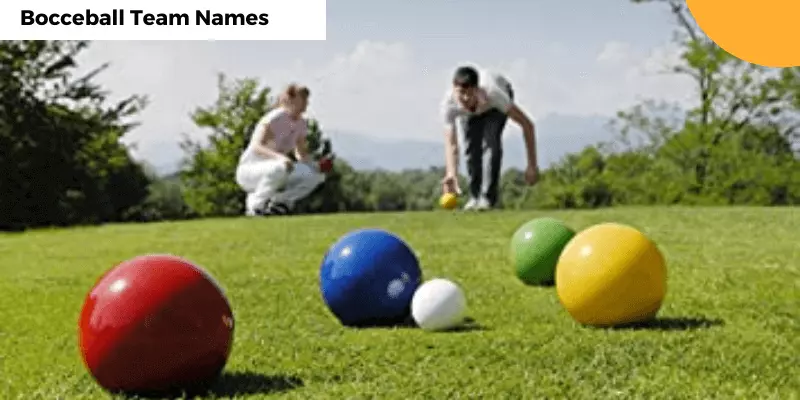 Funny Bocce Team Names
Here is the list of funny team names that will definitely bring a smile on your face:
1. Go Bocce Yourself!    Whatever you say.
2. Mission Imbocceball: They have already given up.
3. Amateurs: Any tips for Noobs?
4. The Pun Team:    Better at puns than this game.
5. Doucheballs:    Certainly, not the popular team.
6. Throw and Pray:   The only strategy left now.
7. Pallina and her balls:  A super catchy team name.
8. Sons of the Bocce:  Lacking morals??
9. My drunken team has a bocce problem:  Sure, they do.
10. Snakes on the field:  Run, everybody, run.
11. Upper Roller Lower Roller: Say that again and again.
12. Ball of Duty:  Balls on duties.
13. Ball Experts:    Anything you want to know about balls?
14. Noob Touch:  Losing to this team would be an embarrassment.
15. Wrong Ball:  They do need some practice, I guess.
Related Post: Powerful Guild Names for Ultimate Victory!
Clever Bocce Team Names

Here is the list of some good bocce team names which can be used for any group:
16. Bocce Stars: Boss of this game.
17. Never Stop Boccelieving:  And they never will.
18. Mission Bocce ball:  Win or die situation.
19. Clean Moves:    They will win without any mistake.
20. The A-plus Team: They will show you how a game is played.
21. Holey Moley:   They always surprise their opponent with their moves.
22. Gentle Throwers:    They throw so gently.
23. Backyard rollers:    Trust me, Bocce is way more fun in the backyard.
24. The Rollin' Stones:  Not an easy competition to play with.
25. Love in the bocce field:  Just too sweet.
26. Death From Above: Losing to them would definitely be painful.
27. Bocce Dominators:    When they play, the other team knows they to improve their game.
28. The Bocce Revolution: Get ready to see some amazing moves.
29. Underdogs: You may think that they are noobs, but they will prove you wrong.
30. Balls of Fate:  Relying on luck now.
Creative Awesome Bocce Team Names
Here is the list of some cool bocce team names that will show everyone how smart and fun your team is:
31. It's Show Time:    Watching this team on the field is fun.
32. The Hot Shots: They will win with their impressive shots.
33. Rolling with Swag:    The know-how to make an impression.
34. Rock n Roll:  Gliding to Victory.
35. It's not Luck; it's called Skill:    Take notes from this team.
36. Ball me to hell:    In reference to "Drag me to Hell."
37. Bocce First, Beer Later:  Guess who's hitting the bar today.
38. Balls of terror:  Their skills might be terrifying for another team.
39. Master Blasters:  They have mastered this game.
40. Magic Hands:    Those hands can make any shot happen.
41. Flawlessly Accurate:    They never make any mistake while performing.
42. Go Big or Go Home:  There is no in between.
43. Impulsive Ballers:    Nothing can stop them from winning.
44. You, Me & Bocce:    A perfect love story.
Related Post: Great Halloween Team Name Ideas
How to Create a Bocce Team Name
We know how exhausting it is when you are out of ideas. But do not worry because we have listed some tips here which will help you in brainstorming.
Find Some Inspiration
You can associate your team name with certain characteristics.
For example, you can use terms like panthers, hawks, warriors, or ninjas to show your team's strength and dominance.
A Common Interest
Think about what you all have in common. Is there any common book that you all like?
Is there anything that you all love to do in your free time? What are your likes or dislikes? You can use anything that is common among you and come up with a name according to that.
The best part of choosing a word on the basis of common interest is that it will also enhance your team's spirit.
Puns or Humor

Bocce is a fun game; that is why your team name should also be fun and creative. You can make a list of all the funniest words that come to your mind.
You can merge those words with terms associated with the bocce game. Adding humor to the team name is the best option to make your name remember-able and interesting.
Catchy and Creative
Choosing a team name that is catchy and unique is very important. You will make fans on the basis of your team name.
If it is not interesting, then no one will remember it after the game.
Check out  Recommendations

Bocce is a game with so many rules. Do not forget to check out those rules and regulations too. These rules will help you to create an interesting name.
You can merge anything funny with these names to make them hilarious.
All team Players are on Board!
Do not forget to take suggestions from other members too. Different minds will help to generate more bocce team name ideas.
Related Post: Powerful Spikeball Team Names in the List
Conclusion
Bocce is an entertaining and interesting game, so it will be easy for you to generate so many ideas.
We have also listed some suggestions that we think will suit perfectly on every group.
If you also have some ideas, then do not forget to share them in the comments.