Firefighting is a very serious business. A powerful, fiery Fire team name is the one that lifts up the spirit of a firefighting team or squad to fight against fire.
The fighting heroes need a unique, powerful name for their group or squad. they need a name that will make their team look the best and most powerful among the rest.
List of Fire Team Names that are Wonderful, Funny, Cool & Powerful
So, if you are looking for names to boost your team's morale and make them smile, then check out these ideas listed below.
We have listed names under every category, so if you are looking for funny, powerful, or best firefighting team names, then we got you covered.
In short, you will find every category in this list that you are looking for.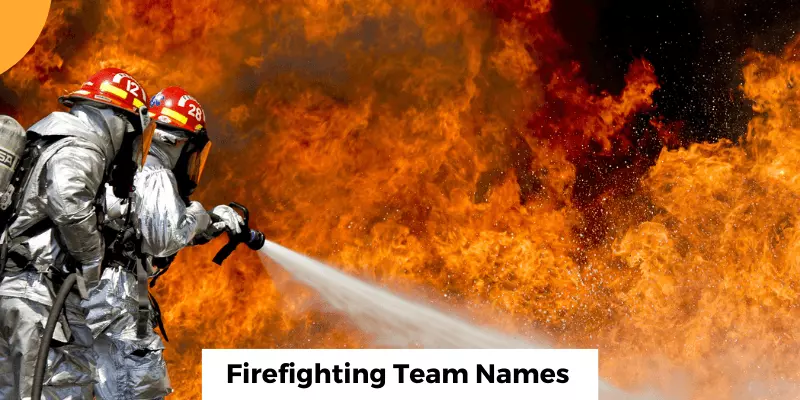 Funny Fire Team Names
Here is the list of some funny team names that will not only make your team members smile but also make your team look the best:
1. Hose Commanders: And best at their job.
2. The Hawt Dawgs:    Ladies want this bunch.
3. WTF: Where's That Fire?

4. Panic Attack: They always get nauseous before any dangerous situation.
5. Love 911:Love in the air.
6. Deodorant will work:    Because they are not familiar with the concept of the shower.
7. Hose before Bros: Nothing is more important than work.
8. The Late Comers:    They need to work on their time management.
9. Water Bullets: Not letting the fire spread anymore today.
10. The Big Show:    A group of fat fellows.
11. Too Hot to Handle: Too much self-obsession.
12. Ladders all the way: A fun name.
13. Idiots on Ladder: Seeing them is no less than a comedy show.
14. The Furniture:    All they do is sit and chill.
15. Sweaty and Sexy:    We know these two things really do not work together.
Related Post: Cornhole Team Name Ideas for Your Squad!
Powerful Fire Team Names

Here is the list of powerful team names to show everyone that you are not afraid of any fire and you know how to ace any task:
16. Smothering the Fire: The best team at your service.
17. Operation Blow out:    And they won't rest until they
18. 24 Hours Active:    Always in the best and most active condition.
19. Only the Brave: Because this job is not for the weakhearted.
20. Not gonna Back down:    Even if the situation is not going in their favor.
21. Fire Chasers: They work way too efficiently.
22. Fire Warriors:    All set for some action.
23. Peak Performance:    You will always see them giving their 100%.
24. Playing with Fire: And not afraid of it.
25. Emergency Experts:    Experts react quickly to alarming situations.
26. Fire Serpents: No job is difficult for them.
27. Smoke Jumpers: Risk Takers.
28. It's Show Time:    Time to show skills.
29. The Frontline Warriors:    They always lead in any situation.
30. Fire Preventers: Not letting the Fire spread.
Best Fire Team Names
Here is the list of Best team names that will make your team look the best among the rest:
31. Fire Fellas:    Too cool.
32. Men of Steel: Nothing can harm them.
33. Never Giving Up: Giving up is never an option for them.
34. FireProof: They make everything look so easy.
35. LeatherHeads:    Helmets that are still used by many firefighters.
36. Call of Duty:    They hold great pride in their work.
37. Hot Shots:    This team knows its worth.
38. The Strom Bringers: There is no fire that they cannot control.
39. Fiery Dudes:    They got killer instincts and amazing style.
40. The Bravest:    The boldest of all.
41. One Hose Wonders: They ace on their first attempt
42. This won't Take Long:    Nice and confident.
43. Immune to Fire: Seeing them will make you wonder if they are fireproof.
Related Post: Halloween Team Names Ideas Listed
How to Create Your Own Fire Team Name?
Firefighting is the spirit that fights the fire! The firefighters who risk their lives just to make sure that we are okay are the real heroes.
They are not afraid of any intense situation and always ready to risk their lives for humanity.
You definitely need a name that is fiery and powerful enough to make your team unique among others.
The following standard criteria shall help you to come up with your own unique team name.
We believe after reading these tips, you will come up with so many ideas to create a powerful and unique name.
Firehouse Terms
You can get a lot of ideas from the internet. Search for the terms that are used in firefighting. You can merge these terms with something creative to create a unique team name.
Powerful & Catchy Words
You can use powerful words to make a good and powerful impression on your team. For Example, The Fire Club, The Strom Bringers, etc.
These terms will also enhance your team's spirit to work more efficiently.
Pun & humor
Firefighting is a very serious business; you can use some good jokes to make this job less intense.
A good and funny team name will make your team members calm, composed, and relaxed even in stressful conditions.
Simple Terms
Always Remember, The Simple, The better. Do not use words that are complicated for other people to understand.
Keep your team name simple, easy, and fun. So, even if you worked really hard, no one will remember your team if your team name is difficult.
Take Feedback from Team Members

If you are out of ideas, then you always have your team members to take suggestions from. Include them too and listen to their suggestions.
More minds will generate more creative ideas. You will definitely come up with a perfect name after a good discussion with your friends.
Related Post: Cheer Team Names Ideas For Your Squad!
Conclusion
Whatever name you choose, make sure that it is creative enough to make your team look the smartest and bravest.
We believe that the above-listed names are creative and unique to make your team stand out among the rest.
If you also have some ideas, then do not forget to tell us in the comments section.