Looking for a fishing team name for a friendly or serious competition that has not been taken yet? This is your place.
We know how difficult it gets for people to come up with the best name. That is why we have compiled a list of team names under different categories to make your fishing experience amazing.
Fishing Team Names List, Ideas, Suggestions



We have arranged a list of Funny, Cool, and Best team names to show how amazing your team is.
We cannot guarantee you will win with a good name because you need a lot of practice for that, but we can make one promise, and that is that with these names, you will always be remembered fondly.
Every name in this list is unique and creative so feel free to steal any.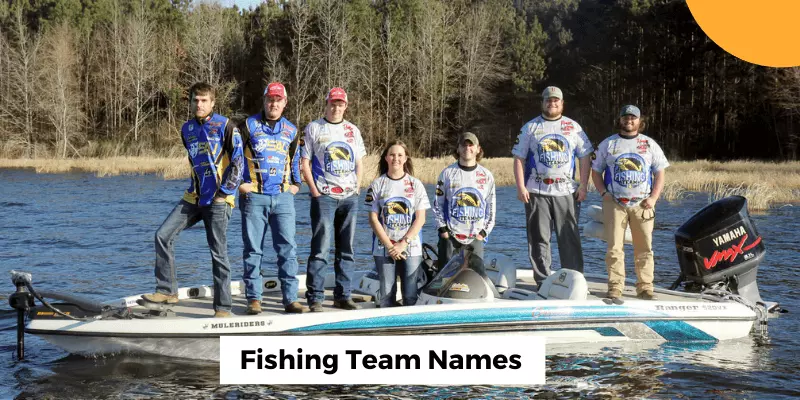 Funny Fishing Team Names
Land with thunder with these unique, crazy, bass, powerful, and fun-inspired fishing names to take your competition to the next level and will surely tickle your funny bone:
1. Bait me, maybe?:  They surely know how to make a move.
2. Something Fishy:    Something is suspicious about this team.
3. Nothing but Junk:  Trouble finds them too often.
4. Reel Wanderers:    Always lost in their own thoughts.
5. Happy Hookers:  They have no worries.
6. Knot Again:  Definitely not gonna do this again.
7. Keep Calm and Keep Jigging:    Because panicking is never helpful.
8. Fishing Fools:  No matter how hard they try, they make really dumb strategies sometimes.
9. ShellFishSquad:  They get quite mean when it comes to winning.
10. Beginners Club:  Go easy on these first-timers.
11. Pure Losers:  Do not expect a great performance.
12. OffShore Maniacs:  They are a little unpredictable.
13. In the deep:  Naughty but nice.
14. Unfortunate Fishers:    Luck is not In their favor today.
Related Post: Cool Names for the Group of 4 People
Cool, Catchy & Creative Fishing Names

Here is the list of cool team names to show everyone that your team may look cool, but you surely have much more to offer than just your fun side.
These names surely win a win for fishing lure tournaments, bait or saltwater-like competition
15. Finding Nemo:    Undeniably cute.
16. Saltwater Raiders:  Destroying every team in their path.
17. The Storm Bringers:    It is so peaceful before they all show up.
18. Luring Queens:  You best bow down.
19. Trolling Kings:  Impressive talents.
20. Captains Courageous:  They know their worth.
21. Gone Fishin':  Too much excitement and enthusiasm.
22. Bait Buddies:  Always having each other's back.
23. Top Hookers:  No one is better.
24. Aquaholics:  They just love to stay on shore.
25. Batman and Robin:  A wordplay on 'Batman and Robin'.
26. Fishin' Fellas:  Always doing fishing together.
27. Fish Tales:  They just can't stop bragging about their fishing experiences.
28. ConspiraSeaTheory:  Always into planning plotting.
29. Tide Chasers:  There is no limit for them.
30. The Air Benders:  They know how to bring a challenge to the game.
Fishing Nicknames

Here is the list of best team names that will make your team different and unique from others:
31. Blue Dolphins:    One positive team.
32. One Fish, Two Fish:  In reference to a best-selling book.
33. Extreme Fishing:  They will take any risk.
34. Lords of the Rod:  They ace on their first attempt.
35. The Reel Rebels:  And they are here to bring down the ruling ones.
36. Anchor Managers:  The best in their work.
Related Post:
Saltwater Fishing Team Names
37. Sea Beasts:  A wild bunch.
38. Fishing Adventurers:  Always ready for action.
39. By the Bluest of Seas:  So poetic.
40. The Seahunters:    An expert team.
41. Reel Men:  The brave-hearted.
42. Luring Legends:  Always achieving what they want and how they want.
43. Keeping it Reel:  Always playing fair and square.
44. Blade Bait Demons:  Better get out of their way.
How to Create Fishing Team Name for Your Group?
Creating your own team name is not as difficult as it looks. Just follow these guidelines to get some ideas.
After reading these tips, it will be easier for you to create your own team name.
Choose a theme
Narrow down your search. Choose what type of team name you want.
Do you want a funny name to make everyone laugh, or do you want the best name to show everyone that you are tough and the best among the rest?
Pick one theme because it will broaden your mind and help you to get new ideas.
Take Inspiration from Places where You go Mostly For Fishing.
Take inspiration from your favorite places of fishing. Where do you guys prefer to go fishing?
Use that place as an inspiration to create or merge words with it.
Merge Words

List down words from different genres and then combine them with fishing terms or anything that is related to fishing.
If you are a beginner, then search for all the fishing terms. You will definitely find ideas from there.
It is not necessary to use exact fishing terminology; you can make the words more interesting by merging them with something creative.
Create a Name as per Your Contest Level
Are you having a friendly competition or the largest competition in your state? Choose a name according to that. Do not forget to maintain the level of your team through your name.
How does it Sound
Once you are done listing down all names, try saying them aloud. Ask your friends how it sounds-Is it easy or complex? Does it sound exactly like how you imagined it?
Take Suggestions from Your Friends
Gather your fishing group and ask each of them to give suggestions and concepts to come up with a perfect name.
A brainstorming session with your friends will definitely help greatly with creative ideas.
Related Post: 101 Badass Guild Names that You are Looking For!
Conclusion
Fishing is the best hobby, and the fact that you can make teams and challenge your opponent makes it more exciting.
So, keep practicing without worrying about choosing a team name because we got you covered.
Choose any name that you like from the above list or create your own, and do not forget to share with us in the comment section.