Looking for a dance group name for your next dance competition? here you go, we have listed perfect Indian dance group names for your next shot!
Now, choosing a group name, especially a dance group name, might sound hard but trust me, it is not. Your name is the first thing that will be your introduction to other people.
That is why your team name should be unique and interesting to grab the spectator's attention.
Your team name should be attractive and able to justify what you do. That is why we have arranged some great suggestions for you.
We have written names under every category, so it will be easier for you to choose a name that fits the personality of your group members.
So, make sure to check all the options because we are sure that you will definitely find your perfect dance group name here.
List of Indian Dance Group Names



We have arranged a list of powerful group names, cool dance group names, and creative dance group names that will make your group look the best in the crowd.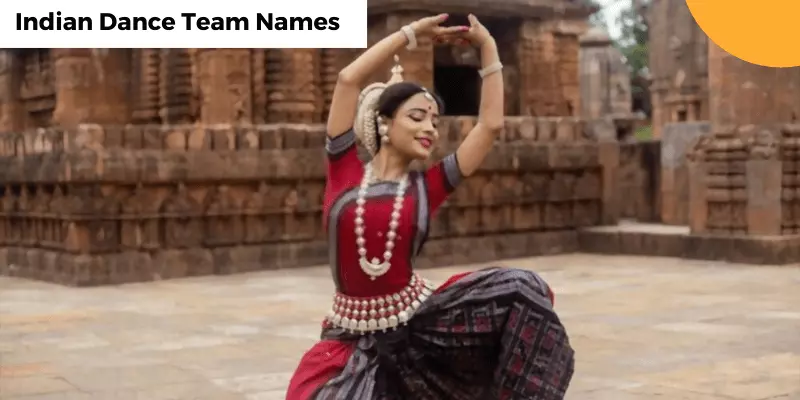 Powerful Indian Dance Group Names
Here is the list of powerful team names to steal the show and show everyone that you are the only dancing masters here:
1. Apratyashit kadam:    Get ready to see some unexpected moves.
2. ChamakAbhyuday:    Rise and Shine.
3. Nrtiya Abhay:   Go fearless in dance.
4. Abhijaya:    There are only here to win.
5. Taal say Taalmila:    Best in coordination and synergy.
6. Shubh Kadam:    Spreading positivity with their moves.
7. Ekatahmari Shakti hai:    Their strength is their unity.
8. Nritya Pooja Hai:    Dance is worship for them.
9. Raqs kay Yodha:    Dancing Warriors.
10. Maha Shakti shali:   You should think twice before competing with this team.
11. Nritya Wejeta:    Winners of the day.
Related Post: Best Couple Team Names Ideas For Your Group!
Cool Indian Dance Group Names

Here is the list of cool dancing team names to let people know about your compassion for dancing and how fun your dancing group can be:
12. Nach Baliye:    Dancing pairs with all heart.
13. LehraKay:    Rhythmic moves.
14. Kay Ghungroo Toot Gae: Dance with all your strength.
15. Samay per raqs:    Doing steps with accuracy.
16. AajaNachle:    Let's Dance.
17. Nritya Dasta:    Dance squad.
18. Masakali:    Twirling dolls.
19. Mann Chalay:    Living life in their own way.
20. Disco Deewane:     Party animals.
21. Nritya Jeevan Hai:    Dance is everything to them.
22. Natana Gurus:    Watch and learn from them.
Creative Dance Group Names

Here is the list of creative dancing group names to show your opponent that you are not just perfect in your moves, but you are also creative and smart enough to beat them.
23. ABCD: AnyBodyCan Dance.
24. Dance Kay Deewanay: Mad for dance.
25. ShubhVichaar:   Think positive and do positive.
26. Darshanik Nritya:    Scholars of every dance skill.
27. Chance Pe Dance:    If you got it, flaunt it.
28. Bhangra PaaLay:Brining their crazy side out.
29. Nritya Garima:    They know how to maintain their dignity with their performance.
30. NaachBasantiNaach: Go wild with your moves.
31. Swasthchitt kadam:    Sane moves.
32. Nritya Lakshya Hai: Dancing is their aim and passion.
33. LafangayParinday:    This team knows no limits.
Related Post: Best Clan Team Name Ideas For Fortnite
How to Create Your Own Dance Group Team Name

In India, you can see so much diversity. There are so many cultures here and so many diverse dance forms which are so mesmerizing enough to blow your mind.
Another benefit of this dance is that it is the best way to maintain fitness. You can dance solo or in a team, but in every case, you need a good dance group team name.
Whether you choose a name from the above list or want to create a name of your own, either way, you need to remember some points to make your group stand out among the rest.
That is why we have listed some guidelines which will definitely help you in creating a perfect team name.
Keep it Simple

Your team name should not be too large because it will be difficult for your fans to remember it.
Do not use words that are offensive or vulgar because that will not give a good impression of your group to spectators.
Use Active Words

Use words like dance, rhythm, moves, and skills like we have done in the above list to show your compassion for dance through your name.
Your team name should show your love for dance. No one will support your team if your team name is not worthy enough.
Also, the use of these words will encourage your group members to perform with more energy and enthusiasm.
Be as Creative as You Can

While creating a name, you should be as creative as you can. You can draw inspiration from your favorite dancing form, favorite dancer, favorite dancing movie, or songs.
You can also merge words to create a unique word.
Take Feedback from Group Members

Feedback is very important. Your team members will become more energetic and motivated when they feel happy and comfortable.
You need to involve them too in decision-making. Ask them for suggestions. Who knows, they might have some creative ideas too.
That is why you should always ask them for suggestions. Once you are done listing down all the suggestions, say them aloud.
Most of the time, a name that sounds good in your head does not sound good when said aloud. After this, it will get easier for you to finalize one name.
Related Post: Unique & Creative  Bowling Team Name Ideas
Conclusion
Choosing a good team name for your dancing group is as important as practicing your moves.
We are well aware that an Indian dancing group should reflect their culture in the names.
That is why we wrote the list keeping that in mind. We hope you will find a good team name here.