Everybody likes a powerful, strong team name that strikes the first impression of competitors on the court. A powerful team name reflects the spirit and unity and lifts up the inspiration of teammates!
Given the fact that there are thousands of names available, a team name that is; fierce, strong, famous, tough, or killer is a really difficult task to find.
Powerful Team Names | Bold, Warrior Spirit, Strong Team Names List
If you want to use a powerful name for your team, then this is your place.
We have arranged a list of powerful team names, and we hope that you will find the name here that you are looking for.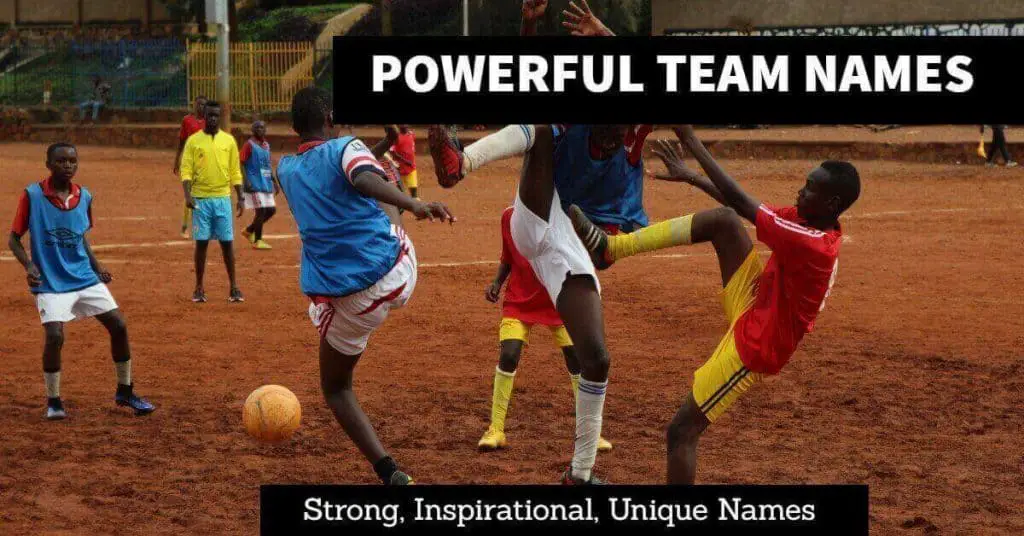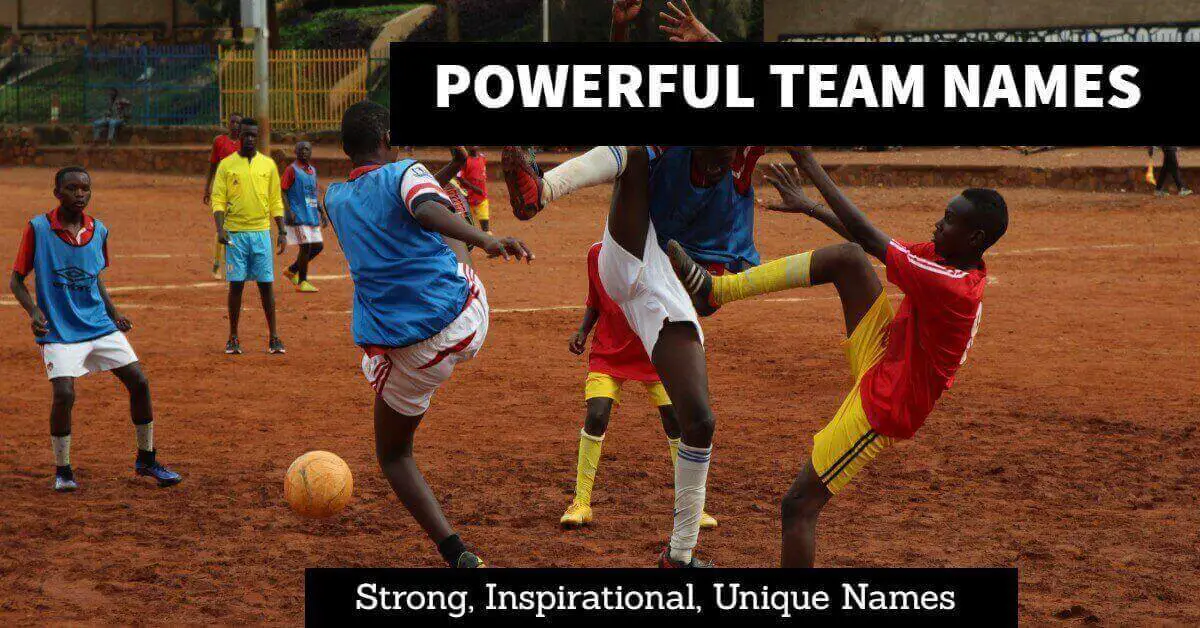 However, if you want to create a name of your own, then do not forget to read the guidelines below this list, which will help you in brainstorming.
Powerful Team Names

Looking for a unique, powerful fighting team name that looks cool & resilient?  Here is the list of powerful team names to show everyone why they should think twice before competing with you:
1. The Achievers:    Confident to accomplish every task.
2. Fearless:  They are not afraid of any competition.
3. The Elite Group:    They are superior in skills and qualities to other teams.
4. Can't see any challenge:  They see no competition.
5. Non-Stop Action:  Action never stops in this group.
6. Constant Winners:   They know how to maintain consistency in their game.
7. Too Easy to win:    This is just a warmup for them.
8. The Brocode:    No one is brave enough to break this bond.
9. Silent Assassins:    They will out your team without saying a word.
10. NewGen Leaders:     It is time for this new generation to start leading.
11. The Invincible:    Too Powerful to be defeated.
12. Goal Diggers:    Such honest intentions.
Related Post: Powerful Trio Names For Your Squad!
Strong Team Names
If you are in search of a team name that is competitive, kick-ass, and over the line, here you go, the list of names that signify your team is strong and resilient.
13. Laced Up:    They are all set to take you down.
14. Men of Steel:    Not Afraid of any difficulty.
15. Death at the spot:    You should be afraid if you are facing them.
16. The Slaying Warriors:    They know how to slay through their performance.
16. The Wolf Pack.

17. Daredevils:    They are not afraid of any difficulty.
18. Dream Killers:  Bit harsh but true.
19. Fierce Kicks:    Their Kick is going to stomp you down.
20. Explosive Powers:  Like Bomb.
21. Fire & Ice:    Two intense combinations.
22. Bravehearts: All of them are extremely courageous.
23. Slaying Hawks:    They slay when they play.
24. Spoiled Brats.
Cool Inspirational & Innovative Team Names with meaning
If you wanna be somewhat different in the battle, here, you find the names that are unique, empowering & different.
25. The terminators:    They will knock out this competition.
26. Defenders:    They know how to keep the competitors from scoring.
27. Throne conquerors:  Champions of this game.
28. The Demolition squad:     Overwhelming players.
29. The Bombastic:    The loud ones.
30. The Mighty Rulers:    they possess great strength.
31. The Eliminators:    Because they eliminate all of the competition.
32. Amazing Battlers:  No game is difficult for them.
33. Master Minds:    The smartest and the bravest.
34. The Jackal Squad:    Wild and Strong.
35. Never Backed Down:  Even when things are not going in their favor.
36. Furious Rebels:    Winning is the only option for them.
37. No Pain, No Gain:  Suffering is necessary in order to achieve something.
38. Bounty Gamers:    Good game vigilantes.
39. Today is our day:  And will always be.
40. Determinedones: They are here just to win.
Related Post: 69+ Walking Team Name Ideas for Your Squad
Fierce Warrior Team Names
If you wanna play a battle that is raging, Scary, stiff & resisting?
You must choose the name that signifies your team is brave, killer & uncompromising from the list here.
41. The Toxicators:    Highly toxic for their opponents.
42. Havocalypse: The game is about to get messy.
43. Lethal Warriors:    Very dangerous for your team.
44. The Roaring Lions:    Their performance speaks.
45. Each of a kind:  Everyone is unique in this team.
46. Too Smart to lose:    They know how to play efficiently.
47. Rule Breakers:  What are rules exactly?
48. Winning Emperors:    They rule the game with absolute power.
49. Leading like always:    They have too much faith in their team.
50. Avengers:    No one get away after wronging them.
51. Synergism:    They perform every task together.
52. The Lords of the Game:    Masters of the game.
53. Legacy Makers:    They leave a mark of their victory.
54. The Toxicities:    Too toxic for their opponents.
55. No Loose End:    They never make any mistakes.
Famous Great Group Team Names
In the game, your team name should always be great & famous. The name should inspire positivity, fun, and something like; an epic, short, volunteer & uplifting team name would do the nice work!
Here we have listed a few best combinations for you!
56. Game Enders:    You probably have started the game, but they know how to end it.
57. Mission Possible:    Turning impossible into possible.
58. His-tory Makers:    You will see everyone praising their performance.
59. Shadow Hunters:  Look out for this team.
60. The Puzzlers:    They can solve any problem.
61. The Bone Breakers:  You should think twice before competing with them.
62. The Game Changers:    They can change the game at any point.
63. The Winning Team:  Here for one thing: Winning.
64. The Perfectionists:  They got skills in everything they do.
65. Your nightmares:    Their performance will haunt you in your dreams.
66. Keep Calm & Level Up:    Because freaking out is never useful.
67. Game now, Party Later: Find me a better motivation than this.
68. Bring it on:    Never afraid of challenges.
69. The Wanderers:    They travel, but no one knows where.
70. Mighty Marvels:    Their performance will astonish everyone.
71. Unleashed Beasts:  Tough competitors.
72. Fantastic Beasts: They are the real champs!
73. Nuclear Dynamites:   Their performance will blow the opponent's mind.
74. The Gladiators:   Trained and Skilled.
75. No Rules attached:  The rule breakers.
Similar Post: 500+ Funny Team Names For Your Squad
Tough Bold Team Names
Playing the tough? You definitely need a name combination that is aggressive, merciless & sacrificing.
In the midst of an aggressive battle, what you need is bold warriors who can resist the tough battle on the ground. Find out the nice, suitable combination of the best tough, bold team names
76. Beat us if you can:  Terrifying threat, no?
77. The Dominators:  Superior ones in this game.
78. Unmatchables:   You cannot match with the level of these guys.
79. Loyalty is Royalty:    They are fully dedicated to their team.
80. The Blasters: They are real blasters!
81. This won't last long:   Very confident about their performance.
82. The Rebels:  They know to stand against opposition.
83. The Strikers:   Good luck to another team.
84. Got 99 problems, but Scoring isn't one:  Focused players.
85. Ironmen:   The strongest and bravest.
86. The Dream Team:  A perfect team.
87. The Go Getters:  They want it, they get it.
88. The Unbeatable:     Defeating them won't be easy.
89. Wrist Breakers:    Keep your wrist away from them.
90. Eat, Win, Sleep, Repeat:    Winning is life.
Amazing Killer Team Names
More than being different, your team name should be amazing & killer! It should inspire the squad. Here you go, find the best combination of cool, ninja, boss team names.
91. The Challengers: They know how to take control of the game.
92. The Deadly ones:    Harmful to their opponents.
93. Haters Gone Hate:  They only focus on self-improvements and ignore haters.
94. Defending Champs:    They know how to play defensively.
95. Black Cobras.
96. Sole Survivors:  The only survivors after the game.
97. The Incredibles:   too smart to lose.
98. The Volcanoes:    They can erupt any minute in the game.
99. Buckle Up:   Because you are going to see some action.
100. Lords of Destruction:    Watch out for this group.
Guideline How to Create Your Own Super Powerful Names

A powerful team name not only makes your team strong among others but also boosts up your motivation to work hard to win.
So, if you are not satisfied with the above-listed names, then you can create your name by following the tips given below: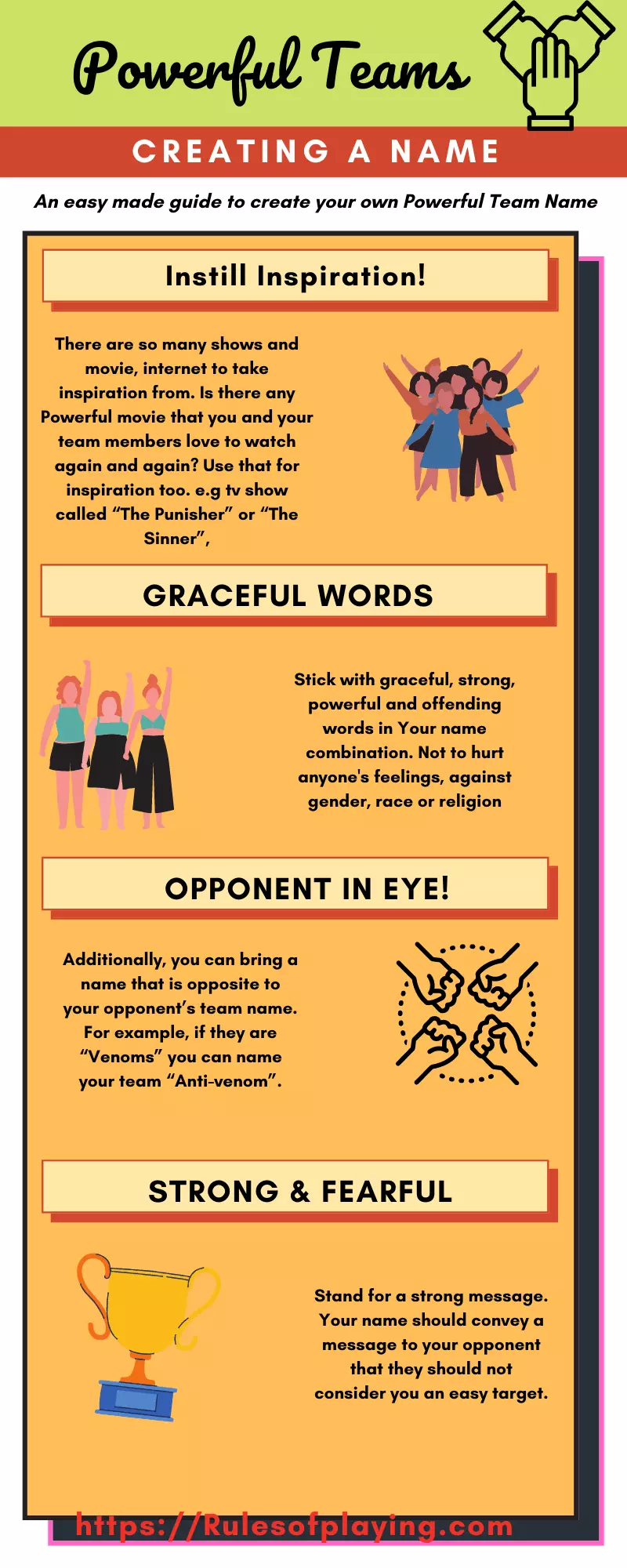 1.  Get Inspiration:  You can take inspiration from your favorite action movies, shows, character, and comics to create a powerful name.
For example, there is a famous tv show called "The Punisher" or "The Sinner," you can find so many ideas from your favorite shows.
2. Keep it Simple: Your team name should be simple and fun. You can also add puns or inside jokes to it to make it more interesting.
The audience only remembers the name of those teams, which is unique and easy to remember. So, avoid the use of complex or difficult words.
3. Avoid Abusive Words:  You can use any word to show your team that you are strong and powerful, but those words should not be abusive or offensive enough to hurt anyone's feelings.
That is why avoid the use of sentences that are against anyone's race, gender, and religion.
4. Use an Opposing Team Name:  You can also come up with a name that is opposite to your opponent's team name. For example, if they are "Venoms," you can name your team "Anti-venom."
5. Use a Name that Conveys Some Message:  Use a name that conveys a strong message.
Your name should convey a message to your opponent that they should not consider you an easy target.
Conclusion
A powerful team name is as important for the team as practice. Your team name should be capable enough to represent your team.
We hope that you will find the above-listed names perfect for your team. These names will surely help you to stand out from the crowd.
If you do create your own name, then do not forget to tell us in the comments section too about it.