While forming & managing a team is important but more vital than that is finding the best Team name for your volleyball squad. As a unique, clever & cool squad, the name is your identity.
For angry and aggressive players team name has to be intimidating, fiery, fighting, and witty.
Whereas, for confident playing, you have to have a funny, coed, recreational team name for your volleyball squad.
Volleyball Team Names | A List of Funny, Creative Volleyball Team Names For You

We have arranged a list of clever team names, funny team names, cool team names, and powerful team names. We believe that you will definitely find your ideal name in these lists.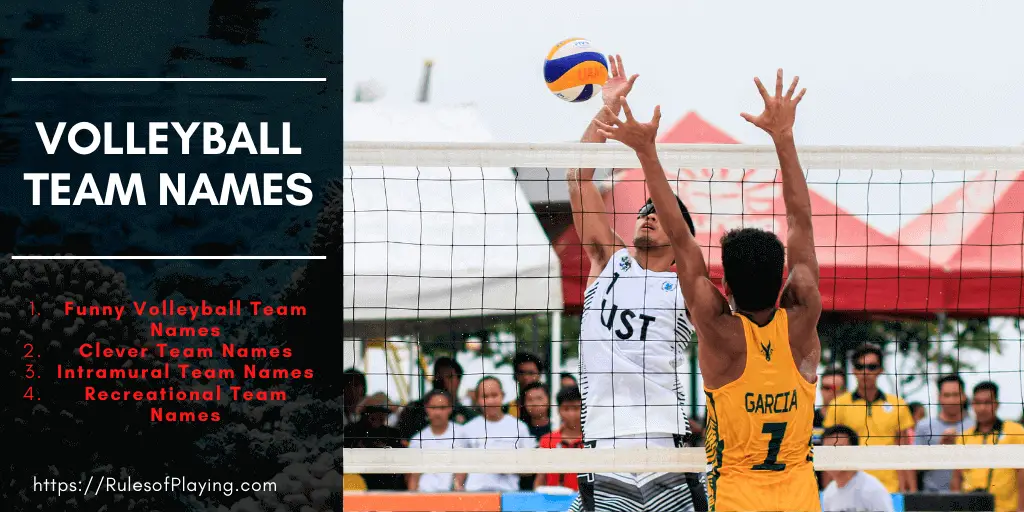 Cool & Clever Volleyball team names Suggestions
A good team is not just powerful; they are smart and intelligent as well. They make the best strategies to defeat their opponents.
Here are some clever names that will definitely make your team more unique from others:
1. Just Spike it:    Nike's got a good point.
2. Lightning Strikes:    It's like lightning came from the sky and beat other players down.
3. You can't Beat this:    In reference to the song "You can't touch this."
4. The Hungry Dumpers:  The most clumsy team of the day.
5. May the Sets be with you:    A wordplay on "May the force be with you".
6. Split Personality Disorder:    They become something else while playing.
7. Practice makes a man perfect:    They consider this match to be just a practice match.
8. Risky Sets:    In reference to the movie "Risky Business,".
9. Spikes in the city:    Wordplay on the movie "Sex in the City"
10. Counter Spikes:    In reference to the video game "Counter-Strike,".
11. Spikological war:    They are going to mess you up mentally.
12. The Ball Fathers:    Can get out of any difficult situation and win it with grace.
Similar Reading: Funny Powerful Golf Team Names for You!
Great Creative Volleyball Team Names
A great creative name shows the strength and character of a team. Thereby, your team name should be awesome, catchy, etc.
Explore from our list of cool creative Volleyball team names suggestions below
13. The Irregulars:    They do not play volleyball regularly, but when they do, they make sure to make their mark in the opponent's mind.
14. Balling in love:    Or falling in love.
15. They see us rollin' theyhatin':Opponent will envy them.
16. Spike Tyson:    In reference to Mike Tyson.
17. That's how we Score:    Watch and Learn from them.
18. Things that go Wild:    In the night……
19. Barack Oballer:    Winners get to become Presidents.
20. Up above the world so high:    Like a Diamond in the sky. We get it.
21. Show Offs:    If you got it, flaunt it.
22. Shock and Awe:    Shocking all their opponents.
23. Fortunate Spikers:  Their opponent will be thinking the whole time, "How did they do that?".
24. I Ball, Therefore I am:    Defines Team's friendship.
25. Spikemates:    United to win.
Funny Volleyball Team Names

Here is the list of some hilarious team names that will make everyone in the crowd smile and your opponent nervous about competing with you.
Explore from our recommendations of the best funny, comedy, and hilarious team names for a volleyball game.
26. Toppers:    In the winning list or on the losing list?
27. This will be Quick:    They have lost all hopes.
28. Just Practicing:    If they lose, just remember they were not ready for this.
29. We showed Up:    And that should be enough, no?
30. Slow and Steady:    Only, if they are a little faster, they might be able to actually hit.
31. Urgent Help Needed:    They are not ready for this.
32. We do nothing, Jon Snow:    Effort is not their thing.
33. Sore Muscles:  Let these babies take a rest for a day.
34. Wasted Talent:  They have lost all motivation.
35. We Bruise Easily:    They take minor injuries too easily and might cry too.
36. The Sweat Squad: Their sweat might be the only thing that will keep other players away from winning.
37. Can't do this:    Some people were not meant for this sport.
38. No gain, Just pain: They might not play another match for several months.
39. Head shooters:    That might hurt.
40. Losers spotted:    We can see so much love among team members here.
Unique Volleyball Team Names
If you are looking best coed team for your volleyball group, we have here listed your best suggestions below.
Additionally, it includes the best intramural, adult players' name for Volleyball
41. Play, Sweat, Beer:    Only things that matter.
42. Size Does Matter:    Especially if you are….petite…
43. Break Time:    A break of the whole day.
44. Hit and pray:    Only strategy left now.
45. Weekend Warriors:    Do not disturb them on weekdays.
46. Not Fast and definitely not Furious:    Probably tired now.
47. We booze even when we lose:    Nice approach.
48. Beer First, Game Later:    We can see how excited they are about playing.
49. Court Clowns:    At least their performance makes everyone smile.
50. To play to drunk:  You can easily tell how drunk they were while deciding the name.
Recreational Beach Volleyball Team Names Suggestions



Nothing is complete without fun and recreation. Something that's silly with a powder puff always takes curiosity.
For beach volleyball, look down at our recommendations of funny sand, mud, and creative team names for playing volleyball on the beach!
51. Six Packs:    Of Beer, I guess?
52. Get, Set, Go:    Let's see what they do.
53. Natural calamity:    They bring disaster to another team.
54. The Indrediballs:    You will get amazed after watching their game.
55. Sets For life:  No sport is better than this sport for them.
56. Net Kings:    They own the net.
57. The Power hit girls:    Good for a team of three girls.
58. Honestly, the Best:    No Arguments here.
59. Petite Magic:    Though they are short but greater in winning experience than another team.
60. Size Matters:    Probably coming from guys with tall height and huge ego.
61. Hit, Hit, Boom:    Not just a simple team, an explosive team.
62. Spike, Drink, Sleep, Repeat:  Living the best life.
63. Thrill Seekers:    Not afraid of any opponent.
64. Lords of the Net:    In reference to "Lords of the ring,".
65. Roof Hitters:    Their opponent will envy how high this team can go.
66. Itsy Bitsy Spikers:    Too cute to defeat.
67. Net Results: It Will definitely be in their favor.
68. Sugar, Spike, and everything nice:    Nice combination for any team.
69. Spike Happens:  Not a difficult challenge for this team.
70. That's What He Set:    Deal with it.
Intimidating Volleyball Team Names Ideas
if you are looking for the best thrilling, witty and intimidating team names for volleyball, we have placed here a few recommendations to look at;
71. Irritable ball Syndrome: A very serious disease that will lead them towards winning.
72. Block Magic:    Get ready to see some magical skills in the game.
73. Pro Nerds:    Somewhere in the middle of these terms.
74. Chick Magnets:    Probably going to be the only ones spectators are gonna notice.
75. The Spiking Legends:    They will create history today.
76. Hitlist:    The other team is already on their hit list.
77. Now or Never:    They take Volleyball too seriously.
78. Smashers:    In their opponent's face.
79. End from Above:    Better watch out for this team.
80. Death Volley:    The game is not as easy as you might think.
81. You Step-Dads:    Because they will beat you badly, and you will hate them after that.
82. Hitting Machines:  Scoring against them won't be easy.
Intramural Volleyball Team Names
When you are looking for the best intramural, adult players name for Volleyball, then you must have high aims of hitting and winning on the ground. Find here a few suggestions;
83. Net Ninjas:  You do not stand a chance against them.
84. Bad News:    For the other team. They are going to lose today.
85. Steel Hands:    They have pretty strong hands.
86. Spiking Masters:    You should practice well before playing with them.
87. Impact Makers:    No one will forget about this team in a long, long time.
88. Badass Beaches:    Say that aloud, and you will see why you should not mess with this team.
89. Enter The Dead Zone:    No guarantee of other team's safety once they enter to play.
90. Chaos Bringers:    For another team.
91. The Dominators:    They do not just win the game; they dominate it.
92. Don't run crying to your dad:    Pretty harsh and direct. No?
93. The Fantastic Squad:   No one is better than them.
94. Fifty shades of skills:    That's a lot of shades.
Related Post: 500+ Funny Team Names for Your Squad
Best Coed Volley Ball Team Names List
If you are looking best coed team for your volleyball group, we have here listed your best suggestions below.
95. Blockers and Shockers:    First, they will block, and then they will shock their opponent.
96. No Ducks Given:    Sounds like something else, right?
97. And that is how Real Players spike:    Pros are here.
98. Soreness is temporary, Pride is forever:    Do not forget this life rule.
99. Full of Hit:  Just a play on words. Say this loudly, and you will understand it.
100. Team Busters: Another team is about to get destroyed.
101. Heartbreakers:    Sorry, girls, but they only have one aim; to win.
102. We came, We played, We won:    Every match.
103. Save your time and Backout:    At least they have warned the other team before the game.
104. Hard Hitters:    Their specialty.
105. Block or Lose:    They have a Do or Die mentality in every game.
How to Create Your Own Team Name; A Guide



Creating Your own team name is very simple. Do not try so hard to find a perfect name. Just stay calm and read these tips.
With every point, you will get more and more ideas, and it will get easier for you to create your own team name.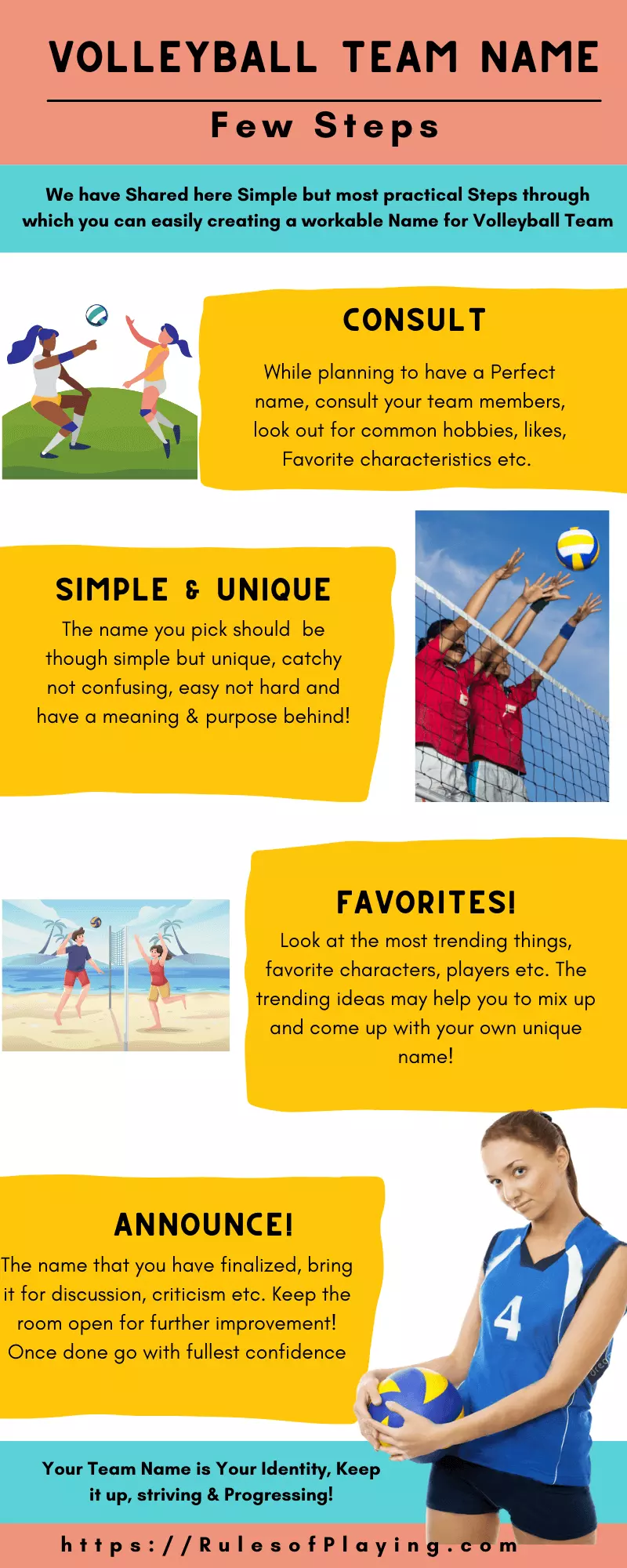 1. Why Your Own Name is Necessary?  Forming and selecting team members is very easy. The main task is to find a name that makes your team stand out among the rest.
Sometimes, it gets difficult for the team members to find a name that suits the team and shows how strong your team is without being offensive.
They spend hours and hours on the internet and still find nothing which fits best on their team.
2. Consult with Team Members:  While choosing a name, think about your team members. What do all of you have in common? What are your hobbies?
What are your likes and dislikes? Where are you all from?
What is the main thing common in nature of every team member? Once you have all these points clear in your mind, creating a team name won't be too hard for you.
3. Simple & Unique:  Don't add complex words to your team because no one will remember them if it is complex enough to remember.
Just keep it simple and fun. However, do make sure that your team name is different from the other teams. There should be something unique in your name to make your team look different than the rest.
4. Make it Catchy:  Your team's name should be interesting and creative enough to grab everyone's attention. There s no point in choosing a name that is not unique and interesting.
5. Get Ideas From Team Members:  Do not forget to take ideas from your friends too. Different minds will generate different and unique ideas. Getting suggestions will help you to shortlist the ideas.
6. Say it aloud:  When you are done shortlisting the names, say them one by one loudly. Sometimes, a name that sounds good in the head does not sound good when it is said aloud.
After this, it will get easier for you to finalize one team name that you and your team members will be proud of.
Also Read: 77 Indian Dance Group Team Names
Conclusion
Have you found what you were searching for? We hope it's a yes. These names will surely make everyone on your team smile.
Also, it will be easier for you to grab everyone's attention with these names. If you also have some ideas, then do tell me in the comment section.