Whatever Scavenger hunt Team Name you choose should be catchy & lifting your team's Morale up to take the hunt mission to the next level.
Scavenger hunt team names can be relative like; Covid or quarantine scavenger hunt names etc.
Exercise your wisdom to hunt out the best name for your team from our recommended list and guide in the end.
A scavenger hunt is the most popular game, which is believed to have originated from ancient folk outdoor games. It is a game where participants have to find certain items which are listed on a map.
If you also want your team name to be the best and most creative name among the rest, then we got our covered.
Do not worry if you are confused about making a final decision because we have arranged a list of best names for you which will not only encourage your team to win but also help you to gain the support of the audience.
List of Scavenger hunt Team Names
We have arranged a list of creative, cool, funny, and unique names for you. So, whatever category you want to choose for your team, we have got you covered.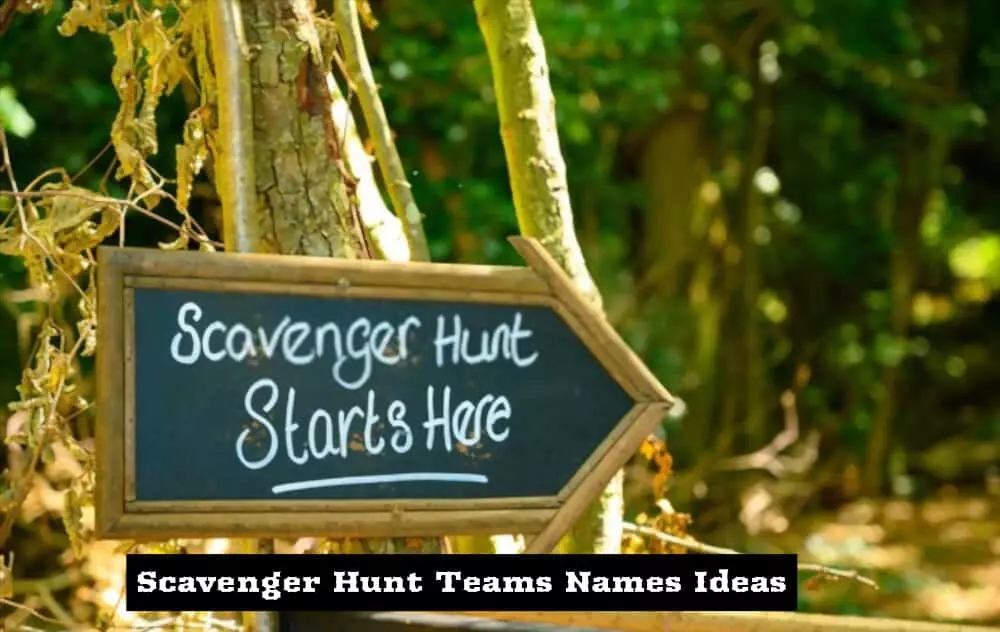 Creative Scavenger hunt Team Names
Here is the list of creative team names that will show everyone that you are beauty with brains:
1. GPS Team: They are good with tracking
2. Masked Hunters: Beware of this team
3. Happy Seekers: Such a happy-go-lucky team
4. Legacy Creators: Their team will always be remembered
5. The Goodies Search Party: They believe in teamwork
6. Morse codes: They probably understand riddles much better than us
7. Clueminati: They possess special knowledge of this game
8. Innovative geeks: They make the best out of everything
9. Procrastinators: Do not expect quick action from them
10. Artificial Intelligence: Too smart for this game
11. The great Hunts by: Great Hunters
12. Knockouts: They know how to beat their opponents
13. The Creative Crew: The team that everyone praises for being so creative
14. Still looking: Give them time
15. Plenty of Twenty: If all team members are of the same age
16. Team Alpha: The top team in this game
17. Aim for the game: They are only focused on winning
18. Genius Heads: Smartest of all teams
19. Still Deciding a name: Who needs a name anyway, right?
20. The fast Diggers: Probably much smarter than others in hunting and searching
21. Finding Treasure: Finding Nemo would be an easy task for them
22. Riddles Experts: No task is difficult for them
23. Lead from the Front: They know how to spice up the competition
24. The path Breakers: They make their own ways
25. Sore Winners: Prize matters; sore muscles will be taken care of later
Similar Reading: List of Powerful Viking Clan Names!
Cool Scavenger hunt Team Names
The purpose of the cool team name is to show everyone that you have a sweet and kind nature and you are not here just to win, but you are here to win hearts.
Here is the list of cool team names for you to choose from:
26. The Only Contenders here: All other players are noobs in front of them
27. The Search Party: They will definitely find the items faster than other teams
28. Spies & Fries: Food first, the game later
29. Hide &Seekers: They are good with search
30. The A-plus Team: Nothing comes before A, right?
31. Eyes on the prize: Their eyes are fully on the winning prize
32. Winner takes it all: They are here just to win
33. Rule Breakers: After all, what are rules?
34. The Foragers: The experts of this game
35. Scavengers of the year: They have already considered themselves to be the winners. Watch out for them
36. Indiana Jones: They love adventures
37. Just scouring around, Ready for a thorough search to locate the treasure
38. Scouting Eagles: They have achieved higher levels of achievements in this game
39. Get, Set, Scavenge: They are prepared to ace this task
40. Treasure Seekers. (They will not rest until they find all the items
41. Alice in Wonderland: Completely bizarre but fantastic
42. The Collectors. (They are looking forward to finding all the items
43. Hunt it out: Motivated enough to find everything on the list
44. Treasure on my mind: This team surely knows what counts
45. Fast & Furious: They are definitely going to raise the bar
46. The Ramblers: All set to discover the treasure
47. The Seekers: Tenacious finders of the treasure
48. The Dream Team: They have full faith in each other
49. The Nonquitters: They will not slow down even if the hunt is difficult
50. Pirates of the Caribbean: They probably have their eyes on your items too
Funny Scavenger hunt Team Names
Here is the list of funniest team names that will not only make your team members smile but also increase your bonding: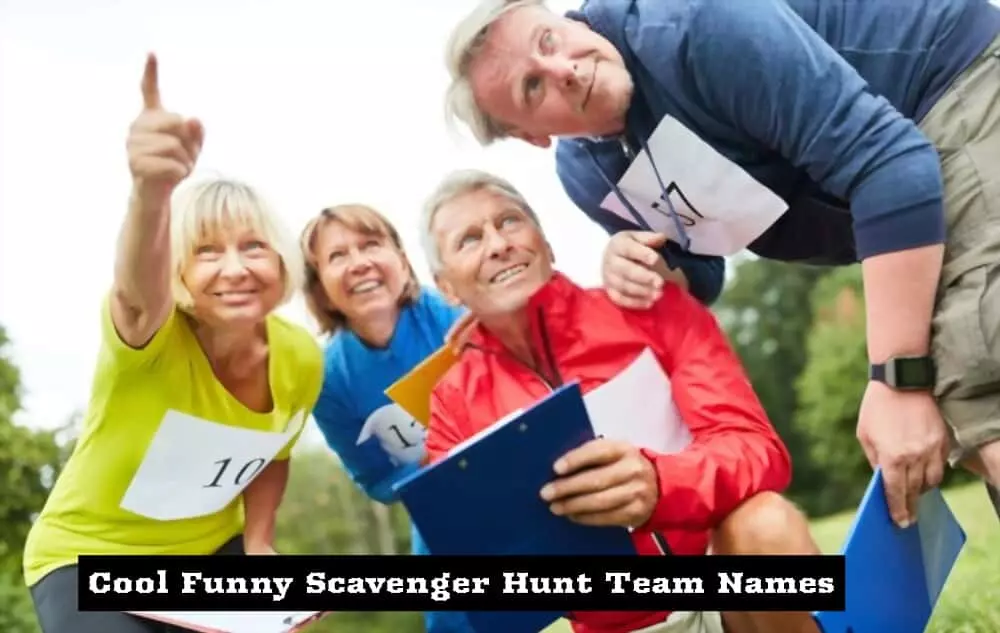 51. We Tried: No Points for trying??
52. Cranky Sloths: For the team members that do not work
53. Too hunt to Drunk: Party animals here
54. Terrible Hunters: Definitely not a good idea to play this year
55. The Wanderers: They will roam everywhere rather than focusing on finding treasure
56. Gold diggers: At least they are being honest about their intentions
57. The Crybabies: You can expect a lot of crying from their team after losing
58. Rookies of this Year: They are new to this game. Go easy on them
59. We showed up: Give them points for at least showing up
60. No loose end: Someone, please tell them what to do
61. 4 hours behind: Their team is a bit lazy
62. The Chaotic team: Expect nothing but disorder
63. Sleepyheads: Never mind; they will probably fall asleep during the hunt too
64. The Mad team: Before or after any task, they are always a bunch of crazy members
65. Win or lose, we always booze: That's some real team spirit
66. We thought it was Bingo: Not their mistake, right?
67. Scavenger Mafia: Their team rocks every game
68. Freaky Detectives: They are probably inspired by the Sherlock series
69. Trouble Makers: Do not expect any sensible thing from them
70. Dora and her Boots: Cutest name, no?
71. Slower than Internet Explorer: Enough said
72. Clueless finders: They are still confused about the list
73. Sherlock works for us: Let this team stay in delusion for some time
74. Numb Dumb: They are probably pretending to be dumb
75. Punny Hunters: Expect a lot of puns from them
Similar Read: Selected Safety Team Names for Your Squad
Unique Scavenger hunt Team Names
Here is the list of best unique team names that will not only show your creativity but also make you a favorite in everyone's eyes:
76. The Rummagers: Get ready for an energetic, usually hasty search
77. The White Walkers: The night kings of this hunt
78. Keep calm and hunt on: They are pretty much involved in the game now
79. The Ground sniffers: They have super powers of a bloodhound
80. Too lit to quit: They are too awesome to lose hope in the middle of the game
81. Unstoppable Collectors: They will not rest before finding all items
82. Mind Hunters
83. Piece of cake: Every task is easy peasy for them
84. 50 shades of seekers: The opposite of the movie
85. Dumber & Dumbledore: Inspired by Harry Potter
86. Black Hawks: the sharpest and smartest team
87. Hunters of the Day: Best ones of best ones
88. Been there, Hunt that: They are old players of this game
89. Clash of the Hunters: They are ready to fight to win
90. The Occupiers: They take what they need…by force)
91. Mission Crossable: They believe they will ace this mission
92. The Searching Smarties: Sharp & Intelligent
93. The Treasure Lifters: They know how to lift their team's spirit while searching for treasure
94. Chaos Builders: The game won't stay peaceful after their entry
95. The Wrecking Scavengers: They will create a lot of mess while searching for the items
96. Innovative sensations: They have some pretty good ideas
97. The Known Hunters: They are pros of this game
98. Lords of the Hunt: Do not underestimate this team
99. The Sc-Avengers: Masters of this hunt
100. Born to hunt: They are made for this game
101. Through thick and thin: They have the ability to walk through any situation together
102. The fast & Serious: They are very serious about the game
Related Post: Fire Team Names to Inspire Fear & Victory
Guidelines on how to Choose your Own Scavenger hunt Team Names
I am probably addressing a fan of this game! Isn't it?
Do not forget that whatever name you choose for your team reflects your team's skills and intelligence.
That is why your team name should be interesting and unique enough to attract the spectators.
Finding a perfect team name is certainly not an easy task. However, with these tips, you will surely get more ideas that will help you in decision-making.
For a great Scavenger hunt experience and a great team name, do not forget to consider the following tips. After reading these tips, you will surely get ideas about your team name.
Creativity is Needed

In Scavenger hunt, there are no specific rules and regulations, so you have total freedom to add creativity in your name.
You can use inspiration from any of your favorite movies, book, comics, or character. Just find a word and merge it with a phrase related to a scavenger hunt or theme.
Keep it up to the Time.

Keep in mind who else is attending the hunt and whether your team name suits the environment or not.
Style it up to the Venue/Place

If you are creating a name and looking for ideas, then create a name by keeping in mind the place where scavenger hunt will take place. For example, if you are taking part in scavenger hunt that is taking place in school, then try to create words originating from the venue.
Pick one with a Strong Meaning.

Your team name should convey a strong message. If your team name does not convey an interesting message, then no one will support a team with such a boring name.
Get Feedback

Most important thing is to get feedback from your team because there is no point in naming your team when the name is not liked by your team members. Come up with 4,5 names, and then ask your team members to come up with a unanimous decision.
Conclusion
A good team name not only boosts up your team's spirit but also encourages your teammates to push beyond their limits for the task.
We have tried to cover every category, and we hope that you will definitely find your ideal name on this list.
Also, if you create your own, then do not forget to tell us in the comments section.