Choosing a specific theme for your event that every team is supposed to follow is an interesting and engaging activity. By doing this, you give freedom to every team to choose any name according to their theme.
However, the tough job for you now is to choose appropriate themes that are suitable for your event.
To help you in this, we have arranged a list of themes in this article that will help you in decision-making.
We have listed 41 ideas in this article that you are definitely going to like.
Theme Names for Teams Ideas, Suggestions

We have arranged a list of funny, powerful, and creative theme name ideas for your team or squad to choose from.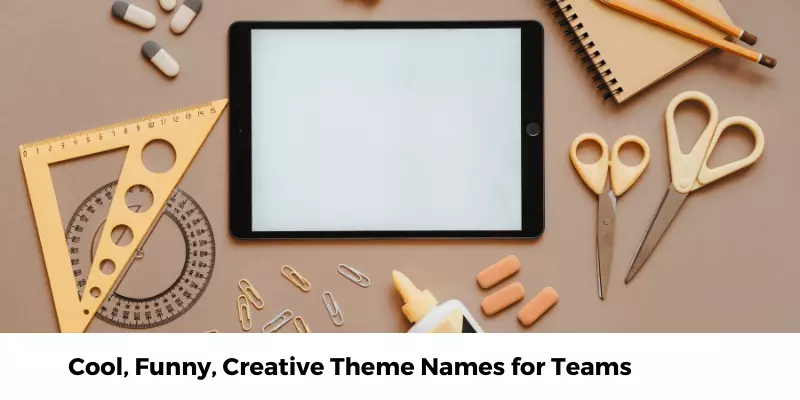 Funny Themes for Teams

Exhilarate your squad spirit with a fun-themed team name. You can relate theme names as circus, carnival, Hollywood theme names, or as you deem it fit and fine.
1. Alcohol-themed names:    Options include local and famous wines like Cocktails, Liquor, etc.
2. Colors:    Assign different colors to every team.
3. Parallel Universe:    Name each team after something that didn't happen as you imagined.
4. Retro Style:    Use various art forms from the historical past, including style, modes, and music.
5. Strange Thoughts:    Any weird thoughts that you often get in your mind? Name each team after that.
6. Best things you find in your refrigerator:    Name teams after things that you find in your refrigerator. For example, chickpeas, Cookie Monsters, etc.
7. Marine Life:    Name every team after creatures found in oceans like plants, animals, and other organisms.
8. Puns:    Name each team after the best and most hilarious puns.
9. Halloween:    The best theme with plenty of options.
10. Carnival Fest:    Name each team after a circus or carnival act like Ringmasters, Jugglers, etc.
11. Strange Combinations:    Choose any strange combination. For example, Weird food combinations, Unusual movie genres, etc.
12. Rejected Porny Titles:    Name each team after hilarious adult movies.
13. Pet Peeves:    Name each team after everything you people find annoying or irritating.
14. Gangsters:    Name every team after a famous villain or gangster.
15. Nostalgia:    Each team can choose a year to represent.
16. Professors:    You can name your team members after famous scientists or inventors.
17. It's all relative:    Name each team by how they perceive the world and their surroundings.
18. Badass Military team names:  You can choose a military-based theme and choose a badass team name.
19. The Five Elements:  The basic elements in nature are Fire, Water, Earth, Air, and Space.
20. HERstory Makers:    Each team can use inspiration from famous women in history.
Related Post: Unique Inspirational Team Names For Your Squad
Creative Team Building Theme Names
We have come up with team-building theme names, ideas, and suggestions for sports, work, office, etc.
Below is the list of creative theme names that are unique and well-known.
They will surely add spark to your whole event.
21. 1980s:    You can choose your outfits and names according to the words most common in 1980.
22. Medical Unit:    Include all the hospital words you can think of and give a unique one to each team.
23. Fictitious:    Name each team after a famous mythical creature.
24. Food Stuffs:    You can also create so many puns from foods.
25. Stylish Fashion:    Anything that is related to fashion and style.
26. Natural Disasters:    In this theme, you can take name's ideas from calamities like 'The Tornadoes' or 'The Tsunami'.
27. 7 Wonders:    The 7 wonders of the world can be used as a good theme.
28. Cardinal Sins:    That is Pride, Greed, Lust, Envy, Gluttony, Sloth, and Wrath.
29. The Superheroes:    So many heroes to take inspiration from, like Batman, The Hulk, etc.
30. The Office:    You can choose the theme based on The Office tv show.
31. Sherlock Holmes:  Fan of detective movies? Choose this theme.
32. The Powerpuff girls:    Name your team after each character in the show.
Cool & Creative theme Names for Teams
Add spice to your sport with cool and wonderful theme names for your teams.
33. Fire Theme:    For example, Fiery Devils, Rockets, Blazers, etc.
34. Space-themed names:   Name every team after everything you find attractive in the universe, like stars, planets, and galaxies, etc.
35. Game of Thrones:  If you want a powerful theme, then you can go for this one.
36. Seasons:    Name each team after a season or weather like Autumn, Spring, etc.
37. Festivities:    Like Christmas team names, Thanksgiving team names, etc.
38.'90s Babies:  1990 was a good decade with so many latest technologies and advancements. Name every team after every invention in 1990.
39. Harry Potter:  You can choose this theme for teams who are a fan of the Harry Potter series.
40. Animals:    Name every team after powerful and strong animals like The Panthers, The Soaring Eagles, etc.
41. Folk Ensembles:     Name every team after a well-known screen ensemble.
Related Post: Selected Names Group for Five People
How to Create a theme Name for Team
If you are planning a team-based event and want to create a theme by yourself, then read these guidelines to get some ideas and tips.
Choose an Appropriate theme.

You should choose the themes according to the events you are planning.
For example, for your workplace, you should choose a theme work-place related; for your cooking competition, choose a food-related theme, etc.
Always keep your environment in mind before choosing a theme.
No Abusive Words
Do not use words that are offensive to any race, religion, gender, or culture.
It will not portray a good image of your team.
Keep the Interest of Your Team Members in Mind
Think about what you guys have in common. What are your interests? Are you a nature lover, music lover, foodie, or adventurer?
If all of you have a lot in common, then choosing those interests as an inspiration will make it easier for you to choose a team name.
Use hilarious themes
The best way to make your theme interesting is to add humor or inside jokes to it. There are so many ways to make your theme funny.
You can add dark humor, puns, or inside jokes that you guys have. The best part of hilarious themes is that they can instantly boost up everyone's spirit and mood.
Consider the Team Numbers
If you are planning a theme for a large number of teams, then choose themes according to that.
For example, The Cardinal Sins won't work if there are ten teams.
So, choose themes according to the teams participating in the event.
Conclusion
Interesting themes completely shape the mood of the whole event. That is why we have written every theme that is unique and interesting to make your event a success.
So, feel free to steal any or create your own. Also, do share your team name with us in the comments section.