League Of Legends is a multiplayer competitive online game where two teams battle and defend their half of the map.
All the champions in LOL have unique abilities, and they get more powerful after collecting bonus points and earning gold. It is a pretty challenging game where only the team with the best strategies gets the upper hand.
In LOL, besides having a good team, another thing is also important, and that is a good team name. Your team name is going to be your first impression.
With a dull name, your opponent will only think of you as an easy target, but with a strong name, they will get afraid to attack you first.
League of Legends Names | Funniest, Cool, Creative LOL Names, Nicknames, Usernames
As there are 150 million active players on LOL, we know it can get pretty difficult to find a unique name that has not been taken yet. If you are also facing the same trouble, then worry not because you are at the right place.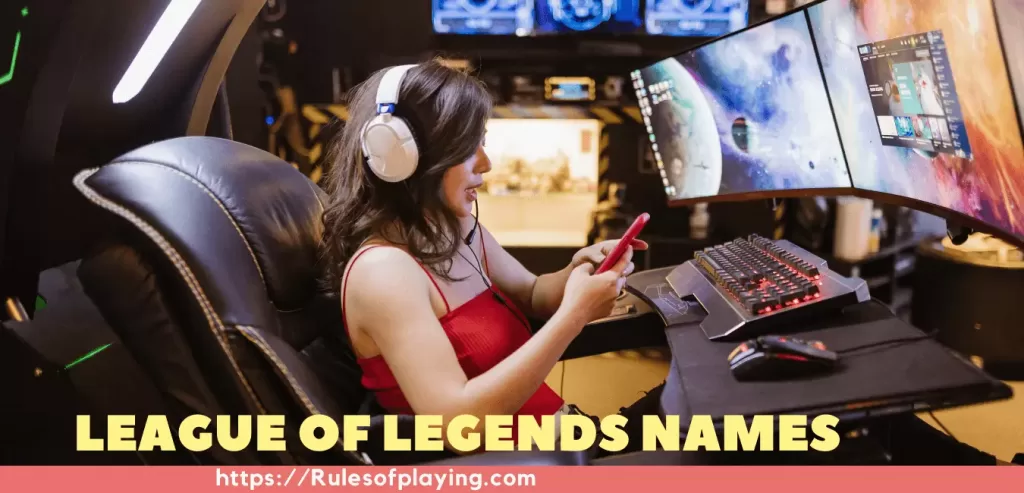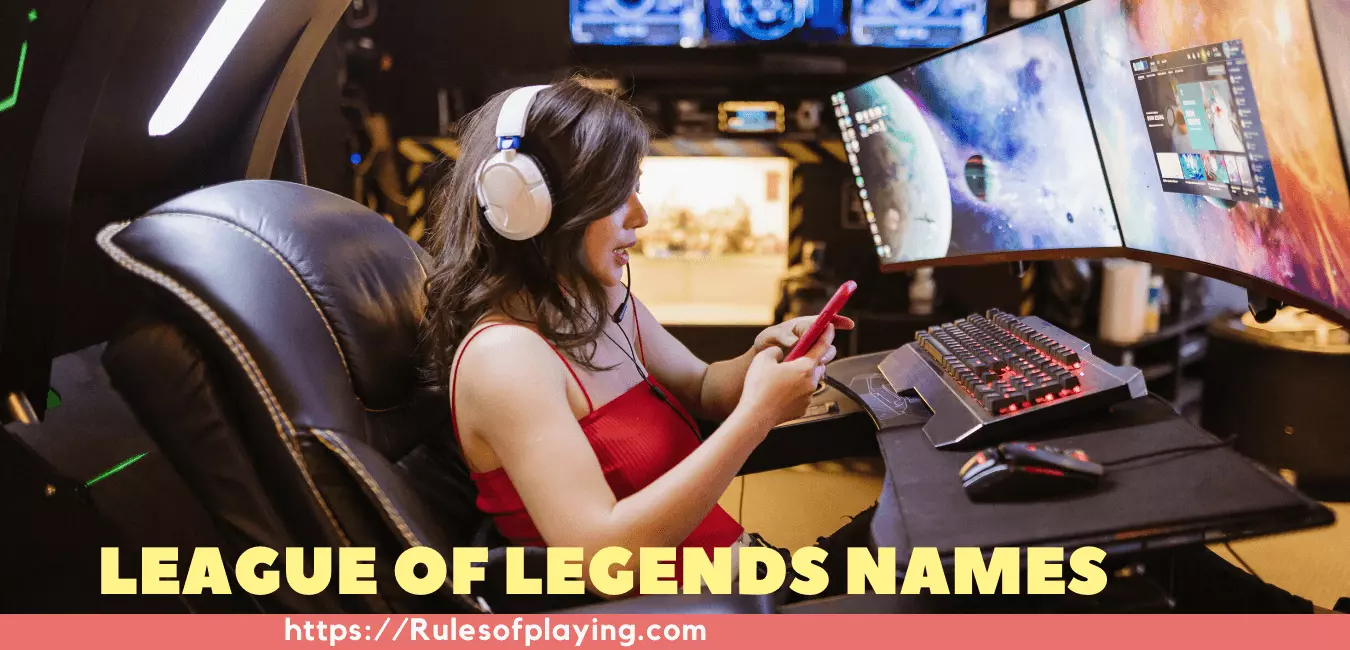 We have arranged a list of 150 creative and best name suggestions below that will definitely create a strong impression of your team on the ground.
But if you want to create your own team name and looking for a head start, then we have a solution of this problem too.
We have written some guidelines at the end of this article to get your creative juices flowing. Do check them out too.
Cool League of Legends Name Ideas
A cool and witty name automatically gives you an advantage over opponents.
If you are also thinking about choosing a cool LOL name, then do consider the following suggestions.
We have listed some name suggestions that will definitely make your opponent nervous and demented.
The Ice queens.
The Sword Dancers.
Mad Men.
Masters Of Evil.
Grudge-bearing Hunters.
The Unforgiven.
Daring Wanderers.
Rise Of The Champions.
Children Of Darkness.
The Defenders.
Rogue Assassins.
Magical Unicorns.
Sad Priests.
Wandering Souls.
Hearts Of Vengeance.
The Chain Warden.
Masters Of Death.
Shadow Fighters.
The Eternal Hunters.
Deadly Biters.
The Sorcery Experts.
Funny League of Legends Names

Nowadays, choosing a funny name in LOL has become a common thing among regular and professional players.
Everyone prefers a humorous name to make the atmosphere of the game fun and exciting. If you also prefer a witty and fun name, then this list is for you.
We have listed some humorous suggestions that will definitely make you smile throughout the game.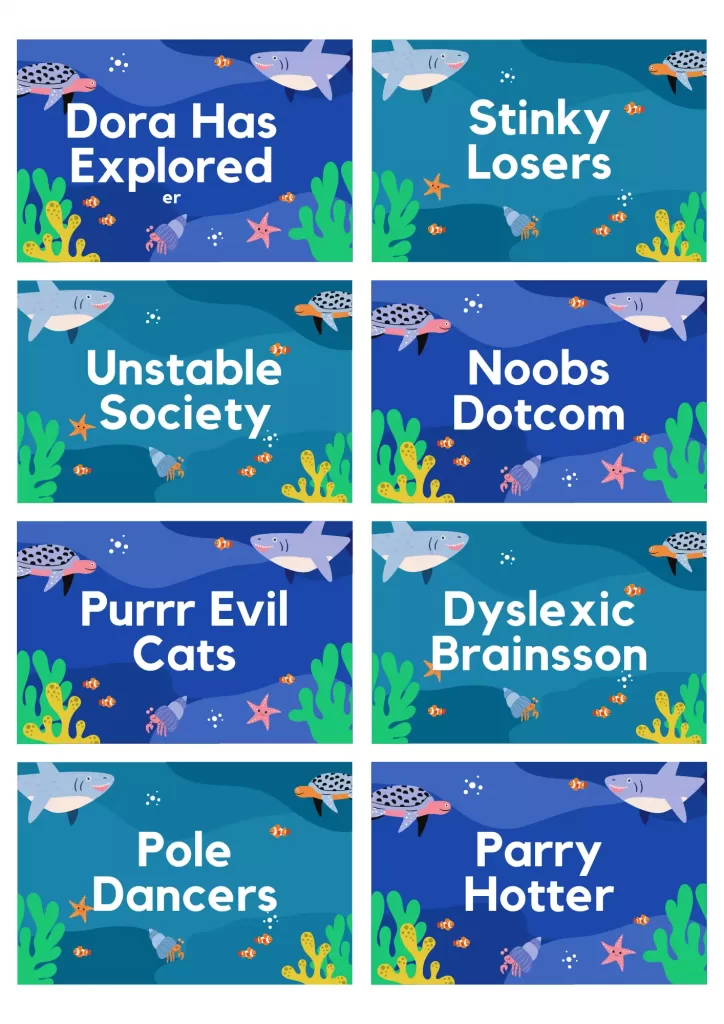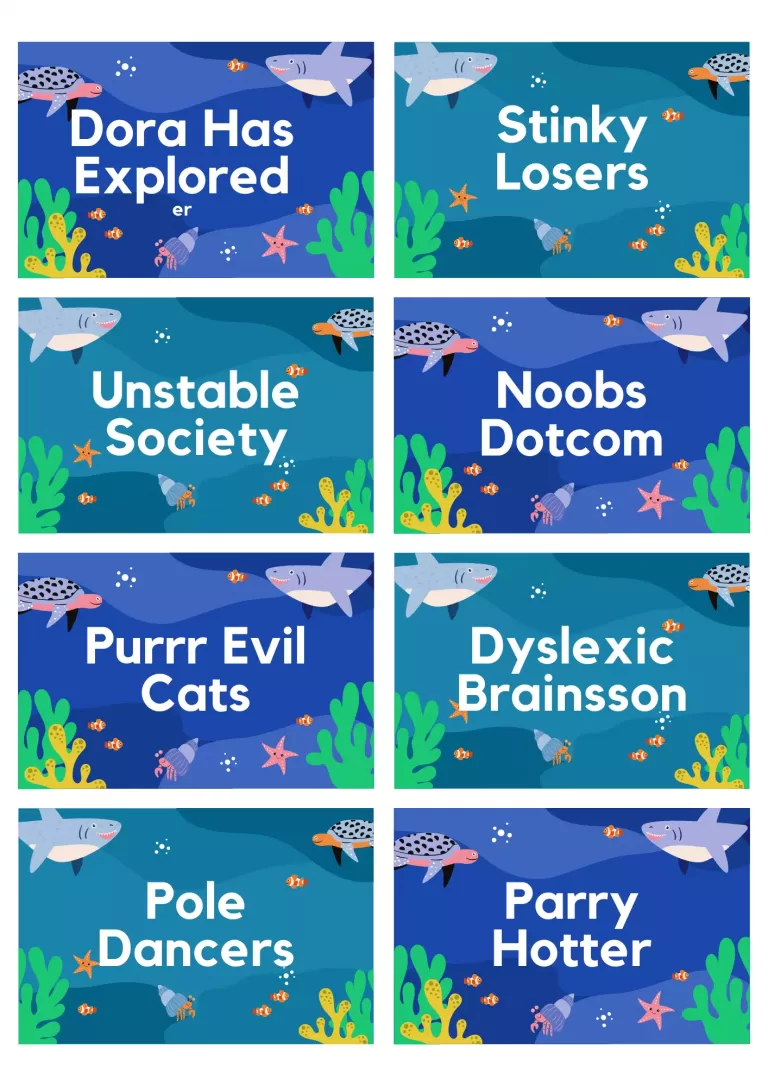 I Play With Idiots.
Crowned Clowns.
Vulgar Intentions.
Dora Has Explored.
Mocking Beard.
Osama Bin Drifting.
Stinky Losers.
Pole Dancers.
Unstable Society.
HighAF.
Out Of The Womb.
Hook Artist.
Noobs Dotcom.
Parry Hotter.
Lazy Asoles.
Purrr Evil Cats.
Seductive Pickle.
Smash DatAssh.
Searching  For Organs.
Ultimate Gaylords.
Dyslexic Brains.
Similar Post: 101+ Cool Clan Tags Listed 
Best Names for LOL

While choosing a name, you must make sure to choose the best and most memorable name that makes your team stand out among others.
We have listed some best and super classy suggestions below. Trust me, with these names, your opponent will not forget about your team for a long, long time.
The Righteous Defenders.
The Daughters Of Void.
The Vengeful Executioners.
I've Earned The Win.
Army Of Dead.
The Missing Priests.
Return Of The Legends.
Cold-hearted Warriors.
Castle Emporers.
Black Army.
Ariana Grenade.
The Blooming Witches.
Bounty Blademen.
The Curious Reapers.
Rise Of The Fallen.
Unbreakable Bond.
The Charmers.
The Starry-Eyed Goddesses.
Charged Up Champions.
The Undead Knights.
The Star Children.
League of Legends Usernames

Username is a part of your LOL login information that you use to access your account.
Since there are millions of users of LOL, it gets pretty difficult for players, as in the Fortnite clan, to choose a name that has not been taken yet.
If you are having the same problem, then consider the following options for fresh ideas. We can confidently say that these names are unique and new.
SwordGuy.
Deadlee.
BigGuy.
AdolfVictor.
Rockstar.
Superdude.
Hitler.
SpoiledBrat.
AnnieBiotic.
TrollKing.
Flucker.
Mr.Nobody.
NoConnection.
Guiltee.
Cyberbully.
Toxicator.
Skywalker.
Legend.
CrazyAss.
MonsterGuy.
SotallyTober.
85. Stuntman.
86. Supernova.
Lol Nicknames
A good nickname helps you to become prominent in the game. Just make sure to choose a nickname that is relevant to what you want to show because people will judge you according to your nickname.
For your inspiration, we have listed some suggestions below that will create a strong impression of your personality on others.
Venomous.
Darkness.
Destroyer.
Deceiver.
Kolaified.
Annihilate.
Impulsive.
Dead Killer.
Defender.
Skeptical.
Buzz Kill.
Illegal.
Death Shot.
Braveheart.
I'm Insane.
Pale Man.
Blind Priest.
Suicide Guy.
Portfire.
Playboy.
Trickster.
Ferocious.
Carnivorous.
Dark King.
Similar Post: 44+ Destiny Clan Name Ideas 
Good and Creative LOL Summoner Names
A summoner's name plays an important role in every player's identity and popularity.
People will not find your summoner's name interesting and impressive if it is something that has previously been done.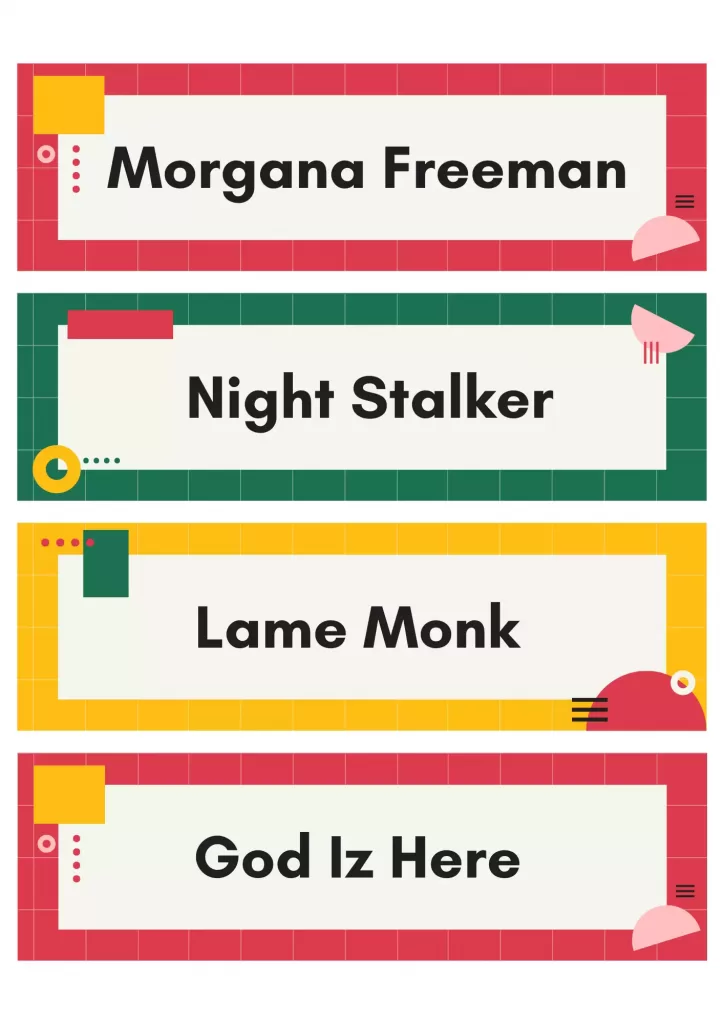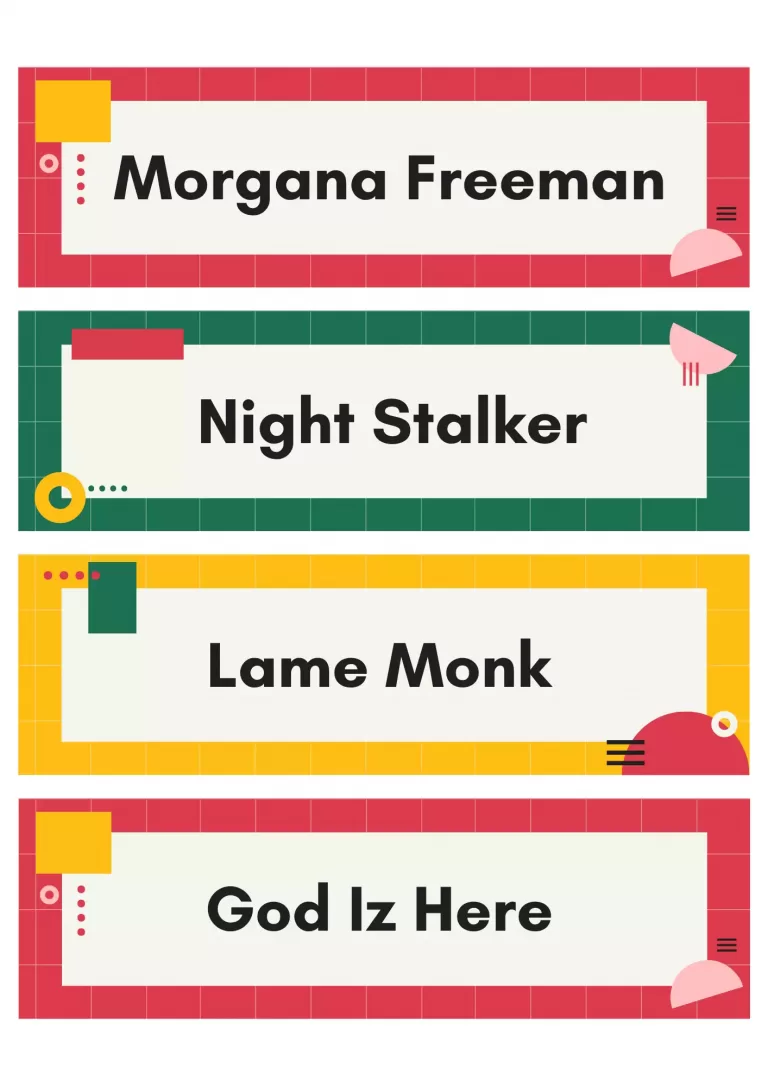 Outlaw.
Tailor Shift.
Death Singer.
Tom On Cruise.
QTPie.
Evil Master.
Morgana Freeman.
LandBoy.
Night Stalker.
DeathChaser.
Satan Claus.
Spirit Walker.
Almost Dead.
Blood Thirsty.
Data Traveler.
Lame Monk.
Shadow Reaper.
God Iz Here.
Hollowman.
Half-Dragon.
Clever and Witty League of Legend Names
The Combat between challengers creates a serious environment. In this situation, a clever and witty name not only calms us but also creates a fun atmosphere.
So, here are some clever suggestions that will surely impress you:
Osama Bin Lagging.
Sorrowful Hearts.
Black Market Rulers.
The Sweet Tooth Gang.
The Pedophiles.
Fun Stuff.
Trashtalkers.
SmokeWeed And Fun.
High Damage Patrol.
Sugar Daddy.
Dementia Patient.
Your Bad Karma.
Crows Before Hoes.
Slaughtering Machines.
Creepy Creatures.
Evil-looking Scorekeepers.
Spell Shield Society.
Counter-Productive Strategies.
Victorious Forces.
Damage Resistors.
How to Create LOL Names? | Players Guide
If the above-mentioned name still has not satisfied you and you want to create your own league name, then check out these guidelines to get your creative juices flowing.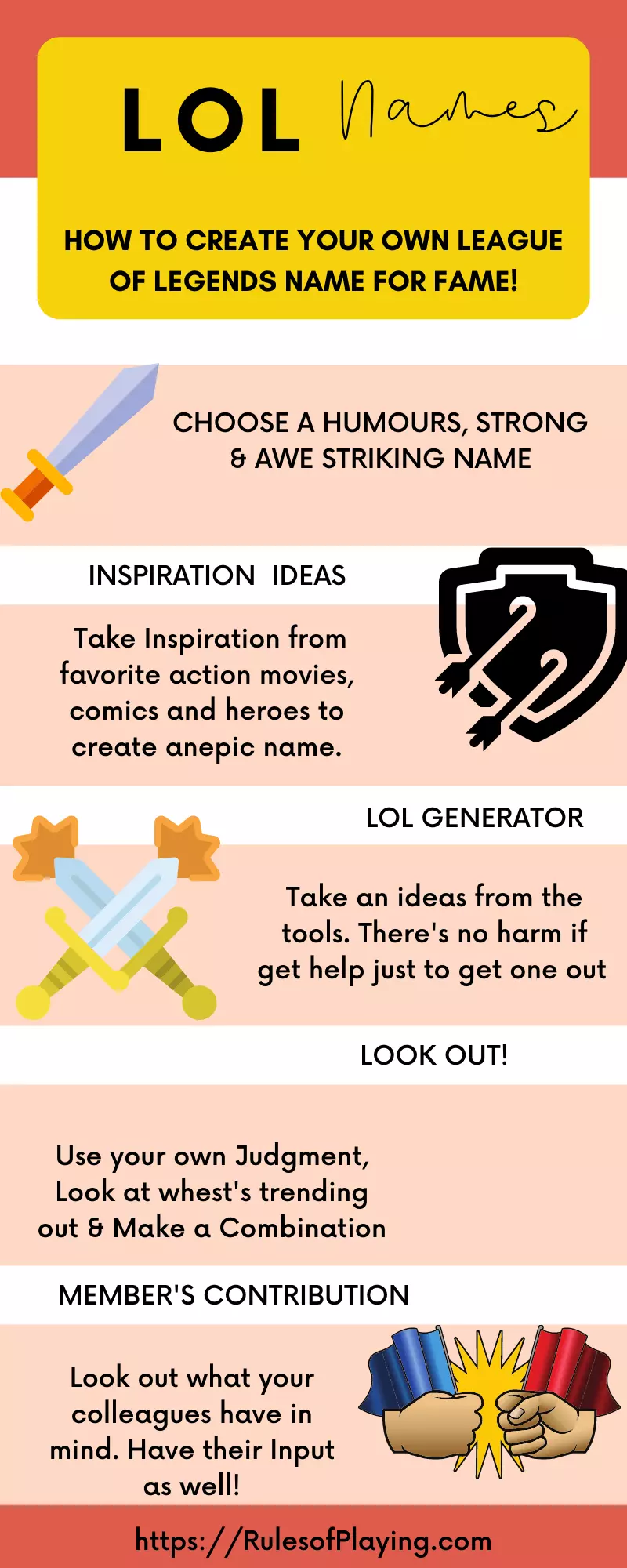 Choose Your Name Style
First, think about how you want other players to perceive your name.
Do you want a humorous name to make everyone smile, or do you want a strong name to strike fear in your opponent's heart? Deciding this will help you to narrow down your list of options.
Take Ideas from Game
There are so many elements and characters in the game to take inspiration from. If not, then you can take inspiration from your favorite action movies, comics, and heroes to create an epic name.
Take Inspiration From Other Names:
You do not have to steal other summoner's names, but looking at other names will definitely help you in brainstorming fresh ideas.
Use LOL Name Generator
If you are still confused, then you can also search for League Of Legend Name Generator on the internet. This will help you to think of some amazing ideas.
Related Post: 100+ 2k Clan Names List For Your Squad!
FAQs
1.  Who are the Ugliest LOL Champions
As per the users, inclinations following are the hated LOL Champions
Kassadin
Kha'Zix
Draven
Jax
2. Who is the Least played LOL Champion
Taliyah is the least played champion
3. Is League of Legends dying?
League of Legends community has grown to be well around 40 million worldwide users. It's not dying rather it is growing day by day.

Conclusion
We personally feel that the art of creating unique and creative LOL names should never die.
The game gets more exciting and fun when there is combat between players who have hilarious names.
That is why we have listed some unique suggestions for you to make your gaming experience memorable and fun.