Inspirational team names play a very important role in a team's success. They help to drive an individual's perception and behavior in a particular direction.
An inspiring team name not only enhances a team's desire to win but also puts fear in your opponent's heart that you are strong enough to face any challenge.
So, regardless of the purpose of your group, an inspirational team name is the best option to motivate your team to achieve its goals.
We have listed inspirational names under different categories that will inspire your team to do more and more better.
If you are interested in creating your own team name, then read the tips listed at the end of this article for brainstorming.
We believe that after reading those tips, you will create your team name in no time.
List of Inspirational Team Names | Strong, Powerful, Positive Motivational Team Names
We have arranged a list of Cool, Creative, and Powerful team names that will motivate your team to do good in every task.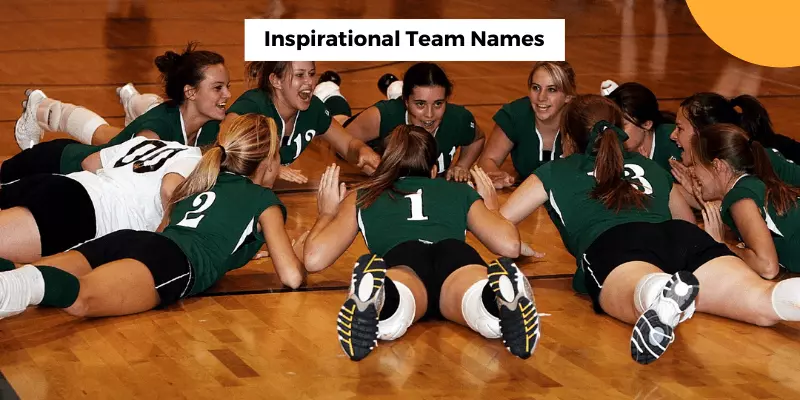 Powerful Inspirational Team Names

Here is the list of cool team names to show your team's efficiency and strength:
1. Dream Machines:    They know how to turn their dreams into reality.
2. Energetic Pack:    Have you seen anyone more energetic than this team?
3. Lady Bosses:     The best type of boss.
4. Smiley Faces:    Facing every problem with a constant smile.
5. Work Hard, Party Harder:    Cannot see any better motivation than this.
6. Peppermints:    Super healthy and natural.
7. Fantasticans:    They do every task.. fantastically.
8. Power House:    They never get tired.
9. High Altitude:    Because they do not settle for less.
10. The Hustlers:  A team determined to succeed.
11. The Achievers:  No task is too big for them.
12. Less Talk, More Work:  Their actions speak louder than their words.
13. History Creators:     You will soon see them in your history books.
14. Haters Gonna Hate:  No matter how much their opponents discourage them, they never lose faith.
15. The Amazing Winners:    Winning is what they do, and they look amazing every time.
Related Post: Powerful Leadership Team Name Ideas
Positive Inspirational Group Names
16. Wholesomely Awesome:    They set their own standard.
17. Masters of Everything:    Great at whatever they do.
18-The Unbreakable:    You can try, but you cannot break their stamina.
19. Friends Forever:    Nothing is more powerful than a bond of real friends.
20. You name it, we do it:    So much confidence.
21. Immovables:    No one can stop them from reaching their goal.
22. High Spirits:  Lively and always cheerful.
23. The Conquerors:    They knock out the competition.
24. Be happy and let them wonder:  Nothing scares your enemy more than your calm and smiley face.
25. Live, Love and Laugh:    That's how every team should be.
26. Fueled up:  Full of energy.
Strong Success Team Names
27. The Optimists:  No negativity is allowed in this group.
28. Divine Angels:  Their deeds are just godly.
29. The best of the best:  No one is better.
30. Risk Takers:  They never get afraid of taking any risk.
31. Straight Up Awesome:    No other definition is required to define them.
32. We came, we saw, we conquered:    They do not just sit around and wait.
33. The Overachievers:    They always break their own records.
34. Accomplishers:  Whatever they do, they do it successfully.
35. Time is Money:   A team who knows the importance of time can never lose.
Awesome Clever Team Motivator Name Ideas

Here is the list of creative team names to show your team's creativity. These words are unique and at the same time, astonishing:
36. Headway:    You will always see them making progress.
37. NewGen Leaders:  The inspire the best in you.
38. The Empowered:    They have the power to achieve everything.
39. First Place:    They do not settle for less.
40. Dream Producers:    A team that turns dreams into reality.
41. Happy faces:  The cheeriest team ever.
42. Rainbow Chasers:    They are great at spreading happiness.
43. Ultimate Champions:    They just can't help but win.
44. Chasing the sun:  It is all about following your dreams.
45. Miracles do happen:  They can make the unbelievable happen.
46. Thumbs Up:    Positive sign.
47. Positive vibes only:  Because negativity is not allowed here.
48. Zeal pavers:    They inspire others to do better.
49. Optimistic Squad:  Always focusing on the positive side of things.
50. Rebuilders:  They always come back stronger than before after every failure.
51. The Prosperous Ones:  A team that has achieved so much more.
52. Smiley Strategies:    Creating smiles.
Inspirational Girl Names
53. Inspirational  Divas:    They keep everyone else motivated.
54. Looking up:  Because they have not learned to look down.
55. Being Brave:    And strong.
56. Always better together:   They get along perfectly.
57. Alive and Kickin':   Prevalent and very active.
58. Got each other's back:    They always look out for each other.
59. I'm Possible:   Changing impossible to I'm possible.
60. Sky Reachers:   There is no limit for them.
61. Rise n Shine:     They shine wherever they go.
62. Courageous Ones:   Brave enough to face any negative situation in life.
63. The Rescuers:    Helping everyone.
64. No pain, No gain:    They know that suffering is necessary in order to achieve great things.
65. Inspirational group:    Bringing up everyone's spirits to win.
66. Sky is the limit:   There is nothing that can stop them from getting successful.
67. Positive thinkers:    Pessimism is for the losers.
68. Rising Stars:   They have a natural talent for leadership.
69. Support Group:    Always helping out others.
70. Never stop dreaming:    The most important rule for living a successful and fulfilling life.
Powerful Inspirational Team Names

Here is the list of powerful team names to show everyone that your team never gets tired of challenges and they face every difficulty bravely:
71. The Matriarchy:    These women lead and make rules.
72. Miracle Workers:    There is not a single thing that they cannot do.
73. Winning on mind:    They know what counts.
74. We can and we will:  With this spirit, there is nothing they cannot achieve.
75. Till we pass out:    That's the spirit.
76. The Revolutionary Knights:  They are bringing a change to the world.
77. Unstoppables:    No one can take them out.
78. Everlasting team:  The only team you will see standing till the end.
79. Rising from ash: They have returned as new and more powerful after being destroyed.
80. Never Giving Up:  Giving up is never an option for them.
81. One goal: Go big: This team is always making progress.
82. Together We Can:  They got each other's back.
83. Peak Performers:  Always giving their best.
84. Get over it:    Never let things get them down.
Positive Impact & Encouraging Team Names Ideas
85. Change Makers:  They do what they say.
86. Born Winners:  They left the womb with the intention of winning.
87. Girl Power:  It is all about girl power.
88. Team not to be underestimated:  It will cost you if you do that.
89. United We Stand:   Divide we fall.
90. Can't stop, Won't stop:    Because that's what losers do.
91. History Makers:   They will create history.
92. Uncompromised:    These guys never back down.
93. Brave Hearted:   The boldest of all.
94. From start till the end:   Once they are into something, there is no going back.
95. In it to win it:  There is no other option for them.
96. Desert Roses:   They do not just survive; they blossom.
97. Fired up:    There is a fire inside them.. the fire of victory.
98. Unity is Strength:   With this spirit, they can face any challenge.
99. High Flyers:    They only aim for the best.
100. The A-Team:  Always on top.
101. The Tough Ones:    This team has a strong reputation.
102. Pushing Limits:  You can never know where this team gets all its energy from.
103. The Go-Getters: They always get what they want.
How to Create Your own Motivational Team Name? | Inspiring Group Name Ideas

Creating an inspirational team name is very easy. You can find so many quotes on the internet to take inspiration from.
These tips will not only allow you to use those quotes creatively but also help you to create a team name in no time.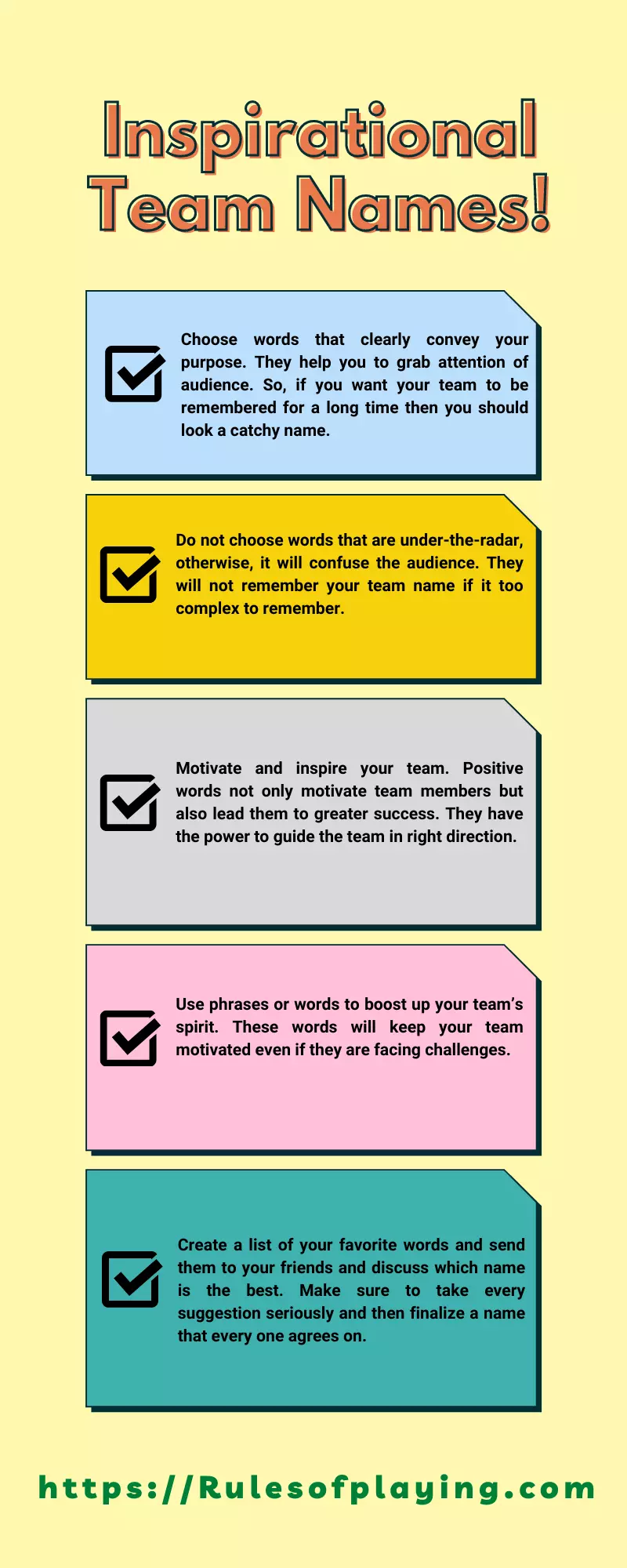 1. Choose Catchy Words:  Picking catchy words is so important. Choose words that clearly convey your purpose. They help you to grab the attention of the audience.
So, if you want your team to be remembered for a long time, then you should look for a catchy name.
2. Use Simple but Unique Words:  Use words that everyone in your audience understands.
Do not choose words that are under the radar. Otherwise, it will confuse the audience. They will not remember your team name if it is too complex to remember.
3. Use Positive Words:  Use positive words to motivate and inspire your team. Positive words not only motivate team members but also lead them to greater success.
They have the power to guide the team in the right direction.
4. Choose words that Lift Your Team's Spirit:  Use phrases or words to boost up your team's spirit. These words will keep your team motivated even if they are facing challenges.
5. Keep your Team Members in Your Mind:  Create a list of your favorite words and send them to your friends and discuss which name is the best.
Make sure to take every suggestion seriously and then finalize a name that everyone agrees on.
Related Post: Unique Fishing Team Name Ideas
Conclusion
An inspirational name is the foremost key to reaching the heights of success. It not only keeps you on the right track but also motivates you to do better.
So, you should be very particular about choosing a team name. We believe that the above-listed names are unique and have not been taken yet.
Also, if you have finalized your team name, then do not forget to share it with us in the comments section.