As much as a mother-daughter relationship is tricky to navigate, it is very special. It takes a special mother-daughter bond to work in a team and do wonders.
The bond between a mother and daughter is so precious and pure. If we look at famous celebrities, we will see that all mother-daughter duos have set their mark in the world.
A mother-daughter bond is the most precious one where they know everything about each other-from favorite meals to secrets.
It is the strongest bond of all, and there is nothing that they both cannot achieve if they are in one team.
If you are also in a team with your mom or your daughter, then you need a special name to represent your bond.
Whether you are starting a business or participating in sports, your team name should be creative and strong enough to show everyone that as long as you both are together, you can achieve anything.
But if you are not able to come up with a unique name, then do not worry because we've got you covered.
List of Mother Daughter Team Names | Funny, Cool, Nicknames, Team Names
We have written the best mother-daughter team names and nicknames that will make your bond much stronger. These names are a mixture of fun and cool terms and the best way to show your affection for each other.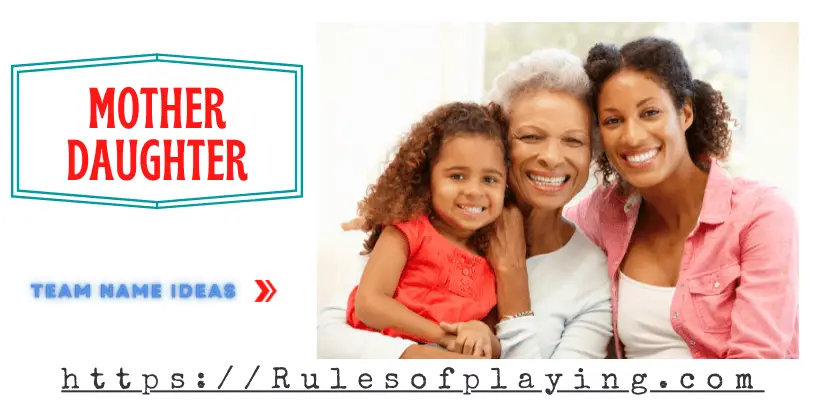 However, if you are interested in creating your own team name by mentioning your favorite memories of each other and just need some guidelines, then check out the tips below this article for some amazing ideas.
Mother Daughter Team Names
Your mother-daughter team name should express the special bond that you share. It should reflect your individual personalities as well as your relationship with each other.
Keep this in mind. We have listed amazing mother-daughter name suggestions below that will make your bond much stronger.
1. Two Generations.
2. Dynamic d=Duo.
3. Like Mother Like Daughter.
4. Two Of A Kind.
5. Gossip Girls.
6. Queen Bees.
7. Leading Ladies.
8. Friends Forever.
9. The Cuties.
10. Power Puffs.
11. The Feminists.
12. Family Drama.
13. Legacy.
14. Good Genes.
15. Girl Power.
16. Gilmore Girls.
17. Wonder Women.
18. Slay Club.
Related Post: 75+ MOM Group Name Ideas!
Mother Daughter Nicknames
Do you and your mom share a friendly bond to such an extent that you both call each other by nicknames now? or do you want to choose a nickname for each other but cannot finalize one?
Well, do not worry if you are not able to come up with a unique and fun nickname because we have written many suggestions for you to choose from. Pick any suggestion that you like:
19. Honey & Bunny.
20. Tessa & Nessa.
21. Noemi & Naomi.
22. Tootsy & Wootsy.
23. Mumsy & Momo.
24. Humble&Mumble.
25. Jade & Amber.
26. Cindy & Candy.
27. Sugar & Spice.
28. Brooke & Brooklyn.
29. Mamacita & Minny.
30. Mummy & Brummy.
31. Jolly & Sparkly.
32. Lovey & Dovey.
33. Bubble & Buttercup.
34. Lilly & Milly.
35. Angel & Sunshine.
36. Sweetpea & Munchkin.
Cool, Creative & Funny Names for Mother & Daughter
A mother-daughter bond is a very special bond, and no one can match the energy which you both share.
The fun time that you spend together creates an unbreakable bond and gives you the power to accomplish everything.
If you also want to show everyone that you both are a fun team and not like typical mom and daughter, then choose from this list.
We have added cool, creative, and funny name suggestions that will bring a smile to your face and enhance your bond with each other.
37. Jess & Jessie.
38. Blondie & Curly Sue.
39. Billie & Bliss.
40. Cindy & Mindy.
41. Bean & Jelly Bean.
42. Bumpy & Pebbles.
43. Mummy & Yummy.
44. Anna & Annie.
45. Ava & Bea.
46. Cupcake & Pudding.
47. Queen Bee & Busy Bee.
48. Ginger Spice & Sugar Plum.
49. Mean Momma & Fun Sponge.
50. Bobbie & Bonnie.
51. Gloria & Gracie.
52. Mini & Mommy.
53. Ella & Ellie.
54. Becca &Becky.
55. Jane & Jenna.
Related Post: 49+ Sorority Family Group Names
How to Create Mother Daughter Team Name?
Here are some guidelines which will help you to create a team name in no time:

1. Think About Similar Interests:  Daughters are copies of their mothers. Most of their things are usually similar.
Do you and your mother also have similar interests? What are your likes and dislikes? Is there any hobby you both enjoy? You can use your interests and hobbies to create a good team name.
2. Be Creative: Do not go for typical mother-daughter team names. Be as creative as you can and use words that make your team unique from other teams.
For example, if one of you likes nature and another one is more into comics, then your team name could be Marigold Fighters or Nature geeks.
Just use anything that you like and creatively create a name from it.
3. Use Nicknames: How do you and your mother call each other? Do you both have fun nicknames for each other? If yes, then use those nicknames to create a fun team name.
4. Take Inspiration From Your Favorite Memories: What are your favorite memories with your mother or your daughter?
Perhaps there is a specific food place that you both like, or there is any embarrassing moment of your childhood.
Use these special memories to create a strong name to embrace your bond with each other.
Related Post: 99+ Funny Powerful Girl Team Names for Your Squad
Conclusion
Why go for typical team names when you can choose fun and cool team names to create a strong impact everywhere, right?
We have tried to list the most creative and unique suggestions in this article that will make your mother-daughter duo more famous and unique than the rest.
These names will definitely make your bond stronger and help you to accomplish great tasks together.