When a group of vegetarian and non-vegetarian friends sits together, there is always a discussion over which diet is best: meat, no meat, gluten-free, or keto.
Well, it is totally okay to be a non-vegetarian or a vegetarian as long as you balance the calories. But if you are a meat-lover who just cannot control his appetite when it comes to meaty foods, then you and your group members definitely deserve a tasty name.
Non-Veg Group Names [ Funny, Classy, Unique Non-Veg Group List for WhatsApp
A good group name will help you and your friends to have a friendly gathering instead of arguing about who's diet is the best. It will also help you to enhance your bond with each other.
For your inspiration, we have listed 41 cool and unique name suggestions that will encourage members to contribute to a fun and friendly community.
However, if you do not find a sizzling name on this list, then check out the guidelines at the end of this article to get some fresh ideas.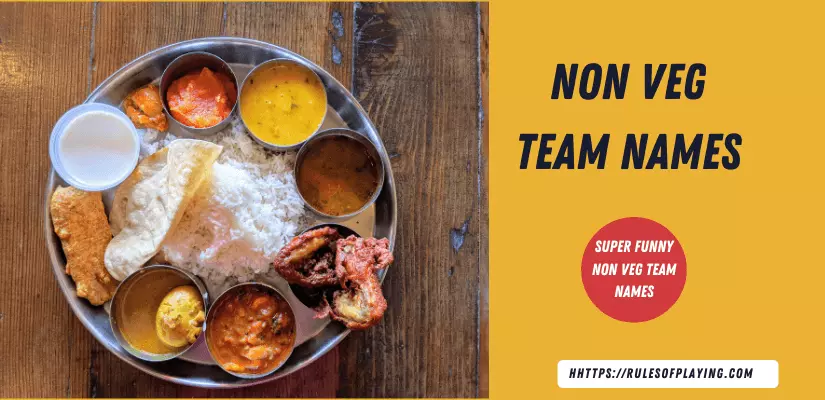 Here is some tasty names for your non-veg group:
1. The Poultry Party:    Everyone is invited except vegans.
2. Meat Not Beet:    Good Advice.
3. Steak Attack:    Beef steak above every food.
4. Meat For Life:    After all, what's life without meat, right?
5. Striking The Chicken:    Making every bite count.
6. Carnivorous Club:     The real foodies.
7. Chicken Rippers:    Not leaving any piece.
8. Proteins Intake:     Honestly, meat does contain all essential nutrients.
9. The Meat Dudes:     Can't survive a day without eating meat.
10. Keep Calm & Eat Chicken:    They like to eat well.
Related Post: 70+ Tasty Cooking Team Names for Your Squad!
11. Beef Battalion:    Beef tastes better.
12. Eat Healthy, Eat Meat:     Sunday Motivation.
13. The Grill Guild:  Grilled chicken above everything.
14. Chicken Gravy Over Everything:    Simply tastes delicious.
15. Beef Burger Brigade:     No burger is better than a beef burger.
16. Meat Lovers United:    Meat is happiness.
17. The 3 P's Association:    Pork, Pizza and Pastrami.
18. Anti-Keto:    Because life is too short to eat boring food.
19. Saying No To Keto:     They have a special disliking to green foods.
20. Non-Veg Pizza Always:    What's pizza without chicken?
21. Non-Veg & Proud:     You cannot change their love for meat.
22. Meat Life.  Good Life:     Can't argue with that.
23. Cracked Eggs:     with mushrooms and cheese. Yum!
24. Non-Veg Alliance:    That's a very strong bond.
25. Happy Burgers Alliance:    Burgers are the one-way ticket to happiness.
26. Egg-cellent Team:     Can't start the day without their eggs.
27. Feed It Then Eat It:     Very clever.
28.No Salads Allowed:     Cannot anything other than meat.
29. Chicken Fried Force:    And this force just cannot tolerate any vegan around.
30. Eat Meat & Repeat:      A golden rule.
31. Finger Lickin' Good:    any KFC lover here?
32. Meat & Rice:    And everything nice.
33. Bucket Of Wings:    What more can you want in life?
34. Eat More Chicken:     Always in the mood for chicken.
35. Carnivorous Bond:    The unbreakable bond.
36. The Slaughterhouse:      All vegans should definitely stay away.
37. Chicken Roast Club:    They love animals so much that they like them on their plate.
38. The Burger League:    Happiness is a warm juicy burger.
39. The Kebab Gang:    Juicy kebabs just make everything better.
40. Veg Boycott:     Sorry, can't have any veggies on the plate.
41. Meat Expectations:    People disappoint, but meat doesn't.
Related Post: 43+ Lunch Group Name Ideas Reloaded
Guidelines to Create Non-Veg Group Names
Create your non-veg group name using the following guidelines:
1. Use Meat-Related Terms: Do a brainstorming session and think about your favorite descriptive non-veg words. Make a list of your favorite foods because this will help you to narrow down your list of options.
2. Take Inspiration From Recipes:  You can take inspiration from meaty recipes and cooking techniques to create a unique name.
3. Keep It Fun:  Sometimes, even food becomes the reason to have an argument with your friends, especially when some of your friends are vegetarians.
So, make sure to choose a name that is fun and light to create a friendly like-minded community.
4. Take Suggestions From Your Friends: Ask your group members about their favorite meat dishes and then choose the one for your group that everyone votes for.
Related Post: 75+ Mom Group Names Relisted!
Conclusion
Meat lovers are really passionate about their foods. Well, if you think logically, a non-veg diet is really a great source of proteins and vitamins.
So, if you also want to avoid having an argument session with your friends regarding which diet is the best, then we are sure that these names will surely help you to have a fun gathering.