Are you a cooking expert who wants to become a chef like Gordon Ramsay and looking for ways to inspire your team members to cook with all their hearts?
If yes, then you are in the right spot. We have written plenty of tasty name suggestions below that will make your team energetic and motivated.
Forming a cooking team is an activity that is the perfect source of fun and entertainment. But after forming a cooking group, your first priority should be coming up with a unique group name.
Choosing a unique team name is the perfect way to bring your team members together.
It is an important decision, so do not decide on a name in haste. Make sure to choose the one that matches the vibe of your team. 
List of Cooking Team Names | Funny, Unique, Awesome Cooking Group Names
Picking a good team name is not an easy process, especially when you and your team members are assigned an important project.
It requires a lot of brainstorming, but luckily, you do not have to stress yourself out because we have written 71 creative, funny, and unique team name suggestions below.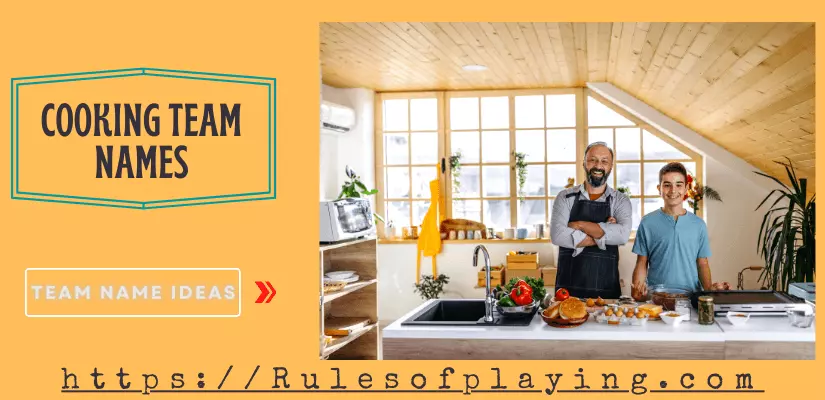 Creativity is very important if you want your team to be a success. No one likes to be a part of a team that has a boring name.
That is why we made sure to write the best unique and creative names below that will definitely make your team shine bright in the room.
However, if you want to come up with your own team name, then check out the guidelines at the end of this article:
Also Read: 65+ Teachers Team Names Listed!
Funny Cooking Team Names
It might be hard to pick out which hilarious name to go with, just like it is hard to pick out one waffle from the menu at your favorite restaurant.
There are so many cooking-related puns that you can never decide on one name instantly. To help you in decision-making, we have listed some top puns and hilarious names below.
Pick any name that makes your ROFL the most.

1. The Lentil Lads.
2. Dinner Impossible.
3. Kitchen Nightmares.
4. Ugly Delicious.
5. Gingerheads.
6. Hold My Knife.
7. Wings n Thighs.
8. Death By Red Chilly.
9. French Toast Mafia.
10. Missing Ingredients.
11. Burn Baby Burn.
12. Meat Spankers.
13. Burned Toasts.
14. Chilly Rush.
15. Gonna Slice You.
16. Scrambled Eggheads.
17. Crazy Delicious.
18. Broccoli Brigade.
19. Taste At Your Own Risk.
20. Meat Disasters.
Creative & Catchy Cooking Team Name Ideas
Food comes later, and the first thing everyone's going to notice is your team name.
Whether you are a professional chef or a first-timer cook, you cannot capture the attention of the audience if you do not have a unique cooking name.
Cooking is a very interesting challenge, and with a creative name, it gets more exciting.  Below are some suggestions that you can use to create a strong impact on the opponent team.

21. Born Grillers.
22. The Spice Girls.
23. Flavor Queens.
24. Grillin' n Chillin'.
25. Noodle Squad.
26. Egg-cellent Cooks.
27. Red Hot Chillies.
28. Donut Worry.
29. Pro Cooks.
30. Yum In Tum.
31. Chilli Chilli Bang Bang.
32. Chop Chop Wok.
33-Something's Cookin'.
34. Weir-doughs Combined.
35. Beet Drop.
Unique Food Team Names Ideas
It is almost a bigger challenge to come up with a unique cooking team name than the cooking challenge itself.
Right? Luckily, you do not have to stress yourself out in finding a unique name. Just focus on improvising your cooking skills and forget about this problem because we have already done this work for you.
We have written some exquisite team names below that will impress the judges straight away.

36. Tasty Dips.
37. Made With Love.
38. The Salad Guys.
39. The Ramen Girls.
40. Sweet Beans.
41. Today's Special.
42. The Cheftastics.
43. Grate Partners.
44. Gods Of Cookery.
45. Deep Fried Chicks.
46. Hot Peppers.
47. The Seasoned Chefs.
48. Tuna Masters.
49. Pastry Kings.
50. No Reservations.
51. Magic In Hands.
52. Sausages Squad.
53. Barbeque Showdown.
54. Taco Chronicles.
55. Frying Machines.
Also Read: 55+ Mother Daughter Team Names Listed
Awesome Cooking Club Names
Selecting a name for your cooking club might look like a cooking championship-level task, but you do not have to worry about that now.
We have listed some awesome name suggestions for you below. Cooking clubs are a great way for people to meet and improvise their cooking skills.
So, make sure that your club name is the best among the rest to attract more members. Below are some suggestions for your inspiration:

56. Meal In Demand.
57. Cheese Club.
58. Pasta La Vista, Baby!
59. A Touch Of Spice.
60. Holy Smoke.
61. Chopped.
62. Spice Factory.
63. Sugar Rush.
64. Spice It Up.
65. A Matter Of Taste.
66. Final  Recipe.
67. Wild Rice.
68. Salt n' Pepper.
69. Munchies.
70. Nom Nom.
71. Grill It.
How to Create a Cooking Team Names
Create your own cooking team name using the following tips:

1. Take Inspiration From Food-related Terms: What is the thing you love about cooking? What are your cooking techniques? I
s there any dish that inspires you? Make a list of all the cooking-related terms that you know. This will help you to think of unique ideas.
2. Use Cooking Techniques And Recipes: There are various processes included in cooking.
Browse through the internet and write down all the interesting phrases and words about cooking techniques that you find.
3. Use Vintage Cooking Terms: The modern cooking technique is much different than old-fashioned cooking recipes.
But if the old recipes, vintage cooking terms, and cookware still fascinate you, then you can use these lesser-known phrases to create a unique name. 
4. Use Descriptive Words: To keep your team name tone light, you can also use the names of your favorite fruits and vegetables and then add descriptive words to them.
For example, Fighting Bananas, and Angry Pumpkins.
Also Read: Community Group Names for Stronger Bonding!
Conclusion

Food is not just important for living, it is an art for people who love to cook. Cooking gets more exciting when you have your own team to nail any challenge.
But for a motivated and confident team, a good team name is also very important.
That is why we have listed some amazing suggestions that will definitely come in handy.