Commerce is a very professional field that compasses various skills related to business and can lead to a good career in management, finance, auditing, and accounting.
Whether you have a commerce group in college or at work, a good group name is very important to inspire and motivate your team.
A good group name not only invokes a sense of professionalism but also motivates your group to do their best.
You need to make sure that the name you choose for your group is polished and professional but also light and quirky to keep the work atmosphere fun.
Commerce Group Names | Business Nicknames, Ideas For Professionals
For your inspiration, we have listed 39 epic and goal-oriented commerce team names that will keep your group inspired and on the right track as you move forward.
However, we have also listed some guidelines at the end of this article if you want to create your own group name.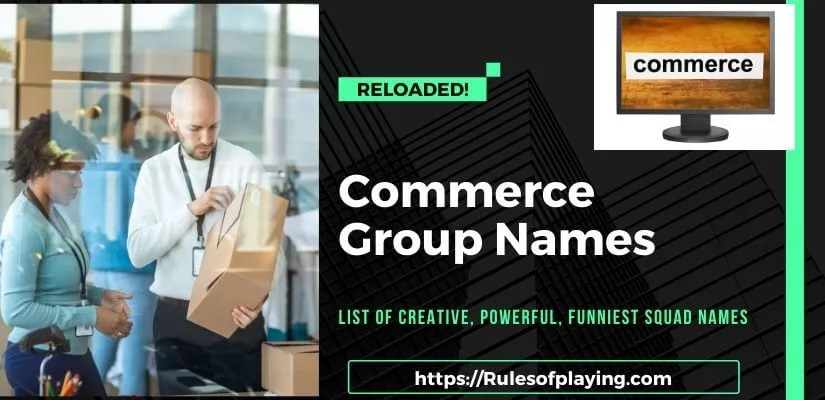 Here are some causal, fun, and motivational name suggestions for your group:
1. The Cutting Edge:    A highly advanced and innovative team.
2. The Content Crew:    They always have new ideas in mind.
3. Upgraded Version:    Raised to a higher standard of knowledge.
4. The Benchmarks:    They set the standard against which everything is compared.
5. Corporate Thinkers:    They respect each other's ideas.
6. A-Group:    The best group ever formed.
7. Quality Over Quantity:    Maintaining the standard is more important than the amount for them.
8. One Group, One Mission:    Truly inspired and motivated team.
9. Impactful Generation:    Creating an impact with their skills and knowledge.
10.No Time To Waste:    They know the importance of time.
11. Knowledge Seekers:    Always looking forward to learning more.
12. Out Of The Box:    Bringing new ideas to the table every day.
13. Evergreen Legion:    They shine in every room.
14. On Trending:    Everyone envies them.
15. Peak Performance:    Always giving their 100%.
16. Towards The Goal:    That's the spirit.
17. Arrangement Alliance:    Always working in synergy.
18. Problem Solvers:    They always have solutions to every problem.
19. The Resuscitators:    They bring dead ideas back to life.
20. The Go Getters:    They don't wait for opportunities to come to them; they make the opportunities.
>>>> Similar Post:  Aesthetic Group Names for Four People 
21. Back Benchers:     Backbenchers often have more skills and talents than front-row students.
22. Brains On Vacation:    Seems like a long vacation.
23. No Loose Ends:    They work without making mistakes.
24. Business Time:    Every day of the week.
25. The Fixers:    There is no problem they cannot fix.
26. The Planning Crew:    Skillful Organizers.
27. The Think Tank:    They are brilliant at coming up with new strategies.
28. Best Practice:    Best in everything they do.
29. Time Utilizers:    Making every second count.
30. Innovation Inc.:     For a truly creative team.
31. Rising Stars:    Everyone knows that they will be the ones leading a successful business in the future.
32. Best In Business:    No one is better than them.
33. Achievers and Leaders:    They have a natural talent to lead.
34. Data Devils:    Unfolding the mysteries in numbers.
35. In Synergy:    They always work together with cooperation.
36. Drill Down Committee:  If they put their mind to something, they analyze it with depth.
37. KPI Pros: The best in key metrics.
38. Six Sigma Society:    Always coming up with new techniques to improve business.
39. Number Scrubbers:    Skillful in amending the incomplete data from the database.
Guidelines to Create Commerce Group Names
Keep the following guidelines in mind while creating a team name:
1. Use Commerce-Related Words: Do a brainstorming session and think about all the words that you use with your colleague on a daily basis or commerce-related words that you know.
Make a list of all the words and then create a name using the interesting ones.
2. Choose Unique Words: Once you find commerce-related terms, pair them with words that you think fit perfectly with your group.
3. Use Your Goals:  Think about your group's aims or what you all want to accomplish, and then create a name. It will help your group members to stay focused on every task.
4. Think About Your Team Members:  Choose an appropriate work-related name and the one that suits your team members perfectly.
If you are unsure about names, then take suggestions from your group members.
>>>> Related Post: 61+ Team Names for Case Study Competition
Conclusion

Commerce is an ideal field for everyone who wants to enhance his skills in business and management.
People work better when they are in a group as it helps them to learn new skills and techniques.
But a group without a good and motivational name is useless.
So, make your group look the best using the above-listed suggestions. These names will definitely inspire your group members to work with more dedication.