A good leadership team name not only evokes motivation of team members but also encourages them to do better in every task.
A team name not only defines your team but also shows your team's potential. Also, it is the first thing that people will hear, so it should be strong and unique enough to grab everyone's attention.
However, we are aware that searching for a leadership team name can take a lot of your precious time.
That is why we have arranged a wide list of options in this article for you to choose from.
All the names listed below are unique and creative.
We believe that you will definitely find your perfect team name on this list.
However, if you want to create something of your own and looking for ideas, then check out the guidelines at the end of this article.
These tips will definitely help you in brainstorming some creative ideas.
Leadership Team Names Ideas



We have arranged a list of Cool, Powerful, and Best leadership team names that will motivate your team members to give their 100% in every task.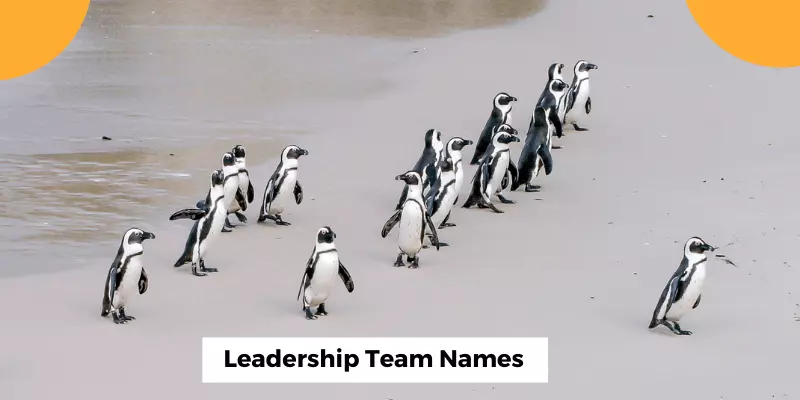 Powerful, Funny Leadership Team Names



Here is the list of cool team names to make your team stand out from the crowd:
1. The go-getters:    They know how to get what they want.
2. Game Changers:   They have the power to turn the tables at any point.
3. The Conception Crew:    Their mind is full of new ideas.
4. The Emperors:    They rule with absolute power.
5. Outside The Box:    Their mind is full of creative ideas.
6. Top-Tiers:     They are of the highest level.
7. Trendsetters:     All others copy their style.
8. Back Benchers:  Their perspective about different things is unique and creative.
9. Leading Lads:  Leading capabilities.
10. Dream Planners:     Turning dreams into reality.
11. No Loose Ends:    They work without making any mistakes.
12. The Fixers:    They can mend everything.
Catchy Leadership Titles
Here is the list of powerful team names to show how competitive and strong your team is and that you guys have the power to bring change everyone wants in society:
13. Just Do It:     Getting everything done without any hesitation.
14. Extreme Explosions:  They might explode.
15. Team Consistent:    Winning consistently.
16. Disciples of Truth:    Followers of truth.
17. The Revolutionars:     Bringing a definite change through their actions.
18. Young And Powerful:    And ready to achieve a million things.
19. Bosses in Charge:    They have good leading potential.
20. Gang of Glory:    In it to win it.
21. The Fearless:    Not afraid of anything.
22. Team Inspiration:    Bringing up everyone's spirit.
23. Still Leading:    And will always be.
24. History Makers:  You will see them in history books soon.
Related Post: Best Summoner League of Legends Team Names
Best Management Team Names
25. One Goal: Go Big:    Keeping things simple.
26. The Unstoppables:  No obstacle can stop them.
27. The Winning Squad:    There are here for one thing only, and that is winning.
28. Mountain Movers:    They make impossible things happen.
29. Making Visions Reality:    They will turn all your dreams into reality.
30. Rule Makers:    They make the rules.
31. Motivational Forces:  Motivating other people to do more and better.
32. Backing Down Was Never An Option:    Even when things do not go in their favor.
Creative Leadership  Team Names
Here is the list of best team names to boost your team's morale:
33. The Menschen:    A team with integrity and honor.
34. Legacy Makers:    A team that will always be remembered.
35. Live to Lead:  Leading is in their blood.
36. We Can And We Will:  A group with true leading potential.
37. Men of Honor:  Every man in this team is a man of his words.
38. Overachievers:    When they are up for something, they end up achieving a lot more.
39. The Achievers:    They get everything they aim for.
40. Braveheart:  The boldest of all.
41. The Elites:  There is no better way to describe them.
42. Planning Leaders:    Skilled organizers.
Professional Team Meeting Name Ideas
43. Change Makers:  They do not just sit around and wait for change to happen.
44. On A Mission:    A team with real goals.
45. The Influencers:  Everyone looks up to them for ideas.
46. The Leading Team:    Simple and nice.
47. The Order:    They keep the order.
48. The Conquerors:    They achieve everything which they desire.
49. Leading Experts:    No one is better at leading than these guys.
50. Leaders Creating Leaders:    A team who believes in lifting other people's spirits too.
Related Post: 100+ Powerful Team Names For Your Squad!
How to Create Leadership Team Names
Creating a leadership team name is very easy. You just need to make sure that whatever name that you choose is motivational and inspiring.
For more brainstorming. just follow these tips, after which it will get easier for you to think of more ideas:
Choose Motivational Words
A motivational team name has the power to inspire its team members to give their hundred percent to every task.
Motivational words also help to make the team strong enough to accomplish everything.
You can use words like mission, lead, winners, Force, determination, power, etc., to evoke motivational feelings in your team members.
Keep it Short but Catchy.
You should not use a long team name because it makes it boring and uninteresting.
Use words that are simple and catchy to make your team look the best among the rest.
Merge Words
If you are confused and want some creativity in your team name, then you can choose positive words and then search for synonyms that are uncommon, unique, and precise.
Be Creative
A leadership team name is more than just a name. It represents your team's personality and enthusiasm; that is why to be as creative as you can.
Create team names using your mind. If you copy the names of other teams, then that would not portray a good image of your team.
Have Your Team Members on Board
Ask your group members to submit their ideas too. Getting ideas from other team members is the best way to get some fresh ideas.
Your team members are also a part of your team, so you should always listen to their feedback as well.
Similar Post: 200+ Work Team Names for Ultimate Success!
Conclusion
A good leadership name is very important to portray a powerful impression on your team. That is why we have listed all the unique suggestions for you.
We made sure to write creative and unique words that have not been taken yet. Hope you like them!