Tough Mudder is the best obstacle course and mud run that gives you the opportunity to face your fears bravely and push yourself to the next level.
The game gets more fun and exciting if you play it with your friends as you know, teamwork makes the dream work.
So if you have convinced your squad to hit the mud for you, then the only thing now standing between you and winning is a good team name.
Tough Mud Run Team Name Ideas For Your Squad | Obstacle Course, Dirty, Mud Runs Girl
Yeah, you heard it right. It is obvious you cannot go playing your squad without a team name. This is where this article will come in handy.
We have listed some epic suggestions for you that will keep your team motivated while facing every obstacle.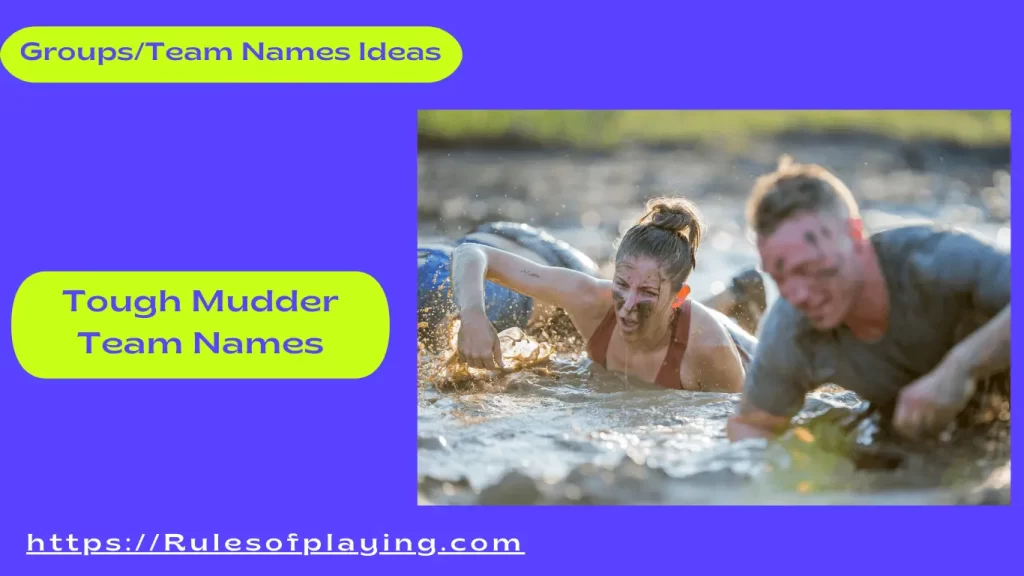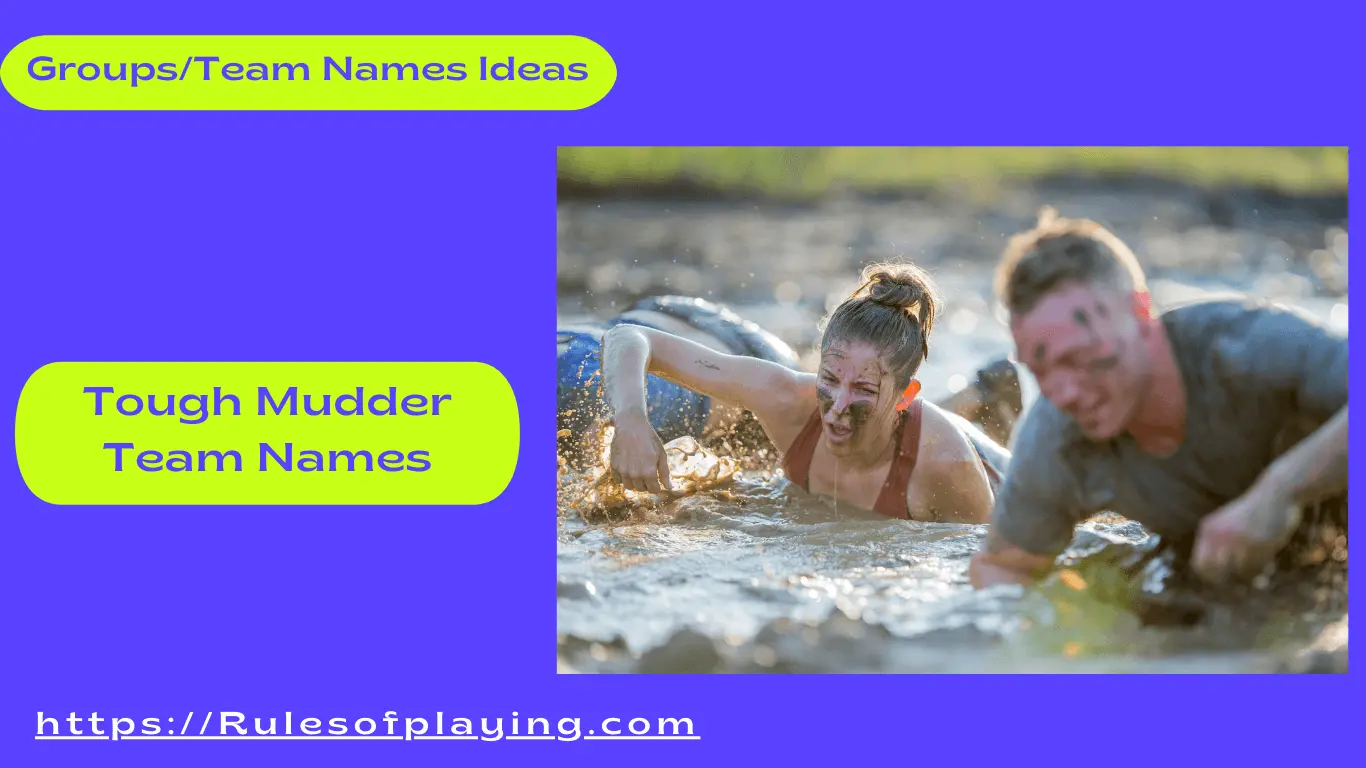 Tough Mudder Team Names
1. Dirt, Sweat & Beer.
2. Band Of Mudders.
3. Dirt Herd.
4. Dirty Babies.
5. Dirtbags.
6. Dirty Half Dozen.
7. Bruise Committee.
8. Bad Mother Mudders.
9. Original Gangsters.
10. Smells Like Dirt.
11. Muddy Jackets.
12. Baby Got Dirt.
13. Speed Bummers.
14. Mudder Expectations.
15. The Blister Bears.
16. Mudder Domination.
17. Runners From Another Mudders.
18. Muddy Buddies.
19. Ugly Ducklings.
20. Beyond Limits.
21. Clueless Punks.
22. Dirt Digglers.
23. Dirt Divas.
24. Slippery When Wet.
25. Slaying In Dirt.
26. Digglers & Gigglers.
27. Running Pros.
28. Running Wild.
29. Course Alliance.
30. The Disruptors.
31. Mud Chaos.
32. The Wrecking Crew.
33. Muddy Martinis.
34. Mud Huggers.
35. Mud Messers.
36. Mud Splashers.
37. The Bruised Sprinters.
38. Dunking In Mud.
39. The Tacklers.
40. Collateral Damage.
41. Make Mud Not War.
42. Mud Alliance.
43. Girls Gone Wild.
44. Wild Mild.
45. The FilthHouse.
46. Filthy Mouths.
47. Trash Talkers.
48. Gigantic Legs.
49. Dead End.
50. Done For The Day.
51. This Is Out Last Time.
52. Mudder No More.
53. Naptime At The Finishline.
54. Weekend Warriors.
55. Muddy Potatoes.
57. Running Wild.
58. Crushing Courses.
59. Attacking Gorillas.
60. Deadly Shins.
61. Muddlers Fuddlers.
62. Happy Muddy Feet.
63. Big Brown Bears.
64. The Filthy Clams.
65. Mud, Set, Go.
66. Poopy Pants.
67. Muddley Pigs.
68. No Surrender.
69. Dirty At Thirty.
70. Down In The Brown.
>>>>> Also Read:  "March Madness Team Names for all time Winning"
Tips for Choosing Best Tough Mudder Team Name for Your Group
A team name signifies many things like strength, humor, and goals. It creates a strong impression of a team.
Since tough mudder includes the most challenging courses, it is important that you choose a strong name to make your squad a legend on the course.
For your inspiration, our created list would definitely help you out. These names are simple but also creative enough to help you stand out from the crowd.
If none of the above options strike your fancy, then create your own team name using the following guidelines:
1. Think About The Obstacles:
Tough Mudder is a 10-to-12-mile-long obstacle course, so I hope you are aware that you are going to face a lot of challenging obstacles.
The Best way to create a team name would be to take inspiration from those obstacles and incorporate them into your team name.
For example, there is a course in tough mudder where you get electric shocks so you can create a team name like Shock Therapists.
2. Keep It Dirty:
After all, this is a mud run we are talking about. So, the best way to create a team name would be to incorporate terms like dirt, mud, and running into your team name.
3. Choose Rhyming Words:
Including rhyming words in your team name is the best way to lighten up a good mudder team name. For example, Dirty Thirty, Fun Run, etc
4. Get Creative:
Get creative and think out of the box. Take inspiration from movies, songs, or characters that you like. Think about the things that make you giggle.
Add adjectives to create a strong team name. Inspiration is everywhere. All you gotta do is give charge to your creative side.
>>>>>>  Read Also:  "Best Mud Run Team Names that You Can't Ignore!"
Conclusion
Tough mudder is not just a race, it is a way to encourage everyone to take a break from their responsibilities and just have fun with their loved ones.
So if you want to make this time memorable and exciting, then make sure to choose an epic tough mudder team name. And for that, the above list will surely help you out.