The world ministry comes from the Greek word "diakoneo" which means "To serve". Women's ministry serves women by helping them to grow in their faith in Jesus Christ.
The main purpose of a women's ministry is to provide opportunities for women to deepen their faith, experience spiritual growth, and help them to live a godly life with guidance from the gospel.
There are many challenges that women face in their everyday life. There are so many things that women feel comfortable speaking about among women only.
That is why women's ministry is the best place to address the spiritual, mental, physical, and social needs of women. It not only addresses the concerns of women but also promotes opportunities for wider service for them.
Women Ministry Names | Successful, Creative, Christian, Lady, Girls Ministry Names Suggestions
One main thing that draws new people towards a ministry group is a good name. If your ministry name is not inspirational and motivational, then you will only lose members.
A good name will not only inspire your group members but also attract new people to your group.
So, we have listed some best suggestions for you in this list. Hope you like them!
For your ease, we have listed names under different categories, which are:
Women's Ministry Name Ideas

Naming your ministry might seem difficult to you, but it is not. You need to choose a name that defines and guides the mission.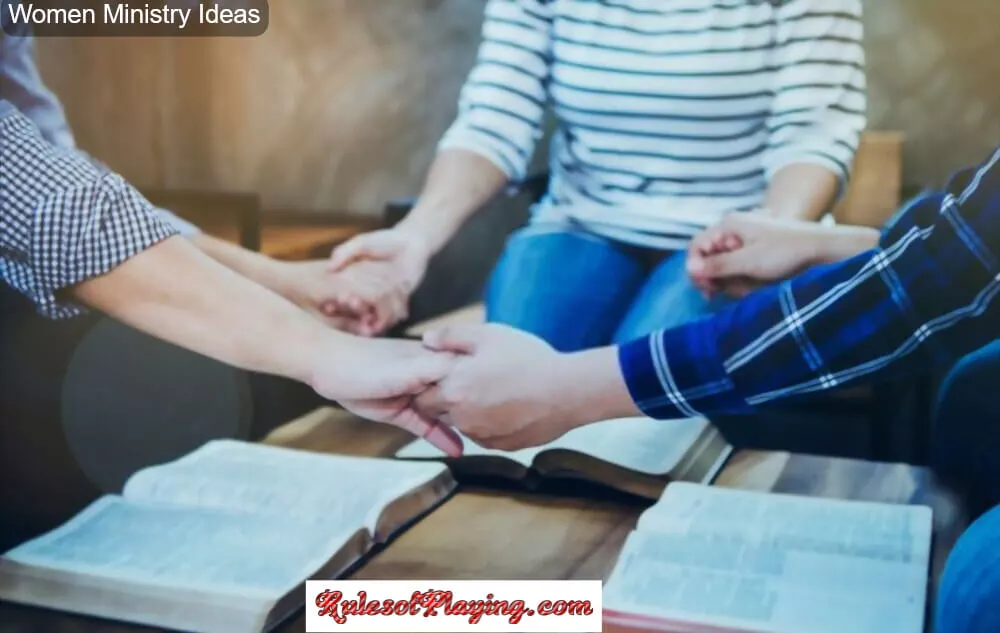 It should be inspirational enough to motivate other women to step forward and take part in your group. Below are some name ideas that you can use:
Disciples United.
Love God, Love Humanity.
Rejoice.
The Gifted Ones.
Disciples Of Hope.
Believers.
Compassionate Ones.
Kindhearted.
Christ's Club.
Path Finders.
Able To Serve.
Rise n Shine.
Everlasting Bond.
Mending Lives.
Building Relationship With God.
Faith Followers.
God Squad.
Jesus Is Our Strength.
Awakened Souls.
Truth Seekers.
Related Post: Unique Trivia Team Names Listed
Successful Women Ministry Name

If a woman is seeing your bulletin or website, then your name should be the best among the rest to grab her attention.
No one wants to join a group that is a downer. Women will only join your group if it is the best one in church.
Keeping this in mind, we have listed some successful women's ministry name suggestions for you.
Followers Of God.
Mountain Movers.
Faith Found.
Moving Forward With Christ.
Christ Inside.
The Way.
Healing Journey.
Light Of God.
Shield Of Faith.
Discovering Potential.
Salvation Army.
Disciples Union.
Forever His Followers.
Stairway To Heaven.
Holiness Is Calling.
Jesus Is Our Only Hope.
Consumed By His Glory.
All For Jesus.
The Chosen Ones.
One Purpose.
Names for Women's Ministry Group
Women ministry groups help their members to learn and deepen their faith.
However, to attract more and more people to your group, you need a positive name. A good name not only helps women to feel motivated but also inspires them to continue their growth.
That is why we have listed some best suggestions for you in this list:
Angel Hearts.
Collective Faith.
God's Family.
Blessed Souls.
Comfort In Christ.
Apostles.
Made To Serve.
Streams Of Mercy.
Awaiting His Guidance.
Guided By His Holy Spirit.
Women With Strength.
Pathfinders.
Christ's Company.
Turning To Jesus.
Refuge In Christ.
>>>> Related Post:   Powerful & Catchy Gymnastic Team Names 
Christian Women Group Names
The best Christian women's group names are both respectful and welcoming, conveying the group's mission and dedication.
You will automatically attract women to join your group if your group name represents the values and belief system of Christianity.
To give you a head start, we have also listed some suggestions.
Faith Over Fear.
Faith In Christ.
Christ Is Out Center.
Circle Of Love.
Grace Gang.
Awakened Souls.
Obeying God.
Light Seekers.
Light Bringers.
God's Army.
Let There Be Light.
We Are One.
Headed To Heaven.
God's Grace.
Praising Our Savior.
Christian Girl Group Names
Coming up with a strong name for your girl group associated with Christian beliefs is very important because it reflects a strong identity.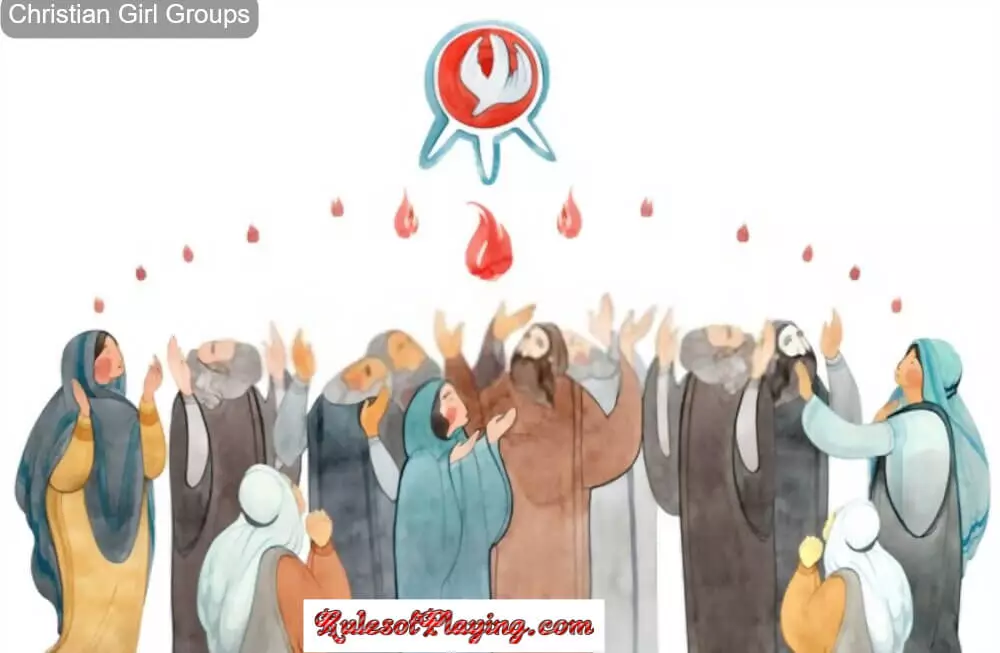 A name with good meaning is not only attractive but also connects people from all walks of life. That is why we have listed some best suggestions for your Christian girl group.
By Faith.
God's Beloved.
Clarity In Christ.
Faithline.
Soul Sisters.
Keepers Of Command.
Restored Faith.
Getting On The Right Track.
Storm Chasers.
CIA: Christians In Action.
Healing Sisters.
Jesus Saves Us.
Jesus' Spirit.
The Purpose.
Seeking Sisters.
Creative Ladies Ministry Themes Names
A creative name that relates to the purpose and mission of the ministry is more attractive and memorable for women who are looking for ministry groups.
That is why we have listed some creative suggestions in this list.
Journey Towards Peace.
FAllin' In Love With Jesus.
Cast Your Burden.
Delivering Hope.
Leading The Way.
Firm In Faith.
Christ's Battalion.
Heart Healers.
The Dedicated Ones.
Bible Buddies.
Power Surge.
Wholly Devoted.
New Beginnings.
Joy In Jesus.
Commitment To Bible.
>>>>> Related Post:  " Powerful Lady Team Names that Signify Lady Sports Strength"
How to Create Your Own Ministry Name?
If you are interested in creating your own ministry team name, then we have listed some guidelines which will help you in brainstorming some fresh ideas.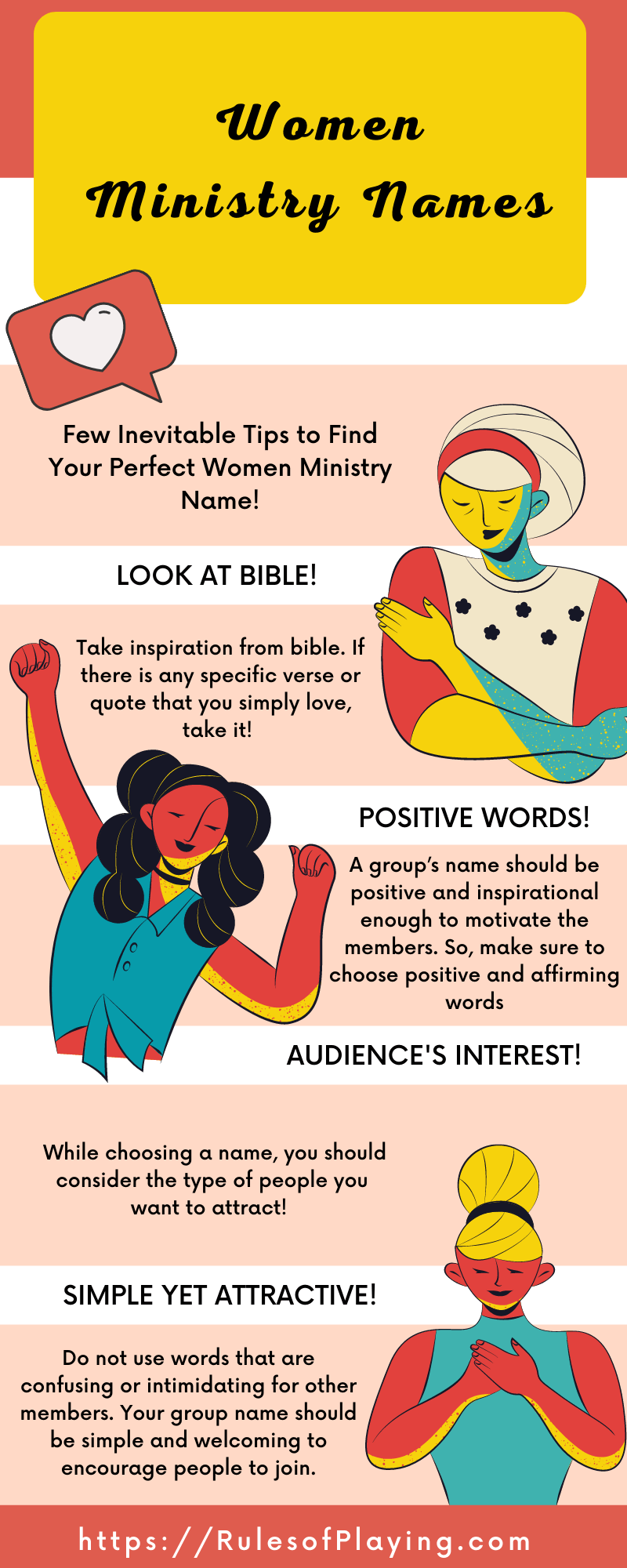 1. Take Inspiration From Bible: You can take inspiration from the bible.
If there is any specific verse or quote that you simply love in the bible, then use those words to create your group name.
2. Choose positive words:  A ministry group is supposed to empower and motivate women. That is why a group's name should be positive and inspirational enough to motivate the members.
So, make sure to choose positive and affirming words.
3. Consider your audience:  While choosing a name, you should consider the type of people you want to attract.
For example, using words like 'women' or 'girls' will help potential new members to find your ministry more easily.
4. Use Simple Words: Do not use words that are confusing or intimidating for other members.
Your group name should be simple and welcoming to encourage people to join.
Related Post: Badass Faction Names for Your Squad!
Conclusion
A women's ministry name should be strong and inspirational. It should reflect the purpose and mission of your group.
No one will join your group if you do not have a positive and affirming name.
That is why we have listed so many suggestions for you to choose from.
We have high hopes that you will definitely find your name on this list. If you also have any suggestions, then do share them with us in the comments section.